ESTES PARK, Colo. — A severe storm dumped several inches of hail on Estes Park Wednesday night, stalling traffic and prompting the need for snowplows to clean up the mess.
The storm hit just before 10 p.m. Wednesday with hail that was likely smaller than 1 inch, but there was a lot of it – enough to trap vehicles on East Elkhorn Avenue (U.S. 36).
An area north of Estes Park, in Stove Prairie in the Cameron Peak burn area, had a report of ping-pong-ball-sized hail around 9:48 p.m.
Wild weather in Estes Park as hail pummels the town
Some videos posted to Twitter showed small plows cleaning up piles of hail overnight Wednesday into the next morning.
The mounds of hail didn't seem to keep visitors away from Estes Park, as some children were seen jumping and playing in the thick mounds as if it were snow.
On Elkhorn Avenue, Kind Coffee had to have their parking lot plowed overnight to make sure customers could park the following day.
"I've never seen it pile up like that," owner Amy Hamrick said.
The longtime business owner has had her shop in the same spot since 2004, which means she felt the impacts of the floods back in 2013.
"I think ever since then, everyone's been really aware of where the water's going to come from," she said. "We have flood bags staged. We have evacuation plans in place."
That level of preparedness is something the town of Estes Park has also been working on in recent years.
"You know, stormwater management, flood plain management, capacity building has really been a focus for the town in recent years, especially since the 2013 flood," town spokesperson Kate Rusch said. "I think storms like last night are a wake-up call in that these things can come out of nowhere, really."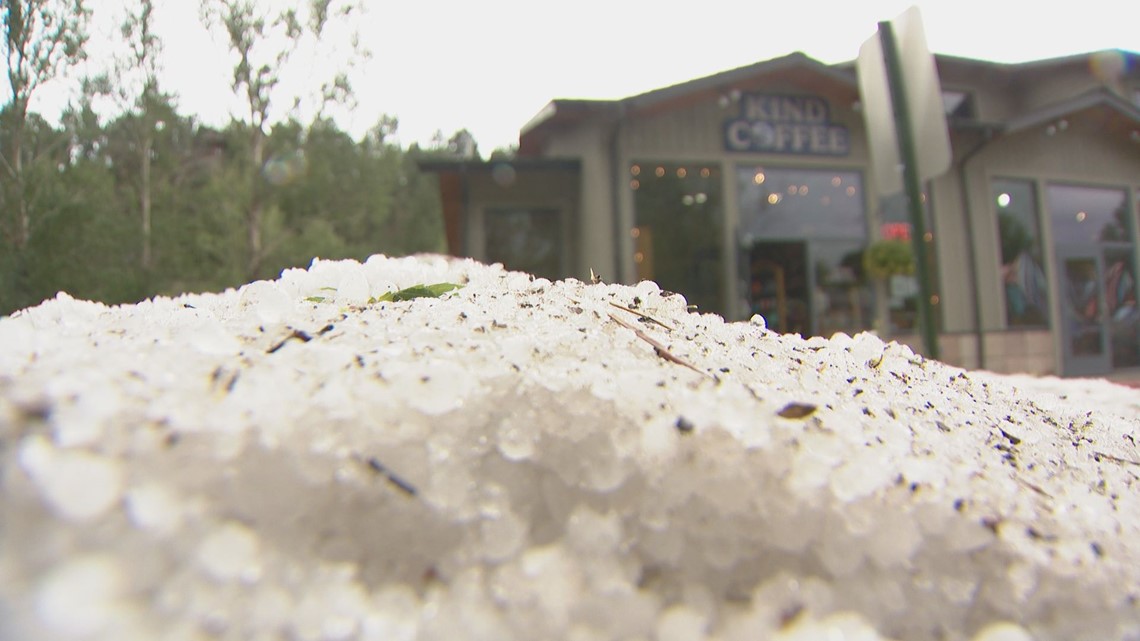 While she said Estes Park is used to bigger storms during the summer, she also said more crews are put on standby during the season since so many visitors are in town.
"So we work really hard with our staff to be trained in emergency response together and notifications – making sure we can reach out to all the businesses," Rusch said.
A Flood Watch continues and expands for a great deal of Colorado on Thursday from 10 a.m. to 10 p.m. as heavy rainfall could trigger flash flooding of low-lying and burn scar areas.