DENVER — Heavy rainfall Wednesday into Thursday caused damage in Cherry Creek State Park, prompting a closure of a small portion of the road through the popular Denver-area state park.
Colorado Parks and Wildlife said the portion of the park road marked in red on the map below is closed due to the damage. The dog off-leash area is also closed, due to standing water, the park said Thursday afternoon.
All park entrances, and the park itself, remain open.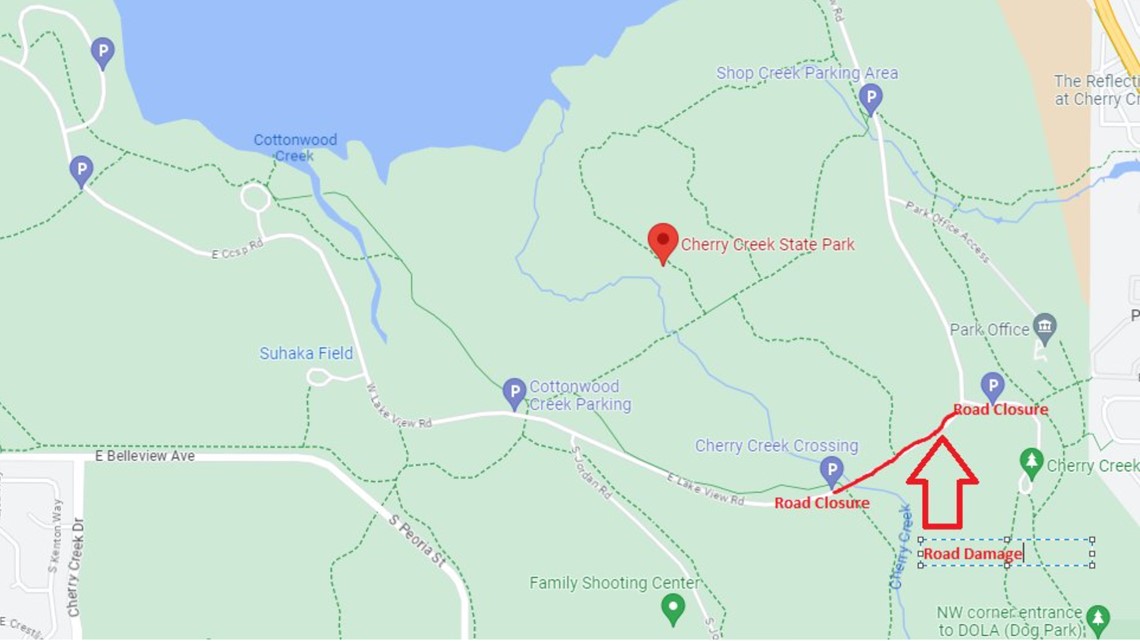 CPW said the damage includes the pipes that carry the water under the roadway along with the roadway asphalt surface.
CPW said no other state parks have reported damage from the storms.
A Flood Watch is in effect for the entire Denver area through late Thursday night, with potential for an additional 2 to 3 inches of rain through Friday evening.
Severe weather broke out in the Denver metro area and on the Eastern Plains on Wednesday, with Tornado Watches and Warnings, Severe Thunderstorm Watches and Warnings and Flood Watches, Warnings and Advisories all posted at one time or another.
This system will continue to slog across the state Thursday with plenty of moisture and instability. That will result in another round of heavy showers and storms, with the storms again reaching strong to severe levels. With the rain we have already had and the rain forecast to come, flooding will also be a very real possibility, especially in the burn scar areas.
In the mountains, look for more than a foot of snow in some locations above 10,000 feet, with a Winter Weather Advisory posted.
Showers and storms will continue each day into early next week, although not quite as severe or widespread as Wednesday and Thursday.