DENVER — Strong storms moved across the Front Range on Saturday afternoon, bringing strong winds and hail, and knocking out electricity to tens of thousands of people.
The thunderstorms fired up in the foothills Saturday afternoon. Some storms turned severe and brought large hail, lightning and a round of damaging wind gusts as high as 70 mph.
Xcel Energy said in a press release that more than 208,000 customers lost power because of the storm statewide. As of 12:30 p.m. Sunday, more than 12,000 customers were still without electricity.
Xcel crews worked through the night on the larger outages and has brought in outside crews to help, the company said, adding that crews handle larger outages before smaller and individual outages.
Multiple 9NEWS viewers sent in pictures of large trees blown over by the storm. Sky9 also flew over a billboard that fell into a building on South Broadway Street and West Jewell Avenue in Denver.
Saturday storms cause damage along the Front Range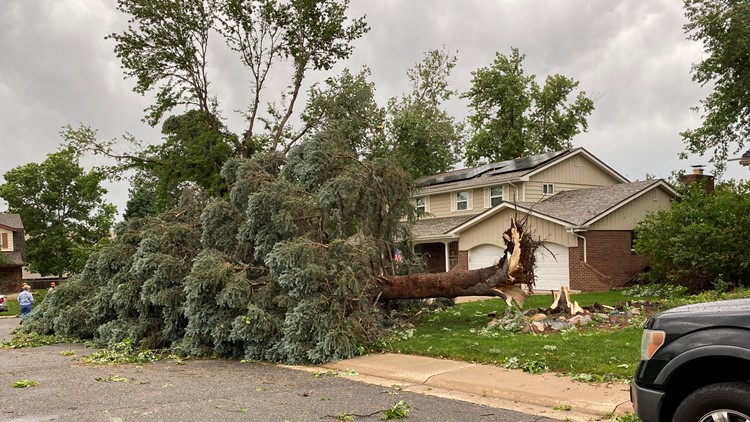 With the blustery winds, extreme fire danger continued in Colorado on Sunday. Red flag warnings are in effect for much of the eastern side of the state.
The Palmer Divide, Eastern Plains and the San Luis Valley were under a high wind warning through late Saturday night. Wind gusts could top 70 mph, creating tough traveling conditions with blowing dust limiting visibility along Interstate 70.
The storms move out Sunday, but the wind will rage on. It'll be hot, with highs back in the 90s on Sunday afternoon. Cooler air is finally on the way for early next week.
>9NEWS meteorologist Cory Reppenhagen chases the storms in the video below: