WELD COUNTY, Colo. — Two homes were destroyed by a landspout tornado that formed near the towns of Frederick and Firestone and moved northwesterly toward Platteville in Weld County on Monday afternoon, according to Weld County officials.
The Weld County Office of Emergency Management and National Weather Service have been assessing damage and said Tuesday that a total of seven properties were damaged. Two homes were destroyed and officials said that meant that at least 50% of the structure was damaged. The estimated loss of those two homes is about $429,000.
Three homes were damaged by not destroyed, and the estimated loss associated with them is about $101,000.
The tornado appeared to be a landspout tornado, and it formed at around 5 p.m. on Monday. Teams estimate that the tornado had sustained winds of 99 mph and traveled about six miles. Its path was in the area of WCR 17, WCR 21, WCR 24, WCR 32. It was on the ground for about 30 minutes before it dissipated.
Two businesses were also hit – a feedlot and a dairy (they are included in the seven properties). The feedlot suffered the loss of two buildings – one from a fire caused by a downed power line and the other from the tornado. The dairy was hit but had limited damage to roofs and some out buildings. The team is still working on obtaining cost estimates for those properties.
The Platteville Gilcrest Fire District (PGFD) said in a news release that the tornado headed north toward Fort St. Vrain Generating Station near County Roads 21 and 24 where it damaged or destroyed several other structures along County Roads 19 and 21.
The National Weather Service issued a Tornado Warning at 5:08 p.m. through their system, which was picked up and pushed out through our CodeRED systems as well if subscribers had elected to receive severe weather notifications. If someone had signed up for CodeRED and did not receive a weather alert, they need to go into their account and make sure they elect to receive such alerts.
The National Weather Service issued another Tornado Warning for SW Weld at 5:24 p.m. By 5:51 p.m. the tornado had dissipated.
PGFD said no injuries have been reported, but there have been reports of lost livestock.
County Road 21 between Highway 66 and County Road 32.5 will remain closed until further notice, said PGFD.
PHOTOS: Damage left behind from tornado in Weld County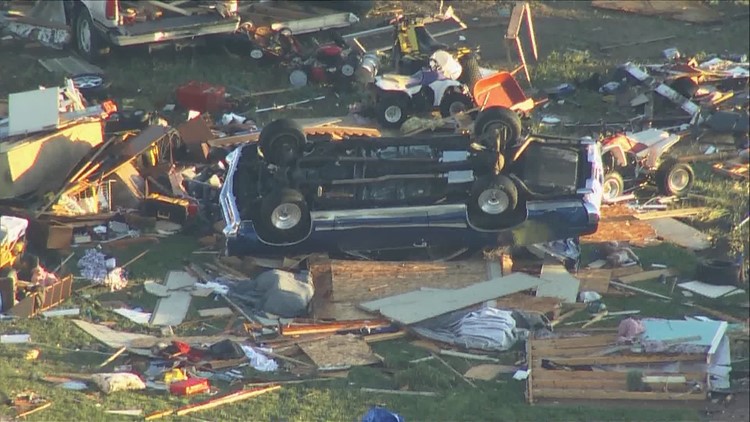 A landspout tornado is a twister that forms from the ground up due to colliding air boundaries during the initial growth stage of a thunderstorm. These tornadoes form near the ground and move toward the cloud, as opposed to traditional tornadoes that form from the cloud moving toward the ground.
Landspouts are common in eastern Colorado, due to frequently colliding air boundaries. A similar type of collision appeared to lead to Monday's tornado.
Landspouts tend to come out of nowhere, similar to Monday's twister.
Here are some preliminary looks at the tornado:
Photos: Tornado touches down in northern Colorado