DENVER — It's supposed to snow in Denver -- but maybe not quite like it has this year.
It has snowed in nine out of the first 10 weeks of 2022, and computer models show a high chance for snow in week 11, with a storm system around St. Patrick's Day, and then again in week 12, around March 20.
That includes days with trace amounts reported. When there is not enough snow on the ground to measure at least a tenth of an inch, a trace is recorded.
If you only count days where there was snow accumulation, it has snowed in Denver in seven out of the first 10 weeks.
Counting Saturday and Sunday's snow, there have now been 15 days with measurable snow in Denver since Jan. 1.
That's the most snow days since 2015, when there were 18 between Jan. 1 and March 7.
The snow totals have also been usually large.
There have been 33.5 inches of snow in Denver so far in 2022. That's the most snow to start a year in 63 years. There were 36.1 inches by March 7 in 1959.
Denver could have been on its way to a record-breaking season altogether, if it weren't for such a slow start. There were only 4.8 inches in the first three months of the season -- the second-lowest snow total from October through December on record.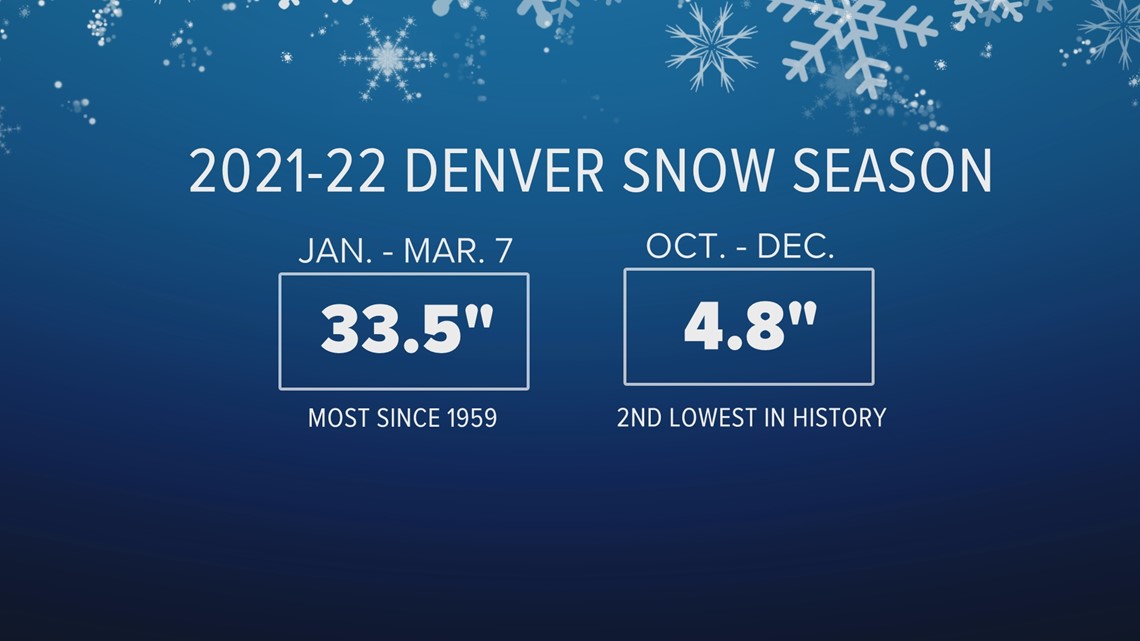 Despite that slow start, Denver only needs 18.6 more inches of snow to make it up to the average of 56.9 for the season -- and the average snowfall from March 8 through the end of May is 19.4 inches.