KUSA — Just one day after a devastating and unprecedented hail storm that killed two animals, the Cheyenne Mountain Zoo received a grant for $100,000 to help rebuild.
Bill Hybl, chairman and chief executive officer of the El Pomar Foundation, made the announcement that the Colorado nonprofit organization decided to donate the money on Tuesday morning.
Fourteen people were reported injured by falling hail at the zoo in Colorado Springs Monday afternoon, the Fire Department there said.
Five people had to be taken to nearby hospitals and nine others were treated and released, according to a spokesperson for the Colorado Springs Fire Department. A duck and a vulture were killed at the zoo by the hail storm.
President and CEO of Cheyenne Mountain Zoo Bob Chastain said one of the zoo's younger meerkats is unaccounted for, but it might just be underground, as that is where its secure exhibit is.
None of the 3,400 people who were at the zoo on Monday when the storm hit were allowed to drive their cars and were instead bused to nearby Cheyenne Mountain High School to a Red Cross Evacuation Center.
According to a spokesperson for the zoo, about 300 cars are not driveable due to the hail that fell - some reaching up to 4 inches in diameter (about the size of a softball).
Guests at the zoo mainly took shelter on their own under whatever was nearby, the spokesperson said.
Chastain said 16 other animals outside of the duck and the vulture were injured; most had welts from the giant hail that pummeled the zoo.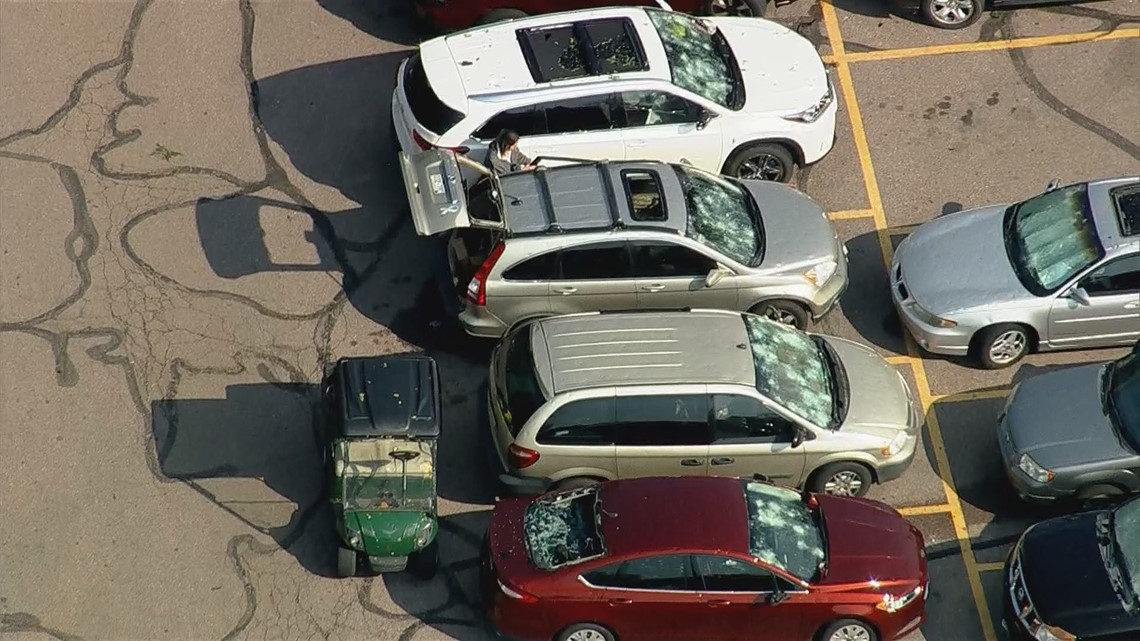 Four buildings received severe skylight damage where glass fell into exhibits. The priority now is to clean those areas so the animals can go back home. The zoo remained closed on Tuesday, and it's unclear if it will reopen on Wednesday. A Facebook post on the zoo's page said "staff is assessing whether the closure will need to continue into the coming days."