Outside of this year, 1981 was the slowest start to Colorado's snow season when the statewide snowpack was at 46 percent.
The U.S. Department of Agriculture says we're not very far ahead this year as we're at 54 percent.
The northern mountains are doing OK. As of Monday, the median snowpack for the South Platte and North Platte river basins were at 84 percent and 80 percent respectively.
The state total plummets once you look at the southwest corner of the state. According to the USDA the San Miguel, Dolores, Animas and San Juan Basins combined are at a meager 24 percent.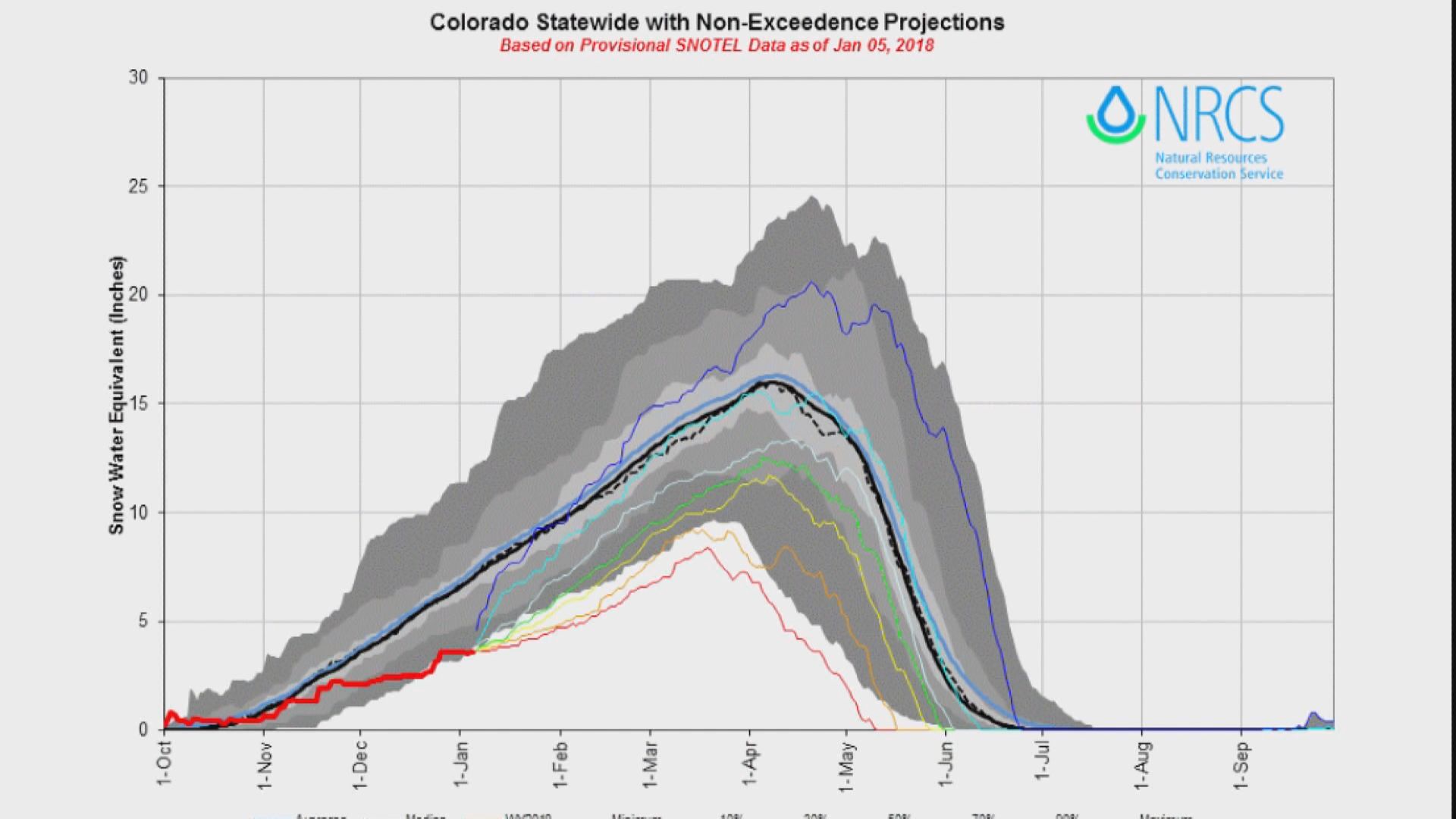 "It's not time to worry, but it's time to really start watching," said hydrologist Karl Wetlaufer.
Wetlaufer says one good storm could push snowpack in the northern mountains back to average, but it would take far more for those in the southwest corner of Colorado.
He also says there's time to make up the ground as snowpack in Colorado doesn't peak until mid-April.
James Van Shaar of the U.S Bureau of Reclamation, which watches over many of Colorado's reservoirs, says he's hoping the snowpack picks up as well, but it's not the end of the world if it doesn't.
"Our reservoirs are very comfortable right now," he said.
Van Shaar says settlers developed Colorado with its semi-arid climate in mind. They developed larger reservoirs, as well as ditches and delivery canals to hold and deliver water during drought years.
The Granby Reservoir alone holds 2.5 times more water than the Front Range needs so it can supply it for years during drought.
Van Shaar adds this year is the first time in many that all of Colorado's major basins are sitting at above normal levels with the Gunnison at 104 percent, the Arkansas River Basin at 143 percent, and the statewide level at 115 percent.