PAGOSA SPRINGS, Colo. — While the Denver area will probably get a few inches of snow on Wednesday, it won't hold a candle to what they're going to see in other parts of the state.
In the eastern San Juan Mountains, 1-2 feet of snow and 70 mph winds are in the forecast for Wednesday. That messy combination prompted the National Weather Service office in Pueblo to issue their first-ever Blizzard Warnings for parts of southwestern Colorado.
On top of that, Wolf Creek Ski Area and nearby Wolf Creek Pass (Highway 160) are under their first Blizzard Warnings since 2015.
An exceptionally strong jet stream will funnel strong winds straight at the San Juans in particular. That could lead to wind gusts as high as 80 mph.
Southwesterly winds will pump in moisture from the Pacific Ocean and stream in heavy snow and those strong winds. Southwest Colorado stands to get the brunt of this storm, though most of the mountains will get a healthy helping of snow and wind on Wednesday.
Heavy snow will fall throughout most of Wednesday. One to two feet of snow is likely in the eastern San Juans, with some totals that could locally top two feet.
If you factor in the snow and wind, it'll make travel basically impossible in the eastern San Juans region (mainly Highway 160, shown in the map below) on Tuesday night and through all of Wednesday, lingering into early Thursday.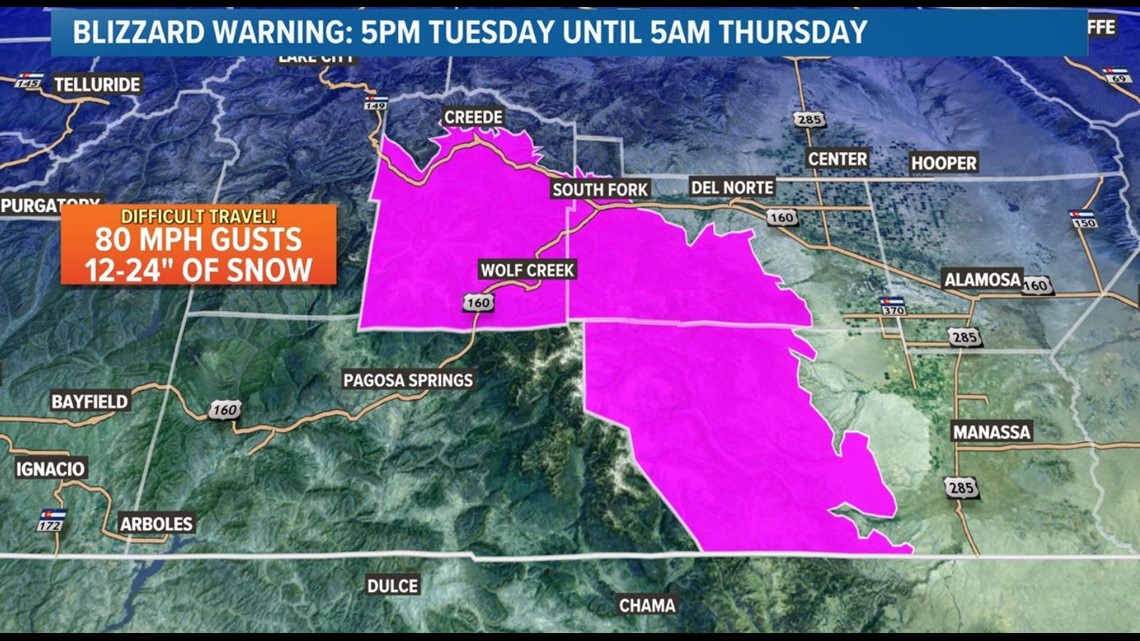 The snow will gradually come to a close overnight Wednesday into Thursday, but not before a full-fledged blizzard leaves behind the potential for feet of snow.