"The shortgrass prairie out there has never looked this green before," he said. "I've measured more than 6 inches of rain already this month, which is by far the most I've seen."
It's not just Hostetler's house, either. It's been one of the wettest Mays on record for many locations in the Denver area.
Denver International Airport has measured 5.52 inches of rain. That's the fourth-most in Denver history (data includes three different locations over 141 years) and the wettest May on record at DIA, which goes back to 1995.
The 5.49 inches at Denver Central Park is third-wettest since 1948.
The 6.53 inches measured at Centennial Airport is the wettest since 1999.
The 5.75 inches in Wheat Ridge is third-wettest since 1981.
But Hostetler said while Colorado weather blessed one side of his world, it cursed the other. He also owns part of a ranch in Baca County.
"That part of Colorado has just been getting missed," he said. "I mean what happened? It's just dry as a bone."
Exceptional drought hits historic ranch in Baca County
Hostetler shared photos with 9NEWS showing the dust and dirt piled high over fields that were planted with winter wheat in the fall. He said some of the fields were to be grazed by cattle and some were to be harvested.
But there will be no harvest this year. He said the crop is a complete loss.
"A lot of time you'll have a four-wire fence, but there's only one wire because the dirt is just built up," he said.
The U.S. Drought Monitor shows that part of southeast Colorado is still in the highest level of exceptional drought. Hostetler's ranch is west of Campo in Baca County.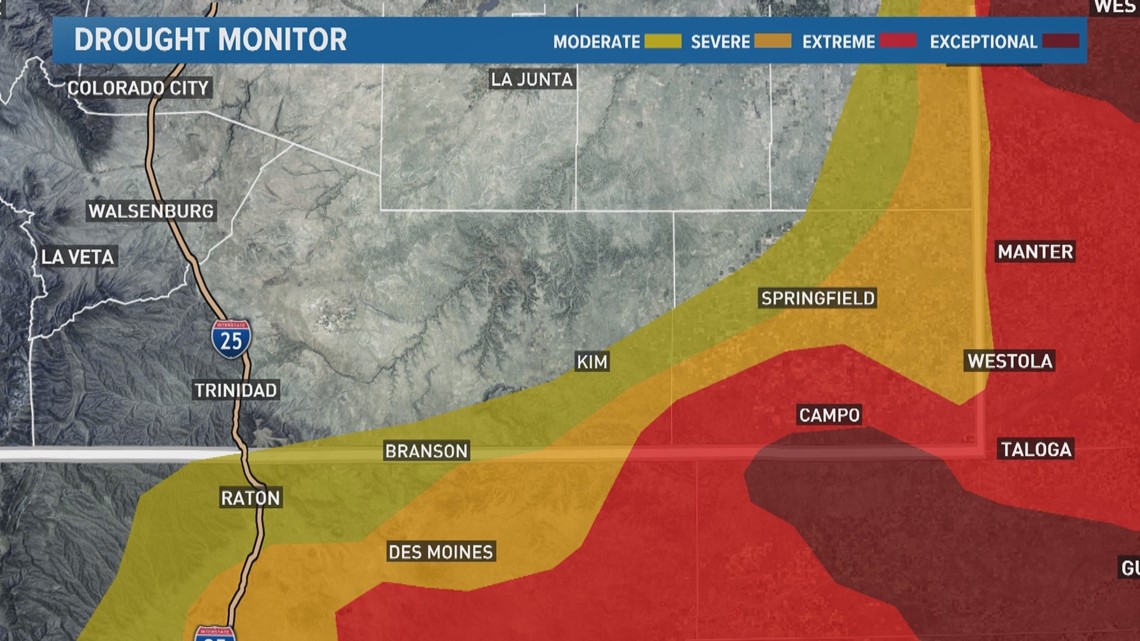 The homestead that his wife's grandfather, Ira Dunlap, bought in 1917 remains in the family. But he said the agricultural fields were sold a few years ago, and those new owners are struggling to make ends meet.
"It's a very hard life, and such an honest group of people. I mean your word is your bond," Hostetler said. "That's the whole economy for that county is what those people are doing. And they are working very hard for very little."
That part of the state did get some rain recently, so some additional improvement is expected in this week's update on Thursday, but it might not be enough to clear the county of exceptional drought conditions.