YUMA COUNTY, Colo — A powerful supercell thunderstorm swept through Yuma County on the evening of Aug. 8.
The storm produced an EF-3 tornado just south of the city of Yuma, which equals the strongest tornado ever recorded in the state of Colorado.
Storm chaser Dan Fitts perused the storm to the southeast as it dropped another tornado east of Idalia, along with many large hailstones.
Fitts measured and photographed one of the stones he found along U.S. 36 and put it in his cooler that he keeps specifically for preserving hailstones.
The photo — showing a hailstone in a set of calipers with a measurement of 5.25" — would come in to play a huge role in verifying a state record largest hailstone.
Fitts drove the hailstone to the National Weather Service (NWS) in Goodland, Kansas, the office that handles the forecast, warnings and storm reports for Yuma County in Colorado.
He said he was disappointed in the condition of the stone as it was placed in the freezer in Goodland but still thought it could still measure up to a record.
The previous Colorado state record hailstone fell in Kit Carson County near Bethune in August 2019. That stone measured 4.83 inches. Until last Tuesday, there has never been a 5-inch hailstone documented in Colorado.
This Monday, which happened to be exactly four years to the day the last record hail measurement took place in Colorado, the NWS hosted Colorado State Climatologist Russ Schumacher and a team from the Institute for Business and Home Safety (IBHS) to measure the stone and make a 3D scan.
When the stone was was finally placed on the scale, it had lost nearly an inch of it's diameter due to melting and only checked in at 4.60 inches — just shy of the state record Bethune stone from 2019.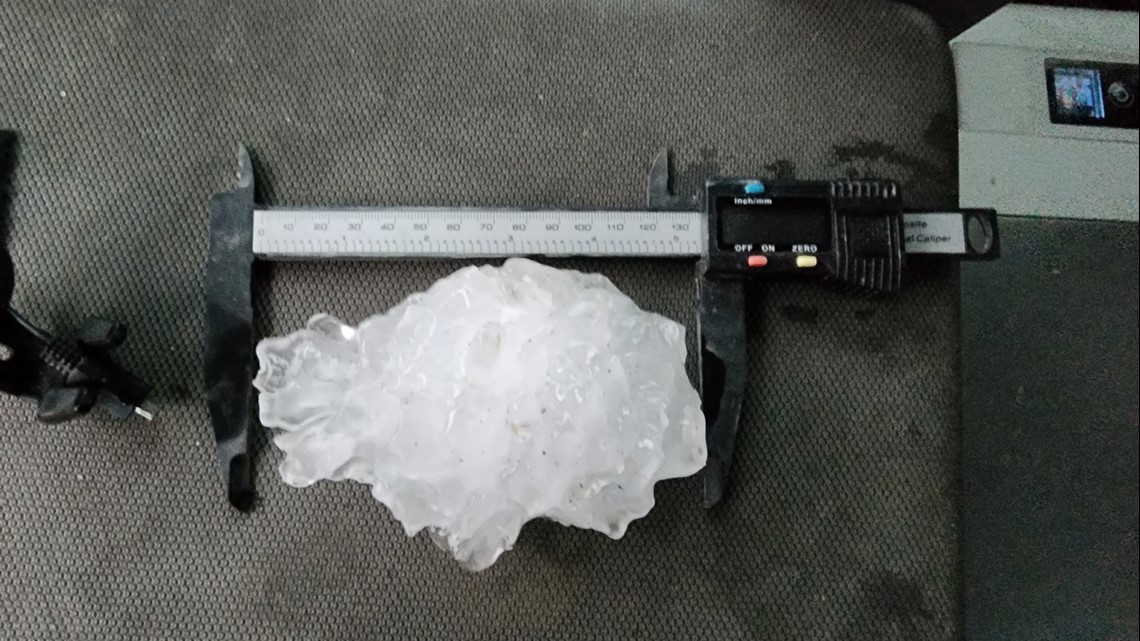 "That's the trouble with trying to verify hail records: Ice melts," Schumacher said. "Even if someone is either fortunate or unfortunate enough to be there to collect it and attempt to preserve it, it can still lose mass."
That's where that photograph that Fitts took comes in.
A group called the State Climate Extremes Committee actually makes the official call anytime a weather record is possible in Colorado. Schumacher is part of that group and said everyone was very impressed with the way the storm chaser documented the hailstone.
"He measured it in the best way you could measure it and took photographic evidence," he said. "So, everyone felt pretty comfortable about using that photo as the record."
Schumacher said the Yuma stone will be officially certified as Colorado's state record at 5.25 inches in diameter, but the weight, volume and circumference record will still belong to the Bethune 2019 stone.
That official announcement will likely come later this week.
The Science
The mechanics involved with the storm that produced that record hailstone are very impressive.
The science isn't precise just yet, but it's estimated that the air rising into that storm, known as the updraft, was likely 70 to 100 mph or faster.
The hail had to be suspended for about 40 minutes until it reached the size and weight that allowed gravity to pull it down to earth at 85 to 100 mph.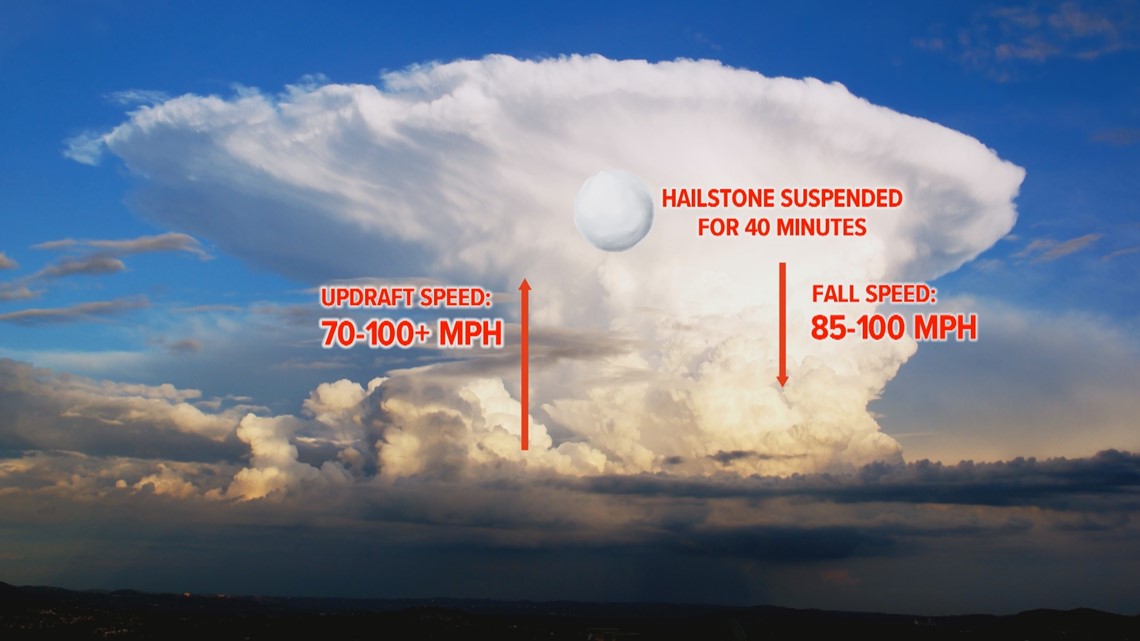 IBHS meteorologist Ian Giammanco said the impact energy of that Yuma hailstone would have been around 2100 Joules. For comparison, a typical 2-inch hailstone falls around 65 to 70 mph and has an impact energy of about 24 Joules. This one had nearly 100 times greater of an impact.
IBHS sends a crew from their research laboratory in South Carolina just about every time a remarkable hailstone is found in the United States to scan and measure it. Their goal is to continue advancing the science of how hail forms, how hard it hits the ground and how it impacts life and property.
Hail records
If the new Colorado record hailstone would have fallen 30 miles to the east in Kansas, it would not have been a record there. On Sep. 15, 2010, a hailstone fell in Wichita that measured 7.75 inches and broke a long-standing record of 5.7 inches in Coffeyville, Kansas, in 1970.
9NEWS+
9NEWS+ has multiple live daily shows including 9NEWS Mornings, Next with Kyle Clark and 9NEWS+ Daily, an original streaming program. 9NEWS+ is where you can watch live breaking news, weather updates, and press conferences. You can also replay recent newscasts and find videos on demand of our top stories, local politics, investigations and Colorado specific features.