Colorado hits the peak of snowpack accumulation on April 9. That's also the day the runoff hits full swing.
It's all about temperature and something that's called the solar budget.
The sun angle is higher in the spring, which means there is less atmosphere standing in the way of solar radiation making it to earth. The days are also longer, making the sun's rays more effective in overcoming Colorado's snowpack.
"And then there's something that we call positive feedback mechanisms there," Karl Wetlaufer said, hydrologist with the Natural Resources Conservation Service. "As the snow starts to melt then, you'll get more particles in it, and more darker matter, so that absorbs even more of that solar radiation. That makes the snowpack melt faster and faster from this point on."
The highest snowpack level usually occurs before April 9. This year is unusual because we hit our highest snowpack of just over 11 inches of snow water equivalent on the actual day of the peak.
"It's really one of the most important times of the year. It's when we get the best idea of what our spring and summer stream flows are going to be," Wetlaufer saud,
Recent storms, including a big two to three foot dump over the weekend gave us a decent boost.
"The unfortunate thing about it is, it hit hard, but in the parts of the state that really needed it the least," Wetlaufer said. "It pretty much skirted our southern mountains. They saw minimal gains from it. That's really where they could have used a little more snowpack going into the summer season."
Colorado is now only at 71 percent of normal at the peak date, but the northern part of the state is not really in bad shape.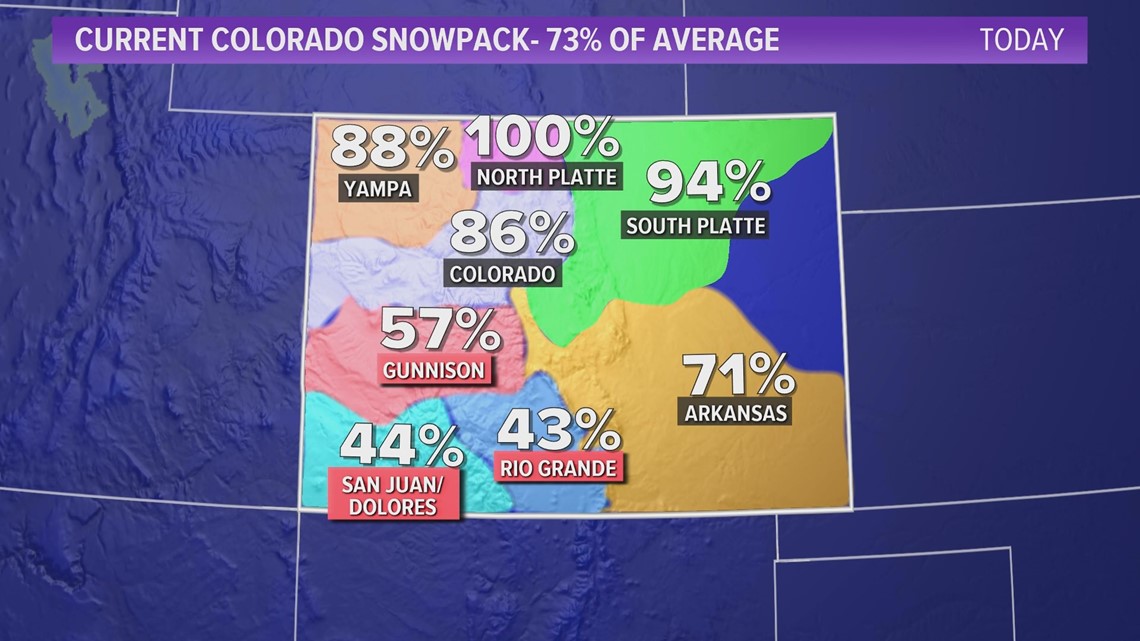 The snowpack that will melt into the South Platte River Basin is at 92 percent of normal, the Colorado River Basin is at 86 percent, and the North Platte Basin, that runs off into Wyoming is all the way up to average.
It's the south part of Colorado that continues to suffer.
Out of 54 snow telemetry measurement sites there, nine show record low snowpack, 12 are at their second lowest, and nine more are at their third lowest levels.
"It's very dry down there. I hesitate to use the term grim because it puts a bit of a human influence in it, but there are going to be some major concerns for water resources in southern Colorado, and even further south into New Mexico and Arizona," Wetlaufer said.