DENVER — After a snowy start to the winter for the Front Range and most of Colorado, it's been a little quiet to start February.
It looks like that quiet start is about to change.
A few inches of snow look likely for most of eastern Colorado, including the Denver area, for the middle of next week.
But since we're writing this several days away, as always, know there is plenty that can and probably will change with the forecast. Make sure you stay tuned to 9NEWS and 9NEWS.com for the very latest.
In the meantime, here's what we do know at this point.
Timing and overview
A big area of low pressure will develop over the Southwest early next week, and it'll move through the Four Corners region and eventually out into the southern Plains on Wednesday.
For eastern Colorado (including Denver), it looks like the snow may start on Tuesday night and last through most of Wednesday.
Computer models are in unusually high agreement this far out about the placement and strength of this storm. Normally, we wouldn't be alerting you to the potential for a snowstorm four or five days in advance, but the high degree of agreement among computer models and the overall pattern tells us there's a pretty high likelihood of us seeing some snow-shovel-worthy snowfall next Tuesday night and Wednesday.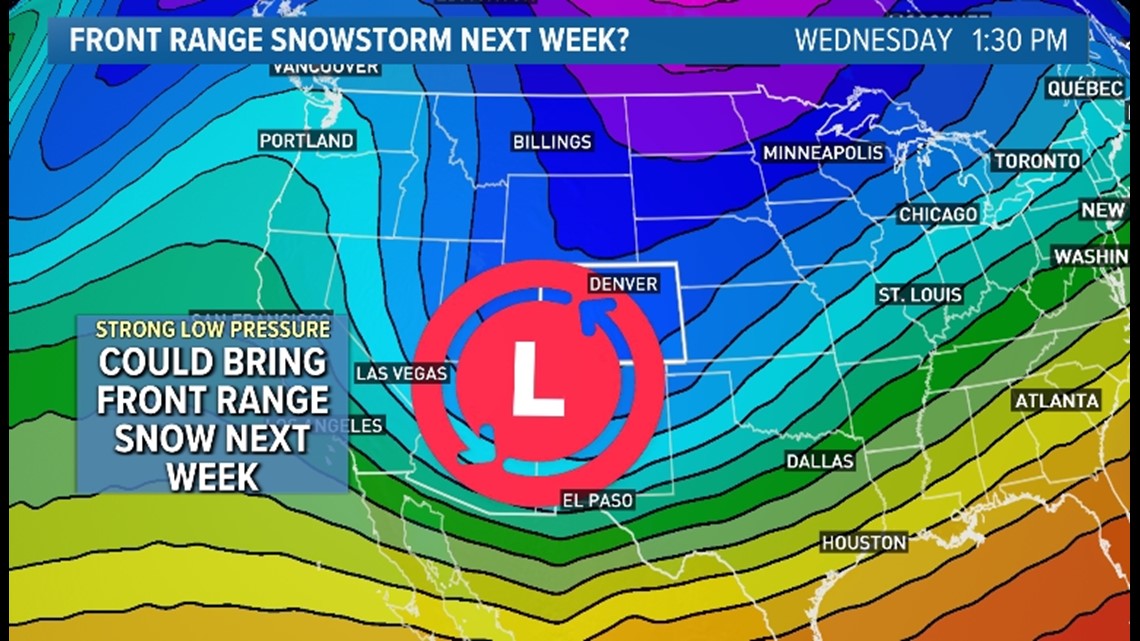 A piece of cold air slicing in from Canada, coupled with a strong jet stream and associated trough of low pressure (in addition to some other factors), means that generally speaking conditions are favorable for a solid snow event for most of Colorado. That also increases our forecast confidence, again, especially this far in advance.
While this should produce a few inches of snow for the Denver area, this probably won't be a massive foot-plus snowstorm, though.
And remember, this could always drop far enough south that it'll lead to little or no snow for the Denver area, though it appears we should see at least a few inches.
Probably not the biggest storm you've ever seen
If you're a snow-lover who wants a foot-plus snowstorm, though, this probably isn't the one for you, though we can't entirely rule that out.
The storm will zip its way from the Southwest and out into the Oklahoma or Texas in the span of about 36 to 48 hours, making it a relatively fast storm. It doesn't look like there will be any big areas of high or low pressure ahead of it, ones that could potentially block, or stall, our next storm.
In other words, this is probably too fast-moving of a storm for huge totals for eastern Colorado, though localized banding could produce some double-digit totals (and probably in southeastern Colorado, rather than the Denver area).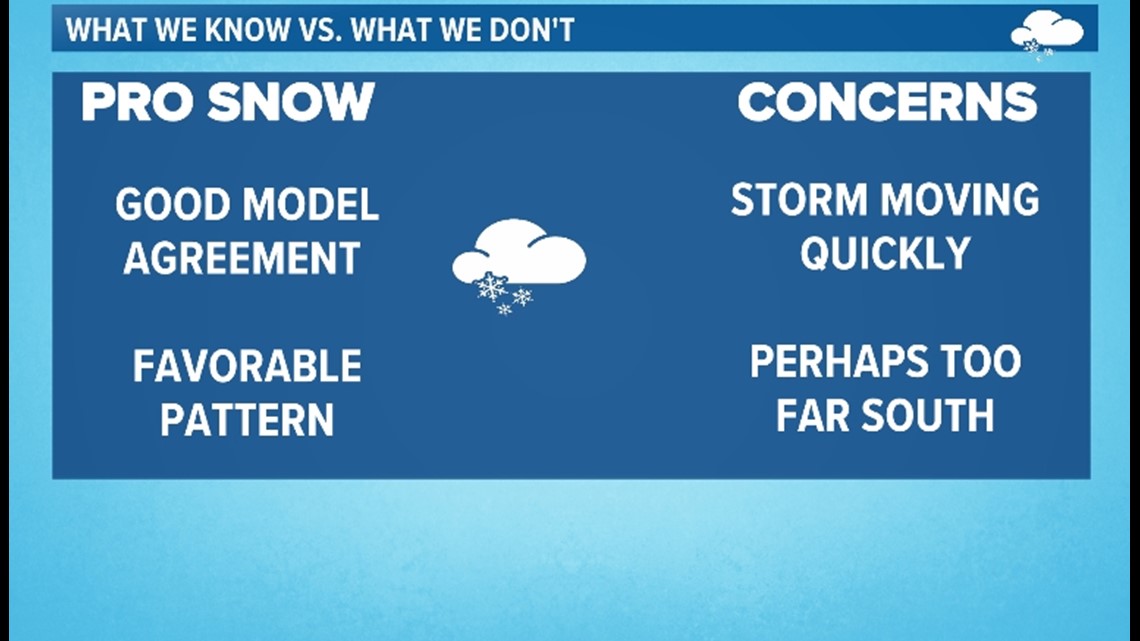 The other concern (from snow lovers' perspectives) is that this storm could be a bit too far to the south for major Denver-area impacts. This particular storm, at this time, looks to favor the southern part of the state with the highest snowfall totals.
While it'll be cold (highs on Wednesday probably won't climb out of the 20s in the Denver area), it doesn't look cold enough to produce high snow-to-liquid ratios that could really boost snowfall totals either.
And finally, the amount of low-level moisture involved looks simply OK rather than anything that'd produce a whopper of a storm.
You can see that in the maps below. The top map shows one computer model's projection for the chances of six or more inches of snowfall from next week's storm, and it has those odds at a little under 50-50 for most of the Denver area.
The bottom map shows the odds for a 12-inch or greater snow event, and those odds are low to none basically statewide.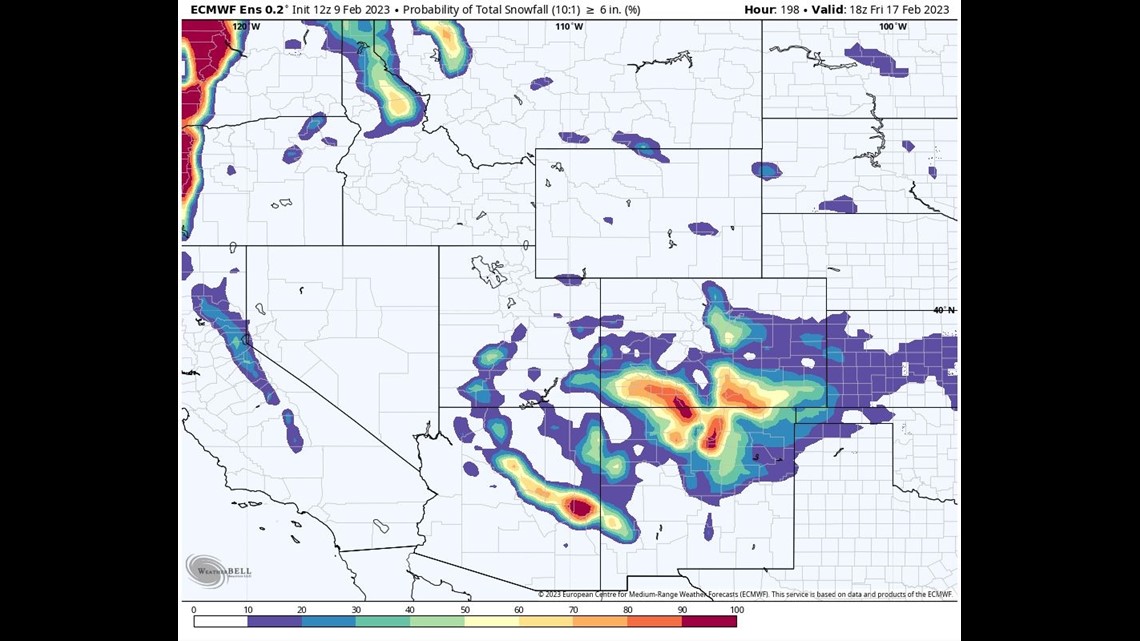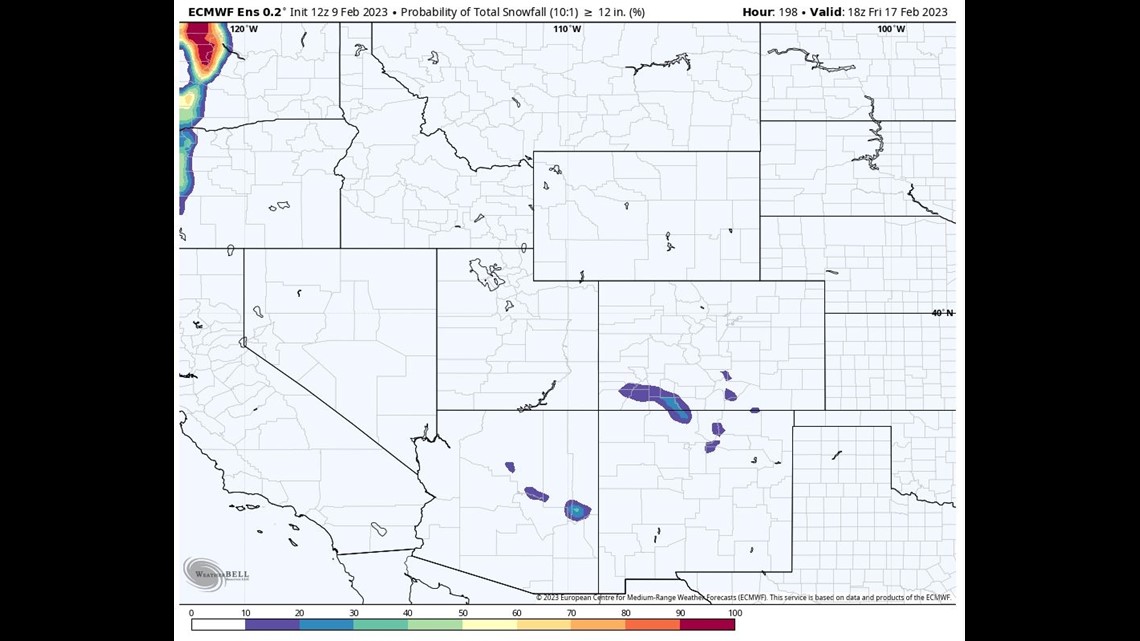 If we had to guess, this probably adds up to a medium-sized 3-6 or 4-8-inch type of storm for most of the Front Range, rather than a foot-plus monster. But that could easily change, so again, stay tuned.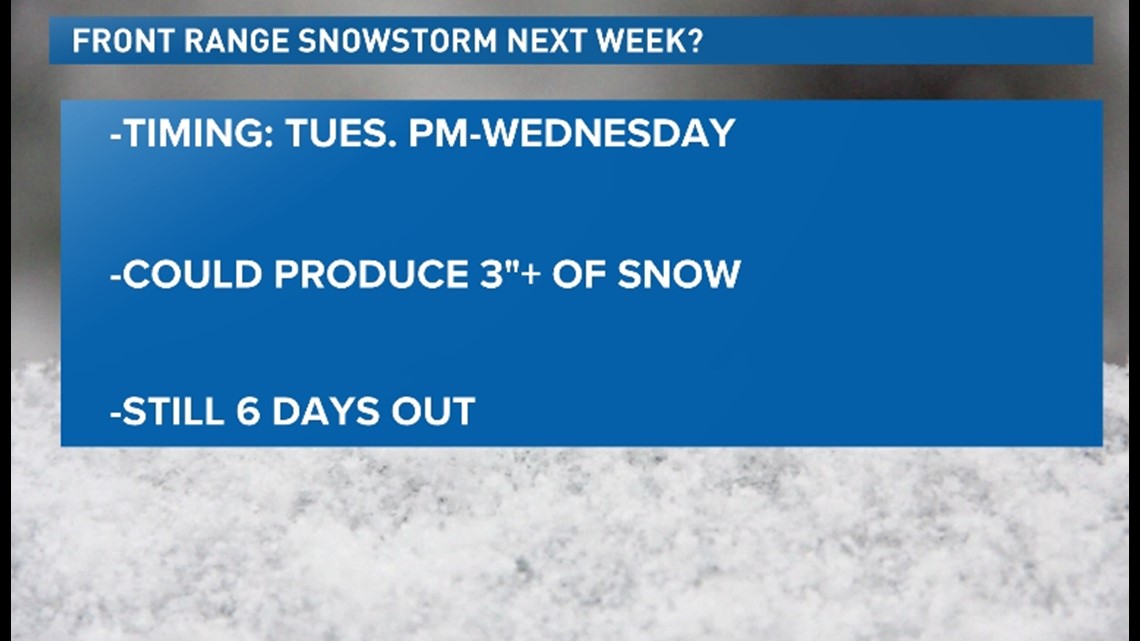 Why this could be an especially good storm
This storm could bring the part of the state that needs the snow the most: Southern Colorado.
While most of the state has enjoyed a better-than-average start to the snow season, the one part of the state that really needs the snow is the Arkansas and Rio Grande River basins. As of Thursday, the Arkansas River basin was at about 76% of its average season-to-date snowpack, while the Rio Grande was 94%. Those two southern Colorado basins are the only two statewide sitting below 100% of their season-to-date snowpack, as of Thursday.
This storm should bring southern Colorado the highest totals overall, which should help put a dent into some of those snowpack deficits across the state's southern basins.
The overall pattern looks like it'll turn more active for the back half of the month, with the potential for several more snow chances.
On top of that, March and April are, on average, the two snowiest months of the year for the Front Range. Hope you've got your snow shovels ready to go and remember to check in with the 9NEWS Weather team for the very latest on this storm and always.