DENVER — Each year I keep this blog running to watch snowstorms develop in the 10-day forecast. Usually I get it started up in October, but an early storm has caused the early reopening of the 9NEWS Snow Blog.
SEPT. 7 (ENTRY 5)
We joke about experiencing all four seasons in 24 hours in Colorado, but here we go with a little bit of reality.
It hit a very summery 93 degrees in Denver today and now a nice cool fall breeze is settling across the area. As the cold front pushes through, we might see some spring-like thunder and lightning or even some thundersnow. Finishing up with winter by the time the sun comes up.
I wouldn't expect to see much snow on the ground in the morning as the sun comes up. Who knows what variation of precipitation we might be seeing at the time, but it will probably be melting on the warm ground at the time.
But the temperature should continue to drop through the late morning, and snowfall rates should get pretty heavy. That will give the Denver area the best chance to see accumulation.
Then in the afternoon hours, the storm may struggle with temperature a bit. The sun angle on September 7, is actually still fairly high. It is still technically summertime after all. If the cloud layer is shallow, we may even see the outline of the sun in spots. This time period may prevent snow to continue to accumulate for a while.
As the sun sets on Tuesday, and the temps start to drop again, we will likely see the heaviest snowfall rates in the Denver area. There will likely be a few more inches of accumulation at this time.
We rarely see the snow accumulate evenly across the area, and tomorrow will be no different. Most likely a spread between 2-7 inches in the Advisory areas, and 8-18 inches in the Warning areas.
PHOTOS: September snowfall in Colorado
You may have seen some computer models posted online showing 10-16 inches of snow in Denver, and might be wondering what it would take for that to actually happen.
Well in my mind it will take three things to play out. First of all, there would have to be no rain initially. Snow falling on top of water is not a good formula for good snow accumulation. It is certainly possible with as dry as the air has been, but we are already seeing some thunderstorm activity along the front east of Greeley, and more storms are likely. Plus, the stratus layer that sets up overnight will also include rainfall initially.
Second of all, there would have to be very heavy snowfall rates, like two inch per hour rates for more than 10 hours. Heavy snow has a better chance to accumulate because more snow falls on top of the snow ahead of it before it has a chance to melt. It does look like we will get some very heavy snow. If it snows at 1-inch per hour rates for 16 hours that would equal 16 inches of snowfall, but that rate might not be heavy enough to avoid the melting.
Third, the heaviest snow would have to come all after the sun sets on Tuesday night. If that would allow it to capitalize on the temp issues of the day, and capitalize on the coldest surge of arctic air.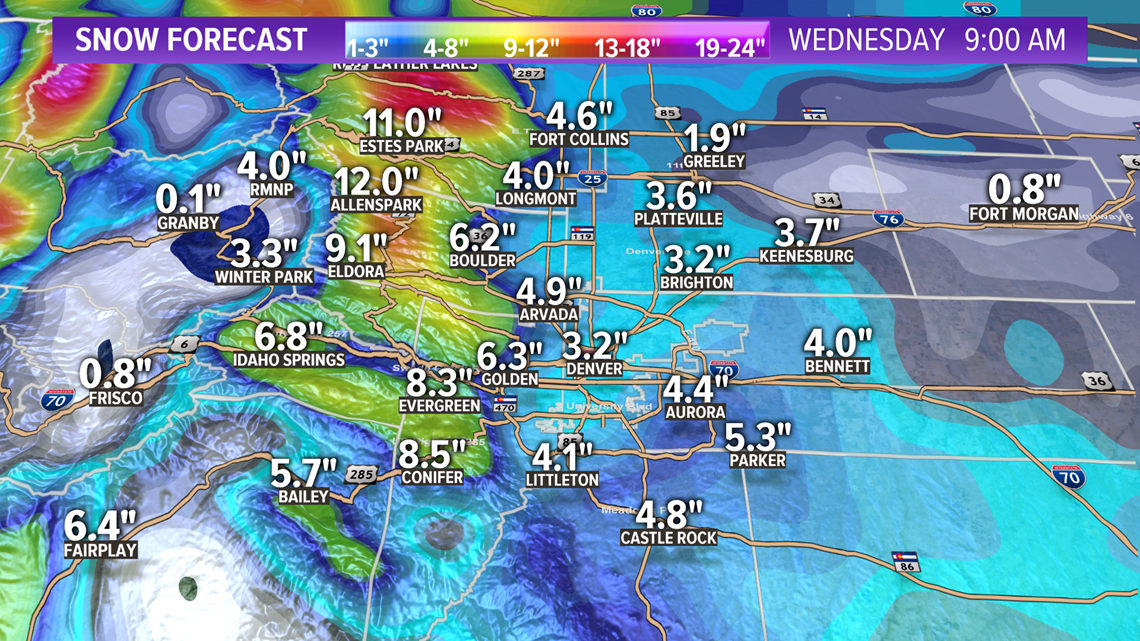 Man that would be crazy fun, but I don't think it is too likely that the Denver metro gets more than 10 inches of snow accumulation.
So then we have Wednesday morning. That will be the coldest time of the storm and very likely still snowing. It could be a rough drive if you have to commute that day.
The upper level low pressure system that will likely get cut off from the guidance of the jet stream, will kind of sit an spin for a few days. Meaning there will be chances for snow at any time of the day Wednesday and even Thursday at times. The bulk of the stratus layer snow will probably end Wednesday morning, but there will still be a chance for a quick convective snow shower or a lifted band of snow.
After that, the dry air is likely to move back in, and there is no legitimate storm threat developing in the 10-day forecast at the moment.
SEPT. 6 (ENTRY 4)
We could go a couple years or even longer without getting a storm to come into the position that it is forecast. The upper low situated over the four corners and likely to cut-off and spin for more than 36 hours. And a lee-side surface low in southeastern Colorado near Lamar.
That is a scenario for a big upslope event on the east side of the Rocky Mountains.
That means plenty of cold air, plenty of moisture, and long-lasting easterly surface winds. If you like snowstorms, this should not disappoint.
The only thing that might make this not a perfect storm, is that it's happening in September, and following a 101, 97, and possibly another 90 degree day on Monday. That will subtract some of the snow totals, but at least we know an epic amount of snow will fall from the sky.
If you like to watch your phone apps update every time a new computer model renders, you've probably noticed an upward trend in snow totals today. That is the case across the board with all synoptic and mesoscale models.
Winter Storm Warnings will likely be issued across the Front Range sometime Monday.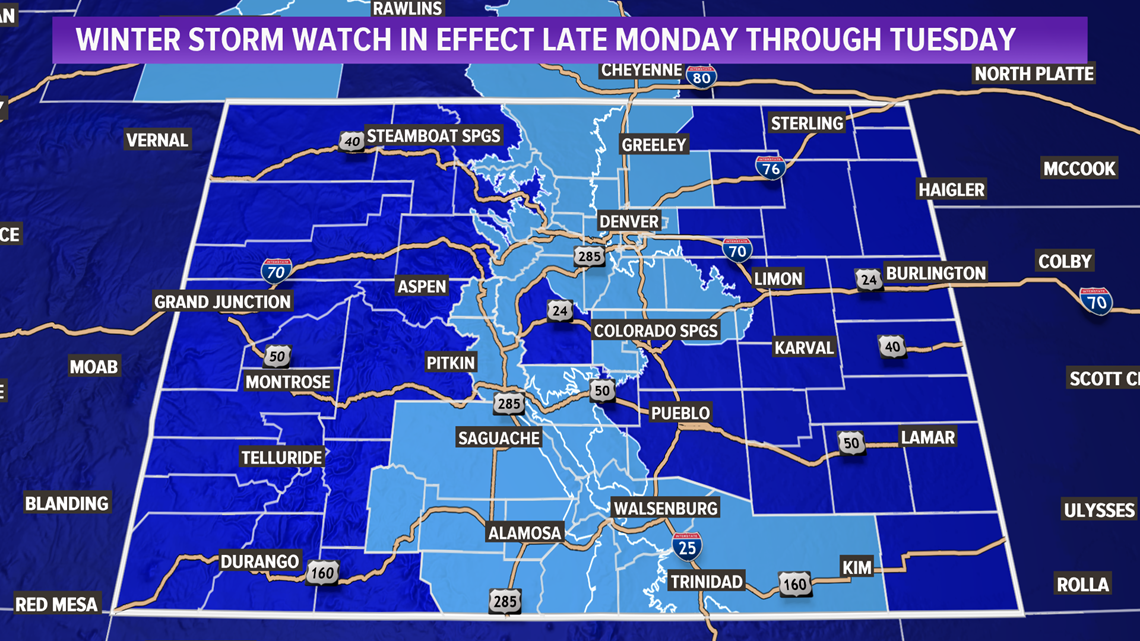 I would say to expect the spread to be in the 3-6 inch range across the Denver metro area still, but maybe with more areas closer to the six instead of the three. The foothills between 7,000-9,000 feet will get the most snow, should mostly get a spread of 8-18 inches. More snow will stick to the roads above 7,000 feet.
The snow will spread along the east side of the Rockies all the way from Wyoming to New Mexico, so big system.
Timing is about the same in today's modeling. Cold front on Monday night, precipitation slowly changes to snow overnight, biggest snow impact between 8am-6pm.
How long the system will last is now the biggest question, and it will really depend on when the upper low moves off to the east. It will be cut-off from the jet stream, so it will get no guidance there. Other steering currents are weak, so it may take some time.
Yesterday's modeling was suggesting that it could be over by midnight, and today they are showing the upslope snow conditions to last until about noon on Wednesday. Either way, the coldest air will be present on Wednesday morning, with likely a pretty strong inversion. So even if there is no snow falling, it will be likely cold and cloudy, and crummy.
SEPT. 5 (ENTRY 3)
Just two days away from the arrival of the cold front, and this crazy September snowstorm will follow soon after that.
The computer models have been unwavering in their pursuit of nailing this storm nine days in advance. That is one heck of a way to start the modeling season. Unless this thing tanks, which seems very unlikely at this point.
The cold air in northern Canada has started to move south, but the trough, or bend in the jet has not yet occurred. That will happen on Monday.
The timing of the cold front has not changed the whole time. Still looks like it will hit northern Colorado sometime after sunset on Monday. That will likely be felt as just a cool gusty wind. The precipitation will follow shortly thereafterer.
At first it could be rain, thunderstorms, or thundersnow before it switches over to an upslope stratus layer snow event.
As of tonight's modeling, it looks like most of the Denver area is looking at getting between 2-6 inches. There probably will be a few places with a little less and a little more, but the Euro has been in that range for about eight or nine days, so that is super consistent.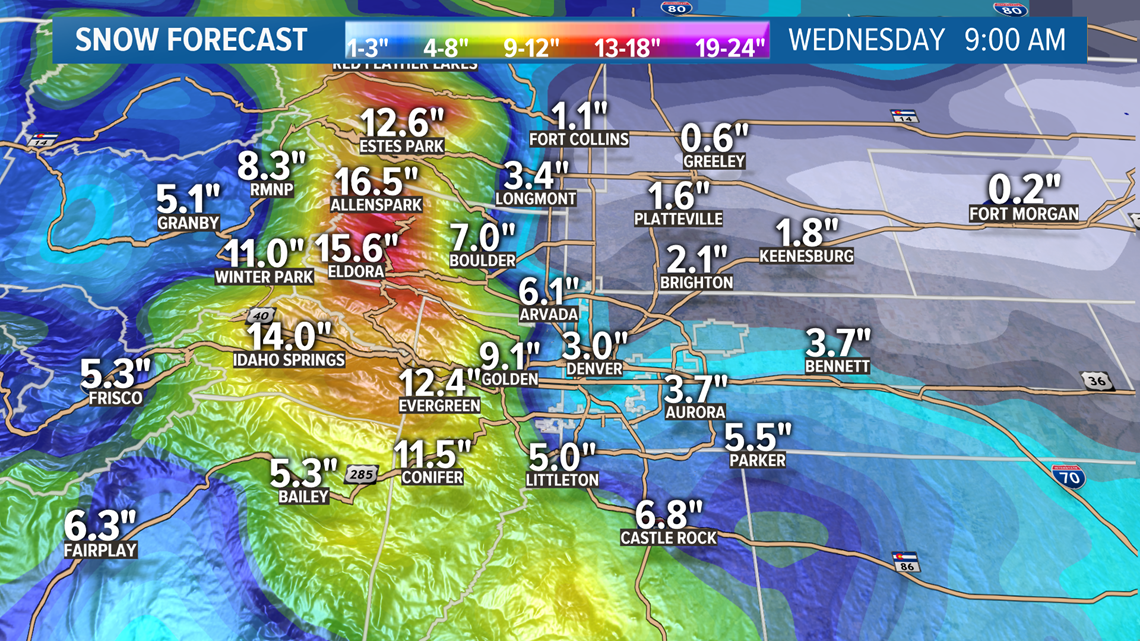 That would be what sticks to the grass and cool surfaces after melting and compaction. The computer models do factor in those variables but always seem to come up a little short. Also the model uses a 10:1 snow to water ratio, and it could be a little wetter than that, so take away some numbers for that as well.
So the Euro has Denver coming in at 6.7" in tonight's run, so maybe subtract about 2 or 3 inches to arrive at a forecast of 3.3". That would be the most snow Denver has ever received on Sep. 8. That still seems a little high to me, but we'll see what tomorrow's modeling brings.
The higher terrain around the west and south metro should get higher totals and less to the east and northeast.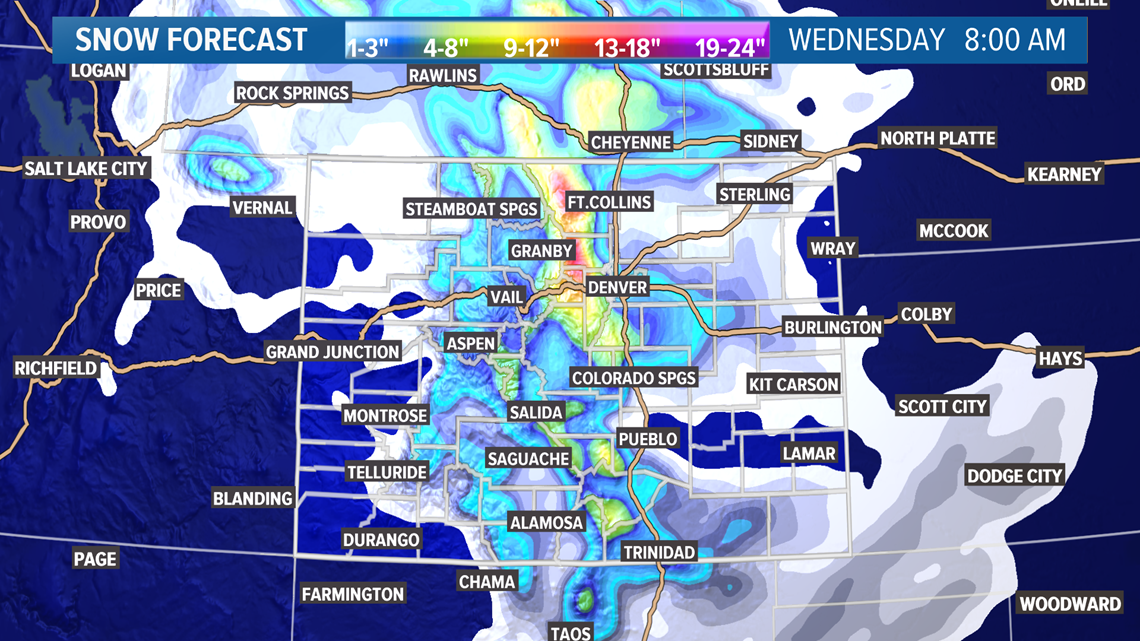 The areas above 7,000 feet will get that 10:1 ratio, so what you see on the model is what you expect to get. Tonight, that is showing between 8-18 inches of snow in the foothills.
There will be less snow west of the Continental Divide, because when it's upslope on this side, it's downslope on that side. The Cameron Peak Fire is on the upslope side in case you're wondering. They should get a good foot of snow on that fire.
The bulk of the snow is timing out to be between 9 a.m. and 6 p.m. on Tuesday. I would not expect roads to be much of an issue in the Denver area with mostly slush and partial snow pack. The roads leading into the foothills could get messy.
There is no reason to blow out your irrigation system. The ground temperature will still be fairly warm six inches below the dirt. It takes a few months of cold to impact that. You should cover any pipe that sticks out above the ground though, like your backflow preventer.
SEPT. 4 (ENTRY 2)
I think many meteorologists, myself included, were waiting for the computer models to tap the brake petal a little bit today, and start a little warming trend. They did not do that, but there were a few changes in today's runs.
The timing of the front looks about the same, coming in on Monday night, but it does appear that it will take a little longer for the cold air to spread in than previous runs.
Tuesday morning still looks like it should make it down to about 35 degrees. So that means rain, and snow, and a mix likely in the Denver metro area.
Now the low on Wednesday morning looks to be 29 degrees in Denver on most models. With precipitation still possible after midnight Tuesday, that means Wednesday will also have a shot a measurable snow.
So two cold days, with snow possible on both in the Denver metro.
The models are now starting to come into range of the 90 hour window. That is important with synoptic scale models like the Euro and the GFS because they have more enhanced resolution then.
Both models are showing a high chance for snow accumulation in the Denver area. They even have several inches of snow showing. We have seen this show before. They often struggle with calculating the amount of melting that will take place.
With several 90-degree days, and maybe a couple of 100's out in front of this, the ground will be warm and not prepared to take on snow accumulation. It is reasonable to say there will be snow accumulation in the grassy areas, rooftops, and cold vehicles though. Still not sure if that means a half inch, or maybe a couple inches.
Time may tell, but even in warmer snowstorms there is a wide spread across the Denver metro area. So some spots could just be wet, while other, higher spots could have three inches or so.
The preparation is the same though. Cold temps with rain and snow. Cover any plants or take them inside. Might even want to cover your back-flow preventer on your irrigation system. This cold won't hurt any pipes underground, as the soil temps will remain quite warm. And you might need to continue regular watering for a couple more months.
Another change noticeable in the modeling, is Saturday's high. That went up to about 99 in most models to match Sunday. So possibly two 100's back to back this weekend before the storm.
SEPT. 3 (ENTRY 1)
One of the most powerful September cold fronts that the Front Range of Colorado has seen in many years is forecast to arrive on Monday night.
It will be a shocking system because it will include one of those really famous temperature swings that the Front Range is known for, along with the chance for snow in the Denver metro area.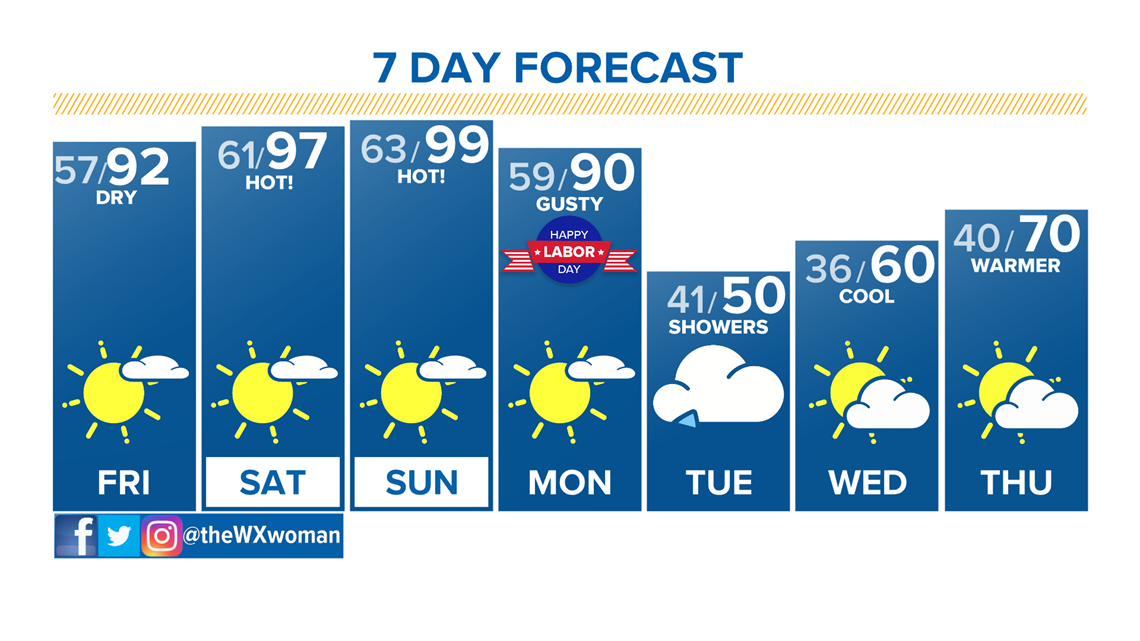 HOT SUNDAY: Lets start with the temperature. On Sunday afternoon, we will likely be talking about another temperature record broken in Denver. The record is 97 degrees, and the 9NEWS forecast at the moment is calling for 99 degrees.
It could even hit 100 degrees in Denver for the second time in 2020. If it does, it would be only the second time in history that it hit 100 degrees in the fall. I say fall because weather records start counting toward fall statistics on Sept. 1. It's a little thing known as meteorological fall.
The first time Denver got a fall 100-degree day was last year on Sept. 2, so if we get one on Sunday, it would be the latest 100 ever recorded in Denver, on Sept. 6.
THE SWING: The now already infamous cold front is not forecast to arrive until after the sun goes down on Monday. The timing could change and likely will, but if that holds true, it will very likely hit 90 degrees on Monday.
So, it could go from 90 degrees at 2 p.m. on Monday down to 36 degrees at 9 a.m. Tuesday. That would be a 54-degree drop in 19 hours — a big swing, but just shy of making the top 10 all-time.
From 99 degrees at 2 p.m. Sunday to 36 degrees at 9 a.m. Tuesday would be a 63-degree two-day swing, also just short of the top 10 all-time.
Both swings will likely be the biggest September swings in Denver history though.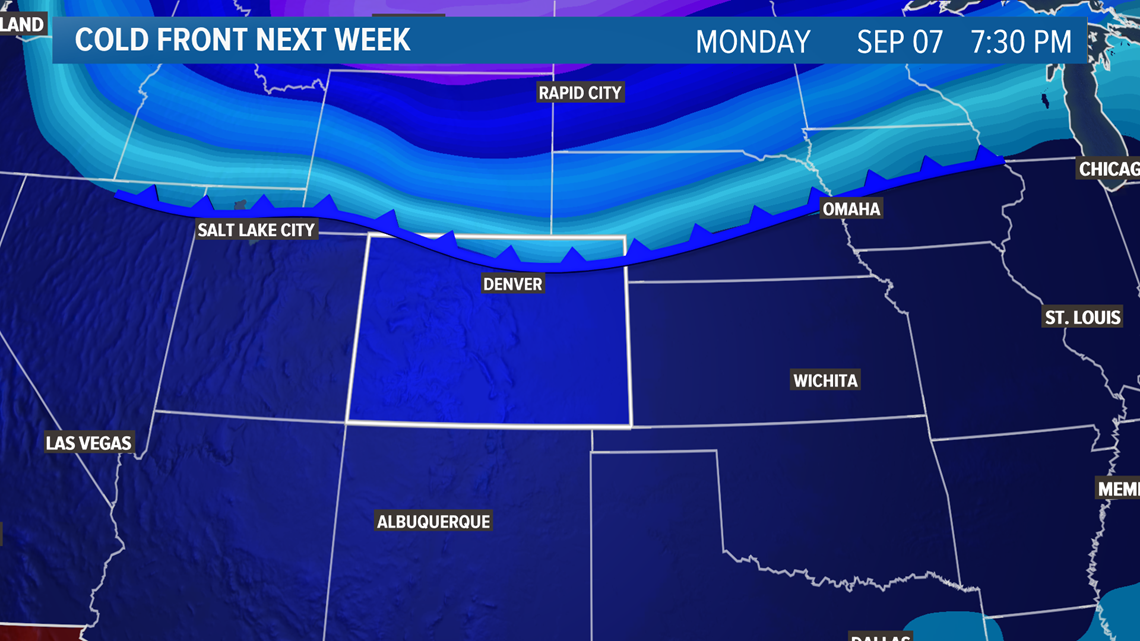 SNOW: The chances of seeing snow in the Denver metro area are quite high at the moment ... and it could stick to the ground in spots.
There is no storm system to observe yet, but the long range computer models have been consistently signalling this storm for four days already.
Temperature is a big issue for fall snow storms on the Front Range. The computer models are showing it getting down to about 35 or 36 degrees in the Denver area by 9 a.m. on Tuesday.
That is not cold enough to have much snow accumulate on the ground, but it is cold enough to support snowflakes making it to the ground.
When a powerful cold front like this comes marching into a warm fall environment, we often see convective type clouds, like thunderstorms. If that's the case we could see quite the mix of rain, snow, hail, sleet and graupel at times.
The timing in the Denver area so far looks to be around 4 a.m. Tuesday and lasting well into the night.
If the front comes in colder than that, and we do get snow accumulation at Denver International Airport, it would be the first measurable September snow in 20 years. National Weather Service records show that two-tenths of an inch was measured at the Stapleton sensor on Sept. 24, 2000.
There was a memorable snow-ish type of storm in September 2014, but there was not enough snow at the airport to actually get a measurement so it was recorded as a trace amount of snow. Some parts of the metro area, especially the west side, did get snow on the grass and rooftops.
Some of the computer models are showing snow accumulation on the lower Front Range, so it will have to be monitored closely over the next couple of days. Once the storm system starts to form in Canada on Sunday, we might have a better idea of what the snow will look like on Tuesday.
There are even some models showing several inches of snow in Denver, but there isn't too much value in discussing snow totals five days in advance. As we know from years of watching long-range computer models on this blog, things change quite often over the course of day 10 through day four of a snow forecast.
Now is the time to prepare for a winter storm though. Last year the European model was just shy of 100% accurate when predicting a snow storm nine days in advance.
The Euro is showing a snowstorm coming Tuesday in Colorado, so that is what we will get.
There is a good chance that the foothills and areas between 7,000-9,000 feet will get measurable snow. A reasonable mix of the computer models would suggest between 3-6" of snow in that zone, extending all the way down into Teller County.
Winter Weather Advisories will likely be posted as early as Sunday night or Monday morning if the storm develops the way the computer models are indicating.