DENVER — Sunday, dozens of firefighters gathered at a lake in north Denver to train for a call they see far too often. Every year, people fall through the ice into frozen lakes.
"We want to make sure we're at our best when that time comes," JD Chism with the Denver Fire Department said. "We want to make sure that we don't even have to think about it when it's the real thing."
When temperatures go from 60 degrees one day to freezing the next, the ice covering lakes can become unstable and dangerous.
"The ice is very dangerous. Not only for your animal, but especially for yourself," said Marc Jonez, a Denver Fire Department Technician who was running the session. "What we try and do is put ourselves in the mindset of those victims in the water. The hypothermic effects set in very, very fast. That's what we're worried about."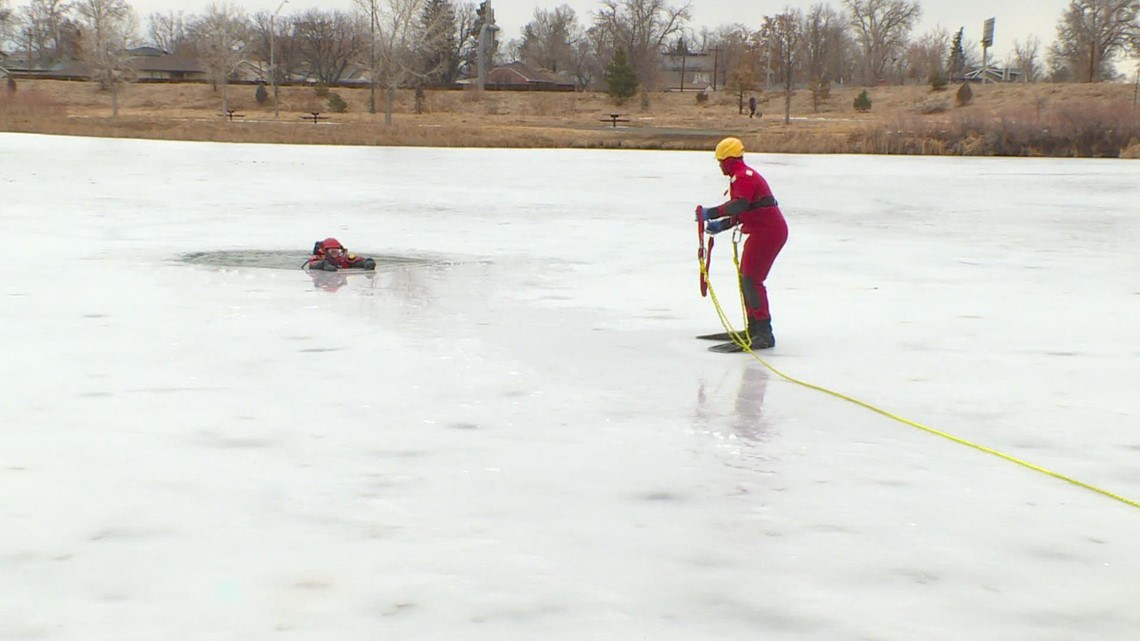 Every year, firefighters across the city respond to a handful of calls of someone who's fallen through the ice. Often it's in the spring, when the ice is melting. Most often, firefighters say, it's a case where a pet has gone out onto the ice, and a person goes out to try and save it before falling in themselves.
Jonez said the weather we've had recently has made the ice especially dangerous.
"The sunlight can make it go from really soft to really thick, all within a matter of days or hours," Jonez said. "When we have really warm temperatures, it will actually cause that thaw. When freezing overnight happens again, the ice is actually weakened and it's not the same conditions that it was when that hard freeze came in and set that ice."
Denver Fire now uses infrared drones to search for victims as they train again and again for the real thing.
"When we get the calls for somebody who has fallen in the water, it's a situation where it's a right now type of thing," Chism said. "We don't have time to fumble around."