But you probably didn't know that Denver is on pace for its wettest month on record, at least as of Monday, May 15.
With 4.65 inches of rain at Denver International Airport (DIA) as of Monday afternoon, Denver was on pace for more than nine inches of rain over the course of the full month — something that's never happened in Denver's 151-year climatological history.
Denver's current wettest month on record was back in May 1876, when a whopping 8.57 inches of precipitation fell.
Denver "only" needs less than four inches of precipitation to break that mark. However, it's unlikely the city will pass May 1876 for that top honor.
That's because it takes a pretty remarkable storm to produce two or more inches of precipitation any time of the year in Denver, and Denver still needs almost four inches of precipitation over the month's final two weeks to get there.
As a reminder, Denver only averages 14.48 inches of total precipitation in a calendar year. So getting four inches of precipitation in two weeks would be a remarkable feat, since that's about 30% of the city's full-year rain and melted snow equivalent.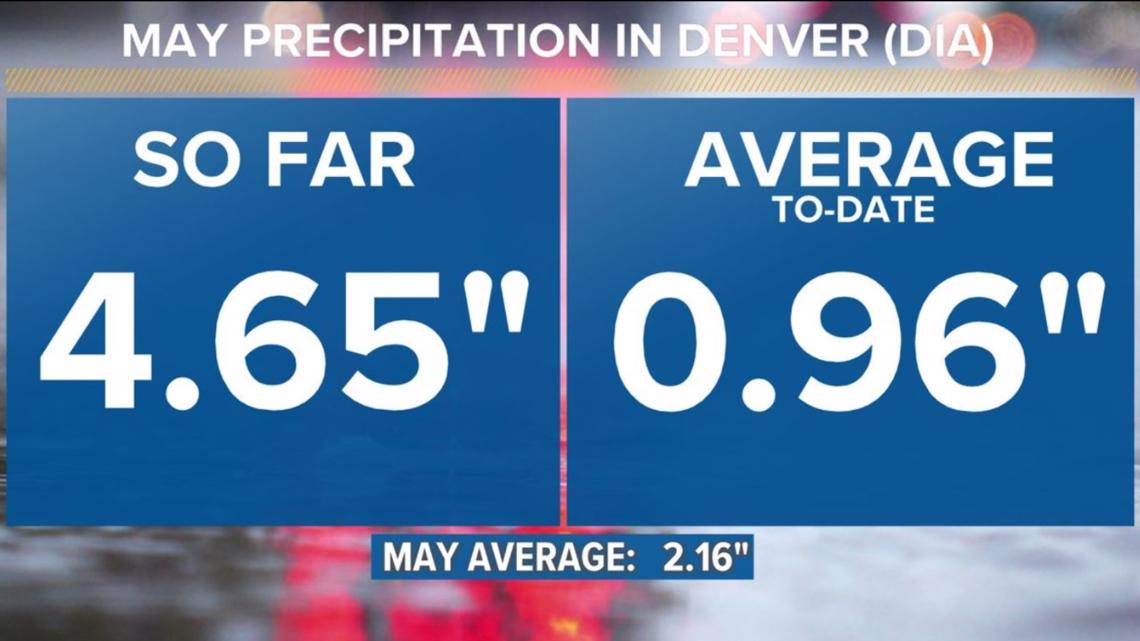 Regardless, it's still been a wildly wet start to May in Denver and along the Front Range. It's already Denver's 11th-wettest May on record, and the city only needs about three-tenths of an inch of precipitation over the rest of the month to lock in a top-five wettest May on record.
Denver needs less than a half inch of precipitation for this to finish as the city's second-wettest May on record.
It's also likely this'll finish as one of the city's wettest months overall on record -- not just May. If Denver finishes with six or more inches of precipitation, it'd clinch a top-10 wettest month on record. That seems likely, especially with more rain likely later this week.
Showers and storms look likely on Wednesday, Thursday and Friday, and that'll probably add to Denver's already impressive 4.65 inches of precipitation so far this month.