DENVER — It's not just the chilly weather you felt on Monday: It really has been a cold few months along the Front Range.
As of Tuesday, this is Denver's coldest start to a calendar year since 1979, based on data from both Denver International Airport and the city's weather observation site at Central Park.
With an average Jan. 1-March 27 temperature of 30.3 degrees at DIA – and 30.6 degrees at Central Park – the start of 2023 is about 7 degrees below the long-term year-to-date average.
It's also the 19th-coldest start to a calendar year on record in Denver (official weather records in Denver date back to 1872).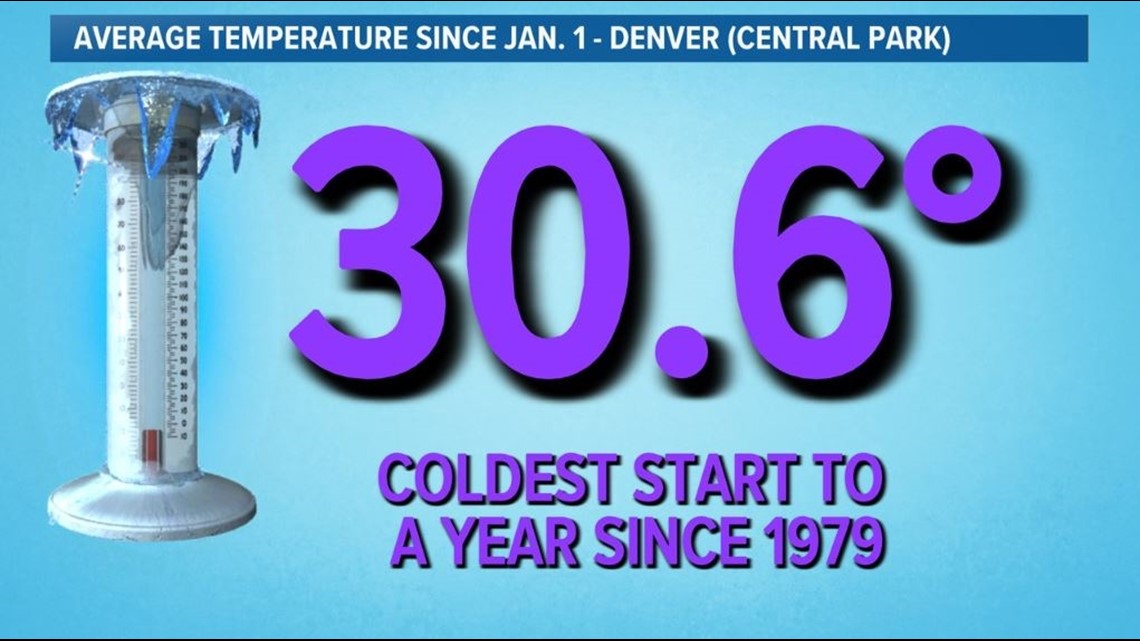 A persistently chilly weather pattern, featuring a trough of low pressure across the western U.S. and a ridge of high pressure over the eastern third of the country, has kept things consistently cloudy and cold across Colorado this winter.
That same weather pattern has also helped seriously boost snowpack levels in the mountains, with season-to-date snowpack running well above average. In the San Juan mountains of southwestern Colorado, season-to-date snowpack is at record levels.
It's also part of the same pattern that has led to historic snow and rain for California and much of the western third of the country.
It's important to note that despite this chilly and snowy winter in Denver and Colorado, climate change is still making Colorado, on average, warmer.
There is recent evidence that climate change hasn't significantly affected Colorado winters over the past 40 years. The impacts of a warming climate in Colorado have been mostly felt during the summer and fall and with an increase in extreme weather events year-round.
Even in an overall warming climate, colder and snowier winters can still happen, and the start of 2023 is a clear example of that.