COLORADO, USA — It's early, so hold your horses. But, it might be finally time to break out those snow shovels, at least up in the mountains.
Sure, we've seen a few dustings of snow at or above 11,000 feet in elevation, and perhaps a few inches of wet snow atop some of our highest peaks. But the first significant mountain snow of the season looks like a decent possibility for the middle-to-end of next week.
That system looks likely to bring the mountains their first healthy snowfall of the season. Since the snow looks to impact the mountains for the Wednesday, Thursday, and/or Friday time period of next week, details are admittedly lacking.
But, computer forecast models are fairly strongly hinting at a big push of cooler and wetter weather arriving next Wednesday or Thursday. Several inches of snow could fall above 8,000 or 9,000 feet in elevation, perhaps helping the ski resorts to start building their bases.
Another reason for confidence about snow chances next week: It makes sense, at least climatologically. The mountains usually get their first big snow of the season somewhere in late September or early October.
Denver snow chances next week?
You've been warned: You'll probably see some ridiculous snow maps on social media showing several inches of snow for the Denver area late next week.
As far as the Front Range is concerned, sure, it could snow late next week. But, it's far too early for much in the way of details. The computer models disagree way too much on timing and the extent of how far south the low pressure system will go, meaning we probably won't know about lower elevation snow chances until later this week or this weekend.
But similarly to the mountain snowfall outlook, one thing to keep in mind for Denver and the Front Range is that this would be roughly on schedule for our first measurable snowfall of the season.
Next Wednesday is Oct. 12, relatively close to Denver's average first measurable snowfall date of Oct. 18. We've seen measurable snow in Denver on or before Oct. 10 in four of the past five years.
So it's well within the realm of possibility. But again, we probably won't have a better idea about Denver-area snow chances for a few more days.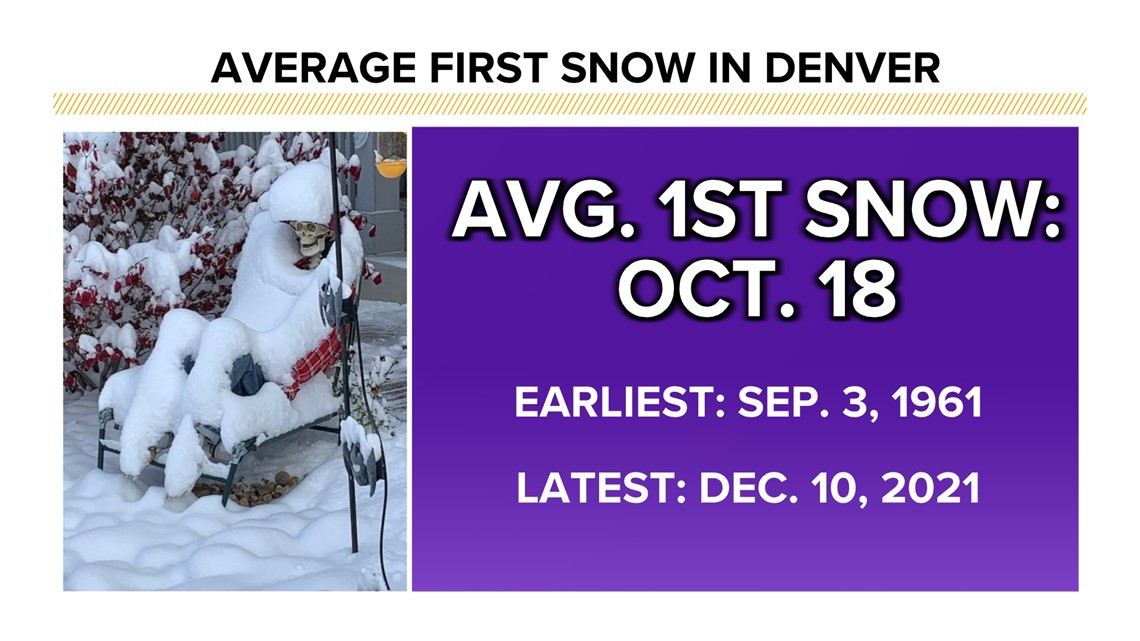 In the meantime, pleasant and mostly dry weather is likely through next Monday, with only a few shower and storm chances until our first true winter-like system potentially arrives later next week.