DENVER — Flight cancellations and delays continued Friday morning at Denver International Airport as dangerously cold temperatures lingered and the holiday travel season began.
As of 10:20 a.m. Saturday, 157 flights were canceled at DIA and 303 were delayed, according to FlightAware.
That came after Friday's 425 cancellations and 801 delays, Thursday's 645 cancellations and 866 delays, and more than 170 cancellations and 700 delays on Wednesday.
An arctic blast of frigid weather that arrived in the Pacific Northwest on Tuesday slid into Colorado on Wednesday, gripping the state in a deep freeze.
Across the U.S., thousands of flights were canceled as forecasters warned of an impending "bomb cyclone" — when atmospheric pressure drops very quickly in a strong storm.
Winter Weather Advisories, Winter Storm Warnings, and Wind Chill Warnings were posted for counties across Colorado.
Lasting from Wednesday afternoon through Friday, the system brought the coldest air Colorado has experienced since 1990, with a temperature of 24 below zero Fahrenheit on Thursday morning.
Denver also recorded a wind chill of 40 degrees below zero Fahrenheit Thursday morning, the city's lowest wind chill since 2007.
Snow accompanied the bone-chilling cold Wednesday night into Thursday morning.
The wind chill advisory expires at 11 a.m. Friday as temperatures will begin to moderate, though highs forecast for the low 50s by Christmas Day.
Snow, extreme cold at Denver International Airport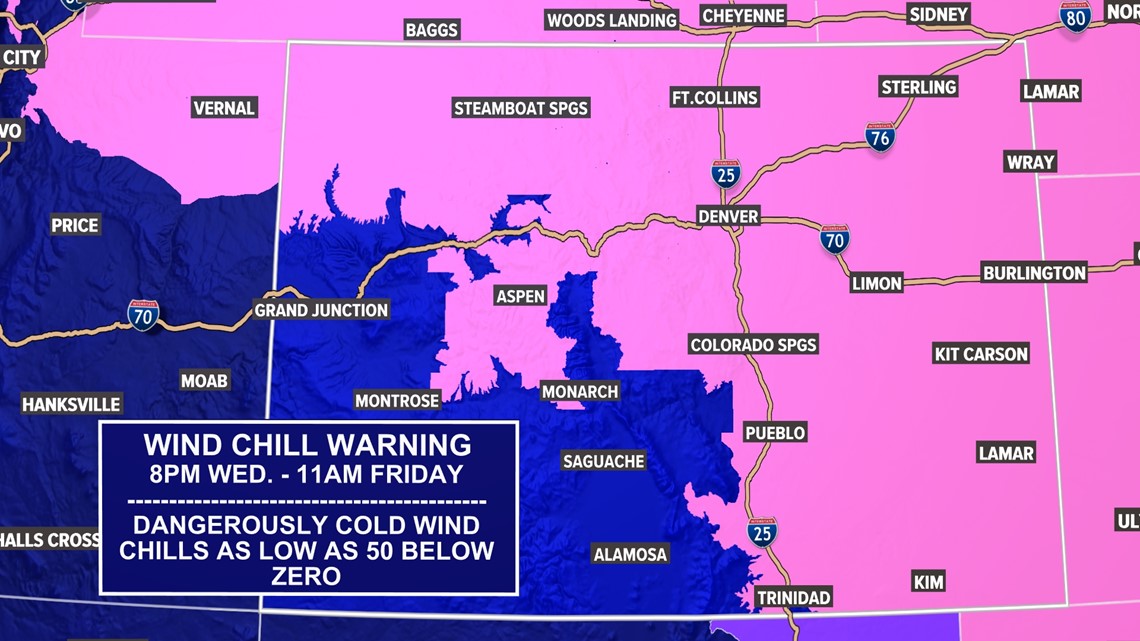 WEATHER LINE 9: Updated weather info at 303-871-1492.
If you have a weather report, photo or video to share, you can contact the 9NEWS Weather Team in these ways: