GLENWOOD SPRINGS, Colo. — Interstate 70 through Glenwood Canyon will remain closed in both directions longer than expected after "extreme damage" from heavy rain and flooding Saturday night, the Colorado Department of Transportation (CDOT) said Sunday.
In a release, CDOT said senior operations supervisors and engineering staff described damage to the viaduct structure as "unlike anything they had seen before."
Crews are assessing damage and continue to clear debris and mudflow when weather conditions are safe, CDOT said.
A CDOT spokesperson said there is no estimated time for reopening the interstate, which was initially expected to remain closed through the weekend.

Mike Goolsby, who is CDOT's Region 3 director, said late Friday there were at least ten slide areas throughout the canyon from the No Name rest area all the way to Dotsero.
"Sizewise they vary anywhere from water and small debris that's spread out over a couple hundred yards or more to actual debris flows of bigger rock, mud and trees that are anywhere from 20 to 150 feet wide and upwards of 10 to 12 feet deep," Goolsby said.
I-70 is closed between Exits 87 (West Rifle) and 133 (Dotsero).

At 4:30 p.m. Thursday, I-70 through Glenwood Canyon was closed due to a Flash Flood Warning for the Grizzly Creek burn scar area. At 6 p.m., the warnings expired, and the highway reopened.
Later Thursday, around 9 p.m., a new Flash Flood Warning went into effect after storm cells quickly built up in the area. At that time, according to CDOT, mudslides and debris reached I-70 within a few minutes.
While debris was flowing onto the roadway, CDOT temporarily evacuated its operations center inside Hanging Lake Tunnel and had personnel working in the complex shelter in place for their safety. At around 10:45 p.m., the Hanging Lake Tunnel operations center was back online.
CDOT staff at the tunnel assisted travelers trapped on I-70 by debris flows and sought shelter at Hanging Lake Tunnel.
A total of 29 people sheltered at the tunnel complex overnight, and 108 individuals have been evacuated from Glenwood Canyon or moved to a rest area, according to CDOT.
CDOT said late Friday afternoon that between 60 and 75 people were still at the rest area, but they hoped to have all of them out of the canyon by around 5 p.m.

"I'm very grateful that no one was hurt. There were two cars that were actually surrounded, inundated by two of the debris flows," said Goolsby. "Those individuals are very fortunate they walked away from it. Their cars are not in good shape, but they are."
Those two vehicles and a commercial truck remain in the canyon and likely will stay there until CDOT leaders determine it's safe to enter the canyon, Goolsby said.

CDOT said they would assess the mudslides to see what cleanup is needed before reopening the road.
Mudslides were reported on Thursday afternoon near Redstone on Highway 133. That road remains closed because of mudslides from the same cluster of thunderstorms prompting the I-70 closures at Glenwood Canyon.
CDOT automatically closes the flood-prone stretch of highway anytime a Flash Flood Warning is issued by the National Weather Service.
The Grizzly Creek burn scar is located right near the highway. Burn scars are especially vulnerable to flash flooding due to the lack of vegetation to absorb moisture. As a result, flood-driven mudslides are common near or even over the interstate.
I-70 mudslides through Glenwood Canyon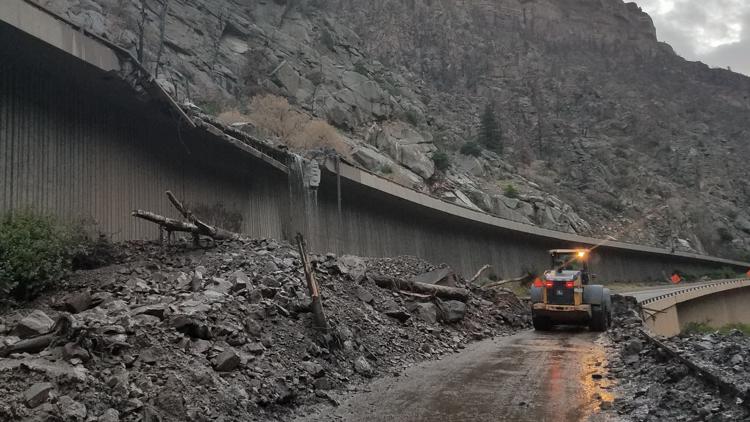 If detouring, CDOT asked motorists to use the northern alternate route, adding an extra 2.5 hours of travel time.
Westbound motorists from the Denver metro area should plan on exiting I-70 at Exit 205 (Silverthorne) and traveling north on Colorado 9 toward Kremmling or exiting I-70 at Exit 157 (Wolcott) traveling north on Colorado 131 toward Steamboat Springs.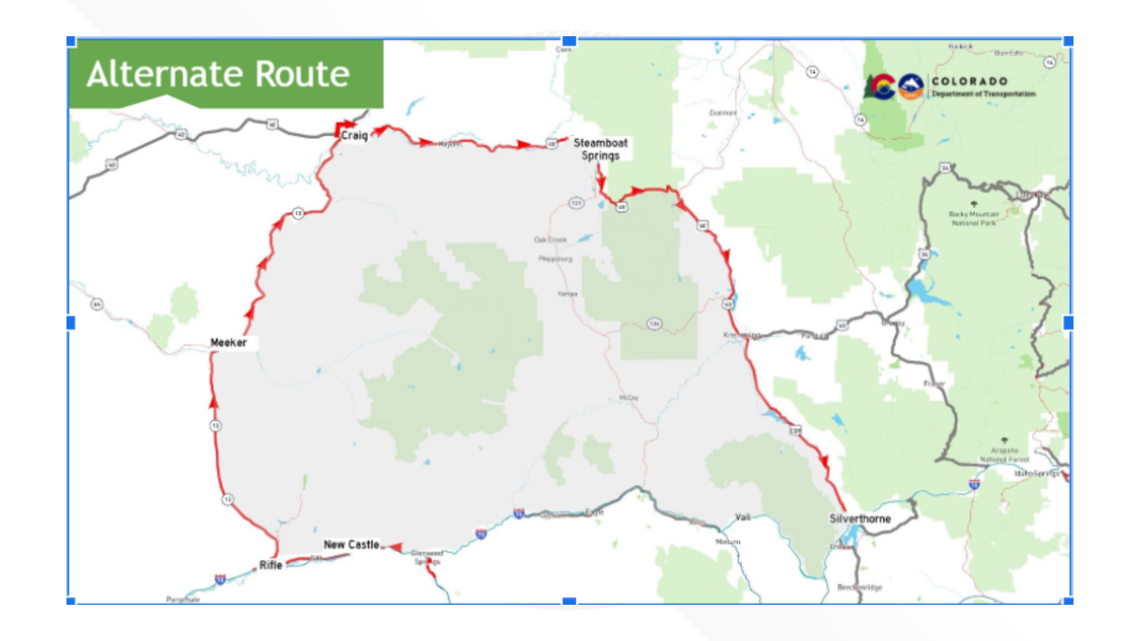 Travelers will then continue west on U.S. 40 and then south on Colorado 13 to complete the alternate route and return to westbound I-70 at Rifle (Exit 90).
Motorists traveling eastbound from Utah or Grand Junction can reach the Denver Metro area by traveling the route above in reverse.
CDOT recommends that truck drivers planning to travel through Colorado take Interstate 80 through Wyoming.