The winter of 1898 was one for the (very new) history books in Breckenridge, Colorado.
The gold mining town, as it was back then, was home to several businesses - including barber shops, watch repair shops, hotels, and general stores. Its population was mostly those who had arrived for the gold rush to mine ore from the nearby mountains.
Snow fell in the town for 79 straight days, piling up past business doors, in a historic snowfall documented in images from 1898-1899.
There was so much snow, residents were forced to dig tunnels through Main Street.
PHOTOS: In 1899, Breckenridge was buried in snow
Black-and-white photos show residents shoveling trenches of snow that rises to the eaves of homes.
At the Denver Hotel, a two-story structure, workers had to dig out the boardwalk and its entrance.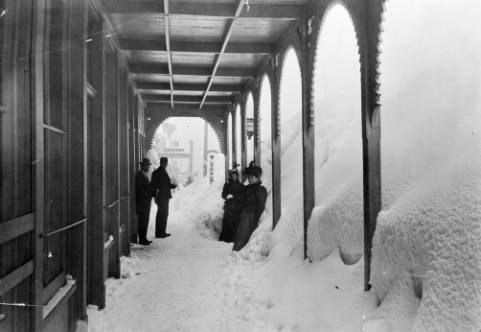 Townsfolk who had to get around on foot, through or over the snow tunnels, used snowshoes, ski poles, and skis to maneuver.
Often, the snow tunnels were well above an average person's height, as shown in this image of banker and city treasurer, George Engle, and his wife, Gertrude, in 1899.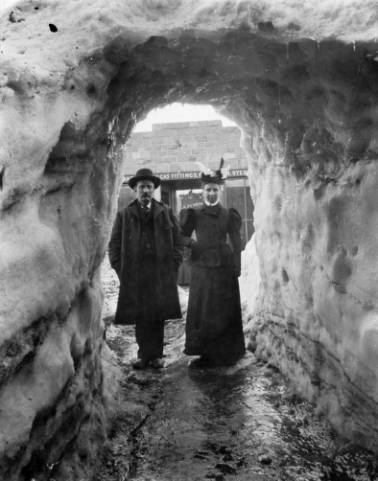 He wears a topcoat, sack suit and gold chain, and fedora hat. She is in a puff shouldered bodice and feathered capote hat, with black gloves and dress.
The town of Breckenridge was established in the 1880s.
Breckenridge was inadvertently left off a U.S. map in the mid-1800s and became known as "Colorado's Kingdom" until the mistake was discovered nearly a half a century later.
It was discovered in 1936 that the initial U.S. map surveys had miscalculated the Continental Divide (one survey had it to the west, one to Breck's east).
After World War II, the population dwindled in Breckenridge dramatically.