COLORADO, USA — In the summertime, the jet stream retreats to Canada, which means Colorado does not get too many big storm systems. So we have to rely on the North American Monsoon to bring in some moisture in July and August.
This year the monsoon is bringing rain to at least some parts of Colorado. It hasn't been super strong but it beats the last couple of years. Meteorologists jokingly called it the "Non-soon" during the summer of 2020.
A monsoon is a wind shift that brings air onto land from the ocean. It's like a sea-breeze that may develop along the coastline during the day, except a monsoon is seasonal. So it will last day and night for several months.
In the U.S., our monsoon is called the North American Monsoon.
It develops when the summer sun heats up the land in the southwestern states. That causes low pressure to form at the surface which reverses the winds. When the land is warmer than the water, the air will move towards the land.
The on-shore wind pulls in moisture from the Gulf of Mexico and the East Pacific. Some years that moisture reaches all the way into Colorado.
This year the monsoon is reaching at least parts of the state, and you can see the impact it's having on the drought.
The latest drought monitor released Thursday shows that La Plata County erased all Exceptional drought levels. There is still Extreme drought, which is level three out of four, but that is an improvement from last week.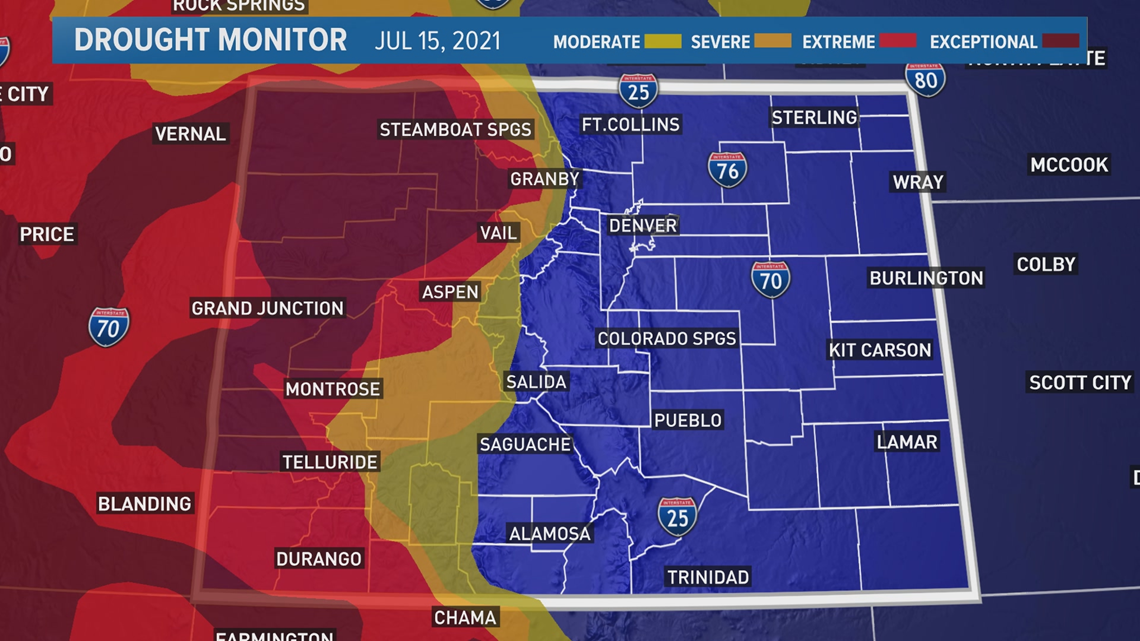 Southwest Colorado relies heavily on the monsoon. July, August, and September are the three wettest months of the year there. The precipitation averages at the Durango-La Plata County Airport are above an inch and a half each of those months. June is the driest month there averaging less than a half-inch of rain.
The drought monitor shows an increase in Exceptional drought levels in northwest Colorado. An indication that the monsoon has not been strong enough to reach the whole state.
Grand Junction for example has only had a quarter-inch of rain since May 11. Overall, there was a slight increase in the Expectational drought of less than 1% this week.
Monsoon storms have been sporadic east of the Continental Divide, but that part of the state remains drought free.
Chaffee County was the latest area to add a big section to the drought-free zone.
The peak of monsoon season is in August and it can often last all the way through September.