SUMMIT COUNTY, Colo. — After a beautiful weekend in Colorado, another winter weather system has arrived in the state.
The system will bring light snow to Colorado's mountains throughout Monday, gradually decreasing in the afternoon.
The heaviest snow is expected to fall over the Elkhead and Park Mountains and Flat Tops. A Winter Weather Advisory has been issued for 5 to 10 inches of snow and winds gusting to 45 mph until 11 p.m. Monday.
There is a chance for a snow shower to stray onto Colorado's Front Range and eastern plains Monday afternoon. Denver will see increasing clouds Monday with breezy conditions.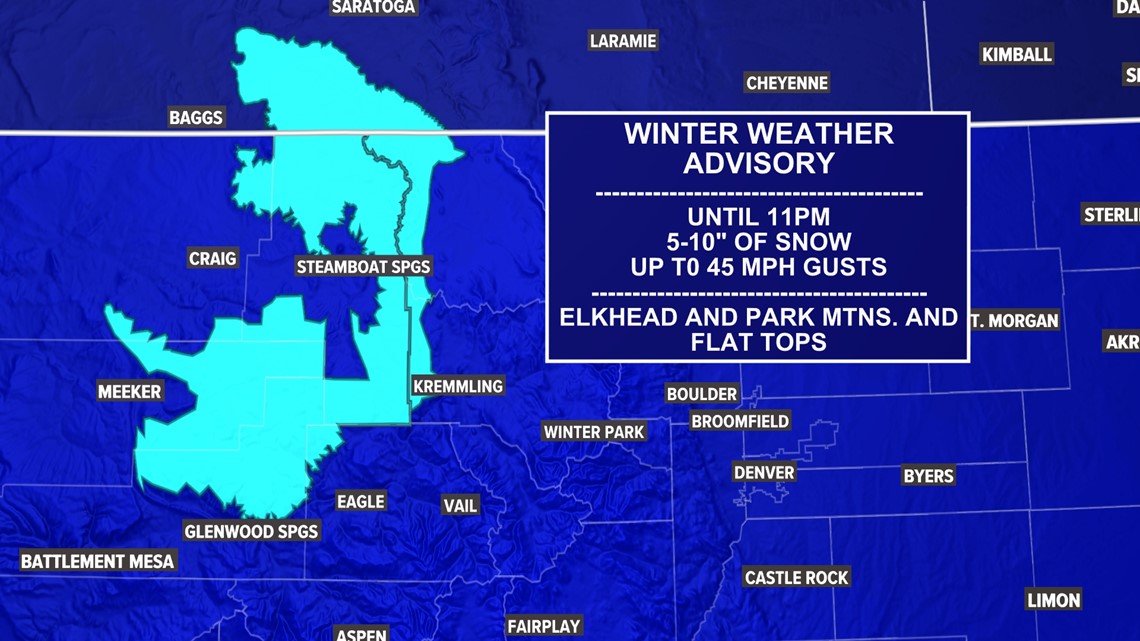 Drivers in Colorado's mountains could encounter slick roads, falling snow and some patchy blowing snow.
The skies over Colorado will clear Monday night with several days in the 40s. Colorado's next chance for snow and colder weather arrives late Wednesday into Thursday.
Colorado chain and traction laws
The CDOT urged travelers to be aware of chain and traction law codes before heading out on the roadway:
Code 18/Commercial Chain Law: Commercial vehicles and trucks must have chains. Vehicles without chains can often lose traction, causing traffic delays and sometimes road closures. For the safety of the traveling public, it's critical to use chains to comply with Colorado's chain law.
Code 15/Passenger Traction Law: All passenger vehicles must have appropriate all-weather tires with 3/16-inch depth. Vehicles must have one of the following: winter tires, tires with mud/snow (M+S) designation, chains or alternative traction devices such as an autosock. 4WD and AWD vehicles must have winter tires or all-weather tires.
Code 16/Passenger Chain Law: All passenger vehicles need chains, except for 4WD and AWD vehicles with all-weather tires with 3/16-inch tread depth.
9NEWS+
9NEWS+ has multiple live daily shows including 9NEWS Mornings, Next with Kyle Clark and 9NEWS+ Daily, an original streaming program. 9NEWS+ is where you can watch live breaking news, weather updates, and press conferences. You can also replay recent newscasts and find videos on demand of our top stories, local politics, investigations and Colorado specific features.