DENVER — April is usually the month when we start mixing in large hail with our snow in Colorado, but there hasn't been a single severe thunderstorm warning issued in our state yet.
Last year April was active, and so was March. The first tornado sat down in Weld County on March 22, and another one flipped RV's in El Paso County on March 29.
But our biggest problem on the Front Range is hail, and that includes a phenomenon known as "plowable" hail.
"Plowable hail is a nice metaphor for what's going on because a lot of times they have to use snow plows," said Katja Friedrich, an atmospheric scientist at CU Boulder.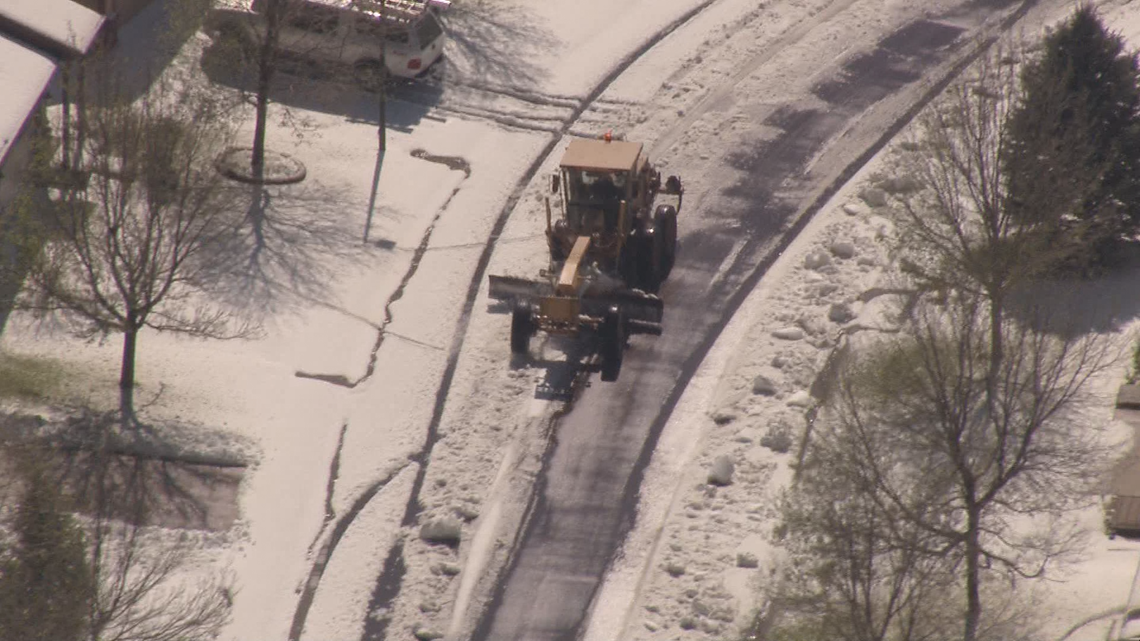 Friedrich has been researching plowable hail, also known as deep hail accumulation, since 2012.
She said plowable hail can be just two inches deep but can get deeper than two feet. And it's made up of small hailstones usually smaller than one inch in diameter.
Fascinating aerial photos of the hail swaths left behind after a storm show just how complex the thunderstorms are that create deep hail accumulation.
They can start and stop abruptly, as well as cover very small areas.
Science has not yet provided a way to forecast plowable hail events. It's hard to identify even after the thunderstorm forms.
"Because on the radar image, basically these storms look identical to regular thunderstorms that do not produce hail," Friedrich said.
Why plowable amounts of small hail forms inside a thunderstorm instead of smaller amounts of large hail is still a mystery to meteorologists.
Friedrich and her team at CU Boulder believe they are close to getting some answers about how the hail forms, how to identify it on radar, and even how to forecast it.
"If a storm that's producing a lot of hail slows down, that when we are likely to get a lot hail accumulation at the surface," Fridriech said.
Her research has found a correlation between high amounts of vertically integrated ice showing on radar, and the speed of storms contributing to deep hail accumulation.
But she also said that there are still too many examples of storms that slow down and don't drop accumulating hail, and that they found that storm speeds vary greatly -- especially in Colorado.
The goal is to continue the research and try to find more examples to case-study. She said they try to get quality reports of plowable hail events right after they happen, and the cross reference those reports with radar data.
She hopes that if they can define an event true enough to program a numerical model, they will be able to get a better idea about the characteristics of a storm or the atmosphere that lead to plowable hail.
That's where we come in. Friedrich said she needs the public's help to strengthen their dataset. She needs quality and timely reports when plowable hail events happen. They focus on the High Plains but will take reports from anywhere.
The information her team needs is a time, a location, a measurement of depth, the duration of the hail event, the size of the hailstones, and as many pictures or videos that you can provide.
She said the best way to get a report to her scientists is to use Twitter with hashtags. #DeepHail is theirs, or #COwx (the Colorado Weather hashtag), or you can use the 9NEWS Weather hashtag which is #9wx.
If you don't have Twitter, you can email deephailCO@gmail.com or you can email the 9NEWS Weather Department at weather@9news.com and we will pass on your report.
Friedrich said that plowable hail is not a problem unique to Colorado but she believes there is more of it here than anywhere else.
"We are on the top of the High Plains and the distance between the top of the thunderstorm cloud the surface of the ground is shorter than other places," Friedrich said. "So the hail has less time to melt on the way down."
She said if you take the same storm that produces accumulating hail in Denver and put it in Dallas, there would likely be much less hail there or even just rain.
There main area of research is from Amarillo to Cheyenne, and from Dodge City up to Rapid City.
Plowable hail is not yet considered damaging because of the small size of the hailstones, but new since last year, the National Weather Service can now issue a Severe Thunderstorm Warning if plowable hail starts falling around a major roadway.
The dangers of driving through a deep hail accumulation event is a lot like driving in snow.
Friedrich's research will also looking into how accumulating hail affects homes, cars, and other property. And she said the biggest impacts of this will likely be in the agriculture industry.