COLORADO, USA — With just eight days left in fall, Denver is in jeopardy of recording its first-ever snowless fall season.
Fall weather records are recorded from Sep. 1 to Nov 30.
The snowless streak is up to 116 days now for Denver, which is a record using modern era records since 1948. That includes the Stapleton Airport and Denver International Airport climate record.
The all-time record for consecutive snowless days is 232, which was set way back in 1887 when Denver's official climate station was downtown on 22nd and Welton.
Boulder managed to get its first official snow accumulation of the season last Wednesday morning. It was a whopping three-tenths of an inch. That kind of feels like kicking a field goal at the end of the game to avoid a 60-0 shutout.
Evergreen and Colorado Springs are still snowless. The next snow for Evergreen will be a record. The record in the Springs is Dec. 2.
All the mountain towns are below average, snowpack is below average, and the National Weather Service in Boulder has yet to issue a Winter Storm Warning this season. The latest first warning of the season is Dec. 8, set back in 2012.
Wednesday might be the last legitimate chance to end the snowless madness in Denver, but the chances are still slim.
NOV. 23-25 (Thanksgiving)
Chance for snow at DIA: 20%
Models are showing a trough split with Colorado getting left in the middle, but there will be some mountain snow and Denver will at least have a shot at snow accumulation.
The southern mountains are finally getting back into the mix with 3-6 inches of snow expected in spots. A little less snow is likely in the northern mountains. The snow could start accumulating on Tuesday evening, but no advisories have yet been issued.
The snow east of the Continental Divide will also be focused to the south, so Colorado Springs has a shot to get the first snow accumulation of the season, avoiding a record latest there.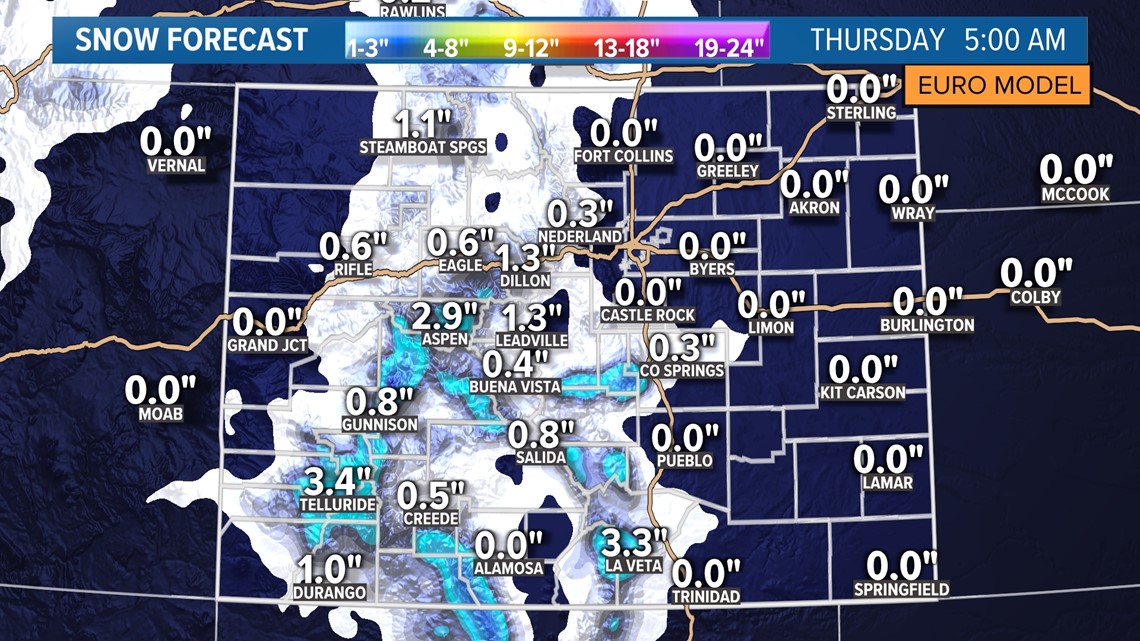 Models are showing snow showers starting on Wednesday morning with about a half inch in the Springs and a couple inches up higher on the Palmer Divide.
It might be later in the day for the showers to really impact the Denver area, so there is less of a chance for snow accumulation there. None of the models are currently showing accumulation at DIA.
It will be cold enough for snow for most of the area, though, so look for some snow to at least mix into the showers.
Skies should be clear and blue by Thanksgiving morning with another warmup getting started.
NOV. 27 (Saturday)
Chance for snow at DIA: 0%
A very weak system may still impact Colorado with a little precipitation on Saturday, but mostly with light mountain showers above 10,000 feet. A dusting is possible up there.
Dec. 2-3
Chance for snow at DIA: 0%
So if the Thanksgiving storm doesn't come through for Denver, it looks like it will be the first ever snowless fall for the Mile High City. November will come to an end as a very disappointing month for snow across every corner of Colorado.
The first prospect for December looks to be coming just days into the month, but so far it does not look too promising. Models are at least showing some decent mountain snow so far.