DENVER, Colorado — This snow blog follows any strong consistent signals in the long-range computer modeling.
It will be updated daily until the next time it snows in Denver.
Sunday Update:
Nov. 10-11
This will be the lasts entry in this snow blog feed as snow is expected overnight. I will start a new snow blog Monday to watch next weekends storm approach.
This storm system will form over the Manitoba/Ontario area tonight and move into the Great Lakes region of the U.S., but a surge of cold air will come into Colorado from the back-door, which is the northeast. Here is how I expect this storm to play out.
Timing: Snow showers on the high mountain passes first, by about 5pm tonight. Snow on the northeast plains by about 7 or 8pm, spreading over to Ft. Collins/Greeley by about 9 or 10pm. Reaching the Denver area and Palmer Divide by 11p or Midnight, and then Colorado Springs by 2 or 3am.
Accumulation: Snow totals will likely be very low. An overall spread in the northeastern quadrant of Colorado of 0-3 inches. The Denver metro will mostly get less than an inch of accumulation in the grassy areas. It is still quite possible that there is nothing to measure in the city. The highest totals will likely be to the north along the Wyoming/Nebraska state line. Could get up to 3 inches in some spots but mostly 1-2" there I think. Some Boulder and Larimer County foothills could get 3 inches as well, but a little less is mostly likely. The mountain passes and ski resorts will probably report 1-2 inches by Monday afternoon.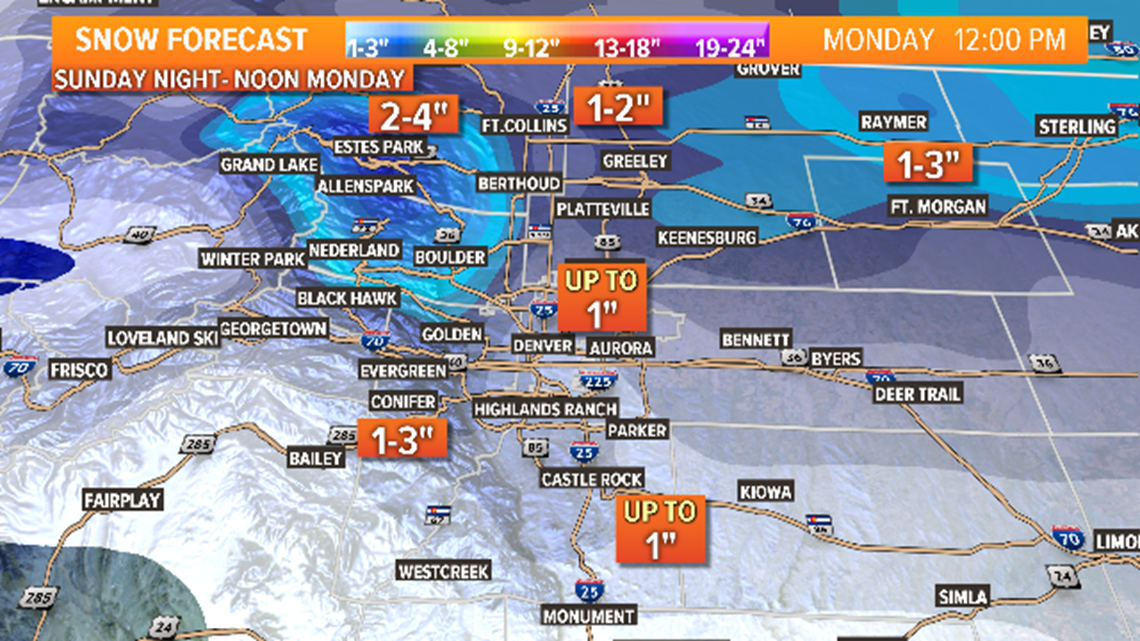 Roads: The road temperatures will probably not reach the freezing point, so mostly just wet, and slushy. I-25 north of Ft. Collins and far northeast I-76 has the highest chance to get icy. Mountain passes like Berthoud, Loveland, and Eisenhower/Johnson Tunnels will likely not see enough snow to cause any troubles.
Freezing Drizzle: There will be a warm layer to melt snow into drizzle in some areas. Don't think this will be quite as widespread as the last storm, but it will be there in spots. The ground temps will not be cold enough for it to refreeze, but it could freeze on driveways and windshields.
Morning Commute: As we know, wet roads means slower drive times. Plan in an extra 15 to 30 minutes into your drive. There will likely be active but light snowfall during the 4-6am commute, but could stop for the 6-9am part of the drive.
Stealth flakes: This is when it is still snowing but not showing on radar. This will be a shallow inversion, so the snow could continue to form even after the radar is clear. These flakes usually have no impact. This also means the higher elevations usually clear out before the lower areas.
End: Storm should start to break up around 6am, and be over by 11am except in the foothills caught in the foggy inversion layer. Completely moving out by 4pm.
Chance of snow in Denver: 95% (Chance of accumulation in Denver 55%)
Nov. 13-14
This storm moves in on Wednesday morning, but looks to have even less impact that Monday's storm. It will be close enough to bring some snow showers to the Denver area by late morning. The Euro shows the showers being heavy enough to cause some accumulation. The GFS does not.
Chance of snow in Denver: 10%
Nov. 15-17
The signal in the modeling is still for a more active pattern starting on Nov 15. Models have been a little more consistent with a storm impacting the Colorado mountains Starting Friday night. Not showing any real impact to the plains with this one.
Chance of snow in Denver: 10%
Nov. 18-23
The GFS has several quick storm systems moving though in this timeframe. That doesn't really mean there will be that many, but it does signal an increased chance of a snow storm in this window. Right now it only shows one of them bringing more than an inch of snow to the metro.
Chance of snow in Denver: 0%
---
Friday Update:
Nov. 10-11
Not much changes to our next snow storm coming in on Sunday night. It's been quite the snow drought since Oct 30. This one probably won't blow our minds, but should be just enough to quench our snow thirst for a bit. Sucks that the mountains won't see much though.
Still looks like between 1-3 inches of snow accumulation across northeast Colorado with the lower end of that in the Denver metro. The higher end of the spread will likely be to the north. Also the Larimer and Boulder County foothills could get close to 3".

The timing of the front should be Sunday night after 8pm. The NAM has just come in range of this event and has a much later start than the synoptic scale models. Either way, the impact part of this storm will likely be the Monday morning commute.
Should be active snowfall from 4am to at least 8am, and could go until 10am in the Denver area. It could end a little earlier in Ft. Collins and Greeley, but still last through most of the morning.
Temps will be in the upper 20's by 4am, which means it is possible for snow and ice to form on the roads, although with three warm days prior to the storm, that probably won't be too widespread. Especially with the lighter nature of the snowfall.
Chance of snow in Denver: 70%
Nov. 13-14
The Euro has been trending closer to Colorado with this storm system, showing light snow in the metro through the day on Wednesday with little accumulation. It does show enough for accumulation in the foothills and Palmer Divide. Also some for the central and northern mountains.
The GFS still has this storm away from Colorado.
Chance of snow in Denver: 10%
Nov. 16-20
Models still showing a southern storm track in this timeframe. Could be too far south for a major impact to Colorado. This solution has been far from consistent, but the signal has been there for several days.
---
Thursday Update:
Nov. 10-11
Next storm still on track for Sunday night. It is targeting the Great Lakes region, but but should still be able to push cold air back to the west and deliver another back-door cold front. Much like the one that just passed.
Temperatures could make it up into the 70's on Saturday, and then near 60 on Sunday before the front, so there is not expected to be much accumulation with all that heat on the earth.

Models are still consistently showing between 1-3 inches. That will most likely be just in grassy areas, not on the road surface. Timing will likely mean active snowfall during the Monday morning commute.
The snow will likely be focused east of the Continental Divide and north of I-70, although there should be a little in southeastern Colorado as well. Nothing for the mountains with this storm.
There is also a chance of another warm layer just above the surface, so freezing drizzle will once again be possible. We'll now more about the character of the snowfall once the mesoscale models come in range.
Chance of snow in Denver: 30%
Nov. 14
This storm is also still showing up in the modeling, but doesn't appear to be in position to impact Colorado. Close enough to keep watching though.
Chance of snow in Denver: 0%
Nov. 16-20
Still some indication of a more southern or California style storm track during this time-frame. Still could be a false signal, but the GFS has at least been on and off about this one. Could also end up being two separate storm systems, and could also be a signal of a pattern chance to end November. The southern mountains could certainly use it.
---
Wednesday Update:
Nov. 6-7
A storm system on Wednesday night, at the time of this blog post, was producing widespread drizzle and some very like snow flakes on the Front Range. Haven't heard any reports of accumulation of any snow or ice. That could still happen late tonight.
This seems like the type of inversion that could stick around longer than it's supposed to, but from everything I can see, this will dissipate by sunrise, and give way to sunshine relatively quickly.
With snow accumulation unlikely, this blog feed will continue a little longer before starting a new one.
Nov. 10-11
Now the attention turns to a storm system coming in on Monday morning. This one looks like there is still a decent chance at some snow in the Metro, although it looks like a pretty weak push.
Models are showing between 1-3 inches, with the GFS being on lighter side of that. Front will likely come in late on Sunday night, and bring some snow into Monday morning. There is a good chance there will be some light snowfall during the commute.
Models show a very elongated trough with just the western edge scraping Colorado, so forecast could go up and down for a few more days until track become better tuned, although there hasn't been much change recently.
Chance of snow in Denver: 30%
Nov. 14
Models still show a small and fast moving trough on the 14th. Still too far northeast of Colorado to have any impact.
Chance of snow in Denver: 0%
Nov. 20
Still showing a California/Pacific track on the GFS sometime around Nov 20. No consistency here yet.


---


Tuesday Update:
Nov. 6-7
Weak storm system moving through tomorrow, but it is a winter storm none the less, so expect brief wintry conditions. Should come in just before sunset and be gone before the morning drive.

Not much snow accumulation is expected except for maybe parts of the foothills. Sleet and freezing drizzle will also be possible in scattered areas. Upslope means not much precipitation west of the Continental Divide.
Chance of snow in Denver: 50% of snow fall 10% of accumulation
Nov. 10-11
Another weak disturbance moves passed on Sunday night into Monday morning. Not much snow expected here either at this point. Probably less than an inch of accumulation for those areas that get any at all. Mountain snow is unlikely.
Chance of snow in Denver: 20%
Nov. 14
Quick and weak storm system possible. Models are showing some snow but little to no accumulation at this time.
Chance of snow in Denver: 0%
Nov. 18-20
Still showing a California track on the GFS but too small and south to really impact Colorado too much.
--


Monday Update:
Nov. 6-7
Still looking like a low impact system moving through on Wednesday evening into Thursday morning, but there may be just enough for some snow accumulation in the Denver metro.
There is a weak shortwave bend in the polar jet stream timing out with a somewhat tropical disturbance originating in the east Pacific. Impacts should begin in the evening on Wednesday with some scattered showers. Could start as a mix of rain, snow and sleet.

Likely just a gentle but cold upslope flow with snow staying east of the Continental Divide. Models are showing between 0 and 1 inches of accumulation in the foothills, I-25 corridor and eastern plains. Maybe a spot in the foothills will have the best chance of getting more than an inch.
System moves out around sunrise, with sunshine possible afternoon.
With a little injection of moisture from the east Pacific, this systems impacts are not set in stone but a likely scenario is now evident. There is more moisture output shown just south on the Cap Rock of the Tex Panhandle.
Chance of snow in Denver: 50%
Nov. 10-11
This storm system still looks large but more impact to our northeast. The GFS and the Euro do show the expanse of cold air just big enough to stretch back into Colorado through the backdoor giving us 1 or 2 inches of snow on Sunday night into early Monday morning.
impacts still look to be low, but the trend over the last 4 model runs has been for some light snow on the Front Range.
Chance of snow in Denver: 15%
Nov. 13-14
While the trend is up for the previous 2 storms, the trend is down a bit on the Nov 13-14 storm. Still looks like possible snow for the metro, but small and lower impact than previous runs.
Chance of snow in Denver: 0%
Nov. 17-20
An interesting feature has popped up in the GFS modeling tonight. The first California storm track we've seen this winter. This may be a one run anomaly, but if it stays in the solutions, it will be fun to watch this one. It could mean the first real significant snow in the southwest San Juans.
--


Sunday Update:
Nov. 4
A system is visibly moving down into the northern U.S. today. That will reach Colorado but not have much of an impact.

Scattered snow showers will be possible in the northern mountains starting this evening. Those should remain light with little to no accumulation. Some light snow accumulation is possible in SE Wyoming and the Nebraska Panhandle; probably less than an inch. Some light drizzle or flurries could happen on the northern plains as early as this evening.
It's not impossible for some flurries in the metro but its pretty close.
Chance of snow in Denver: 2%
Nov. 6-7
A little southern disturbance is likely to move through the area on Wednesday night. This will also have little impact on Colorado. Some models show scattered snow showers around the state, but not in the metro area, and very light in nature.
Chance of snow in Denver: 5%
Nov. 10-11
The big storm system around Nov 10 has been trending further east, and its probability of impacting Colorado is even less likely.
Chance of snow in Denver: 0%
Nov. 13-14
The next snow accumulation in the Denver metro is currently being shown on November 13. This is well outside the 7-day forecast window, so really just something interesting to watch.
Chance of snow in Denver: 0%
-----------------------------------------------------------------------------------------------------------
Saturday Update:
Nov. 4
This trough will likely end up too far to the northeast of Colorado to have an impact beyond a little cold front and some clouds on Monday. The Euro does show some snow showers along the Colorado/Wyoming state line, just heavy enough for a inch or less of snow. The GFS has no precipitation.
Chance of snow in Denver: 2%
Nov. 6-7
Another batch of arctic air moves into the U.S. by Wednesday. This one could come a little closer but not likely close enough to have any type of big impact in Colorado.
The Euro has some snow showers around the Denver metro Thursday morning, but less than an inch in only scattered areas. It also shows less than an inch of accumulation on the NE plains, the Palmer Divide, and the mountains.
The GFS has an even less impacting solution with light flurries in SE Wyoming only.
Chance of snow in Denver: 5%
Nov. 10-11
The biggest arctic blast currently showing in the models is near the Nov 10 time frame. The GFS has been the more enthusiastic with snow in the Denver metro on 2 of the last 4 runs. The Euro however is not really feeling this scenario yet.
Looks to be pretty dry in the state of Colorado over the next 10 days. It's not a real ridging pattern, so not really expecting a heat wave with a lot of 60 degree temperatures, but more of a northeast storm track that just scrapes Colorado with cold air.
Thursday Update:
Nov. 1
The next batch of cold polar air will be headed south from Canada tomorrow and move into the Upper Midwest. It won't hit Colorado directly, but the edge of the cold air will scrape us a bit and that will lead to a chance for snow showers.

The Euro shows snow just to the north of Colorado, while the GFS has scattered showers just strong enough to produce a little snow accumulation in the northern part of the state, and also on the Palmer Divide. It has less than an inch in those areas.
The NAM shows the snow showers more widespread, even a few in the Denver metro, but not heavy enough to accumulate there. It shows less than an inch of accumulation in parts of the foothills, and Palmer Divide.
With the widely scattered nature of these snow showers, and the fact they are mostly shown outside the Denver area, the chances of getting some here are low.
Chance of snow in Denver: 10%
Nov. 4-6
The pattern that is setting up from the first 14 days of November is a very dry one for Colorado. The next system will be here by Monday. Models show it staying just to the northeast of the state. This will bring us some windy conditions and a slight chance for snow on Tuesday or Wednesday morning.
The GFS has some in the northern Colorado, Wyoming, and Nebraska tri-state area on Tuesday morning. Totals lower than an inch.
The Euro has it on Wednesday morning, with impacts closer to the metro in the Front Range foothills. Totals also lower than an inch. Trending down and away.
Chance of snow in Denver: 2%
Nov. 10-11
The GFS is still showing a trough around Nov 10 or 11, with just a little snow in the mountains.
Chance of snow in Denver: 0%
Wednesday Update:
Nov. 1
That's right, we may see some more flakes in Denver on the first day of November — although it won't be anything too interesting.
There is another storm system that will form in Canada tomorrow and quickly drop down into the U.S. It won't make it too far, with the bulk of the air centered over the Upper Midwest, but the bottom of the shortwave will scrape past northern Colorado.

The long range GFS and Euro models had been on and off about this impact for weeks with no solid consensus. Even now they show temps too warm and air too dry to muster anything but a few scattered showers, even in the mountains.
But the NAM is showing more snow coverage Friday, starting with scattered showers in our northern counties early in the morning before sunrise, then increasing in the mountains and the eastern plains through mid morning.
The model only shows the high temperature for the day as 34 degrees in Denver, and the showers start to move in after noon. It shows that there may be just enough snow to get some accumulation — likely less than 1/2 inch if it does.
The Euro shows some light showers north of the metro with no accumulation.
The GFS shows scattered showers, with the closest accumulation of 1/2 inch in Douglas County.
There is a high chance this trough impacts Denver and keep the temps from breaking 40 degrees, but a low chance there will be snow accumulation.
Chance of snow in Denver: 25%
Nov. 4-5
Both the GFS and the Euro show another system coming down around Monday night. GFS has widely scattered showers with little to no accumulation. The Euro has some decent snow in the northern mountains and just a little snow down on the plains. It's showing about an inch in Denver.
Chance of snow in Denver: 5%
Nov. 11
The GFS is picking up on a bigger storm system coming to Colorado the following Monday (Nov. 11). This storm is pretty fresh on the radar, but it shows significant snow in the mountains with very little impact down on the plains.
Chance of snow in Denver: 0%