DENVER — A new round of winter weather brought several inches of snow to the Denver metro area and more than a foot to some mountain areas on Tuesday and Wednesday.
The Denver metro area was under a Winter Storm Warning until 5 p.m. Wednesday because heavy snow was possible in portions of east central, north central and northeast Colorado, including Denver, with 6 to 13 inches forecasted.
Denver International Airport (DIA) reported 8.6 inches of of snow Wednesday afternoon. That makes this Denver's largest January snowstorm since 1992.
Narrow bands of heavy snowfall skirted the eastern half of the city, including DIA. Areas along and west of Interstate 25 had 2 to 5 inches of snow as of mid-morning Wednesday. But, the east side of Denver saw a significant snowstorm, and one during a time of year they're not as common to get.
Large snowstorms in January are quite rare. Normally, Denver's snowiest months of the year are March and April, and January is only Denver's 6th-snowiest month of the year, on average.
Between a half and three-quarters of an inch of precipitation fell across the Denver area, about double the city's entire January average precipitation average. That meant there was an unusually high amount of water in this storm for this time of the year. Colder air can hold less moisture, so the winter months are usually the driest ones as well.
Hundreds of flights have been canceled and delayed at DIA on Tuesday and Wednesday. DIA advises all passengers to contact their airline to check their flight status before going to the airport, and to plan extra time for traveling to the airport.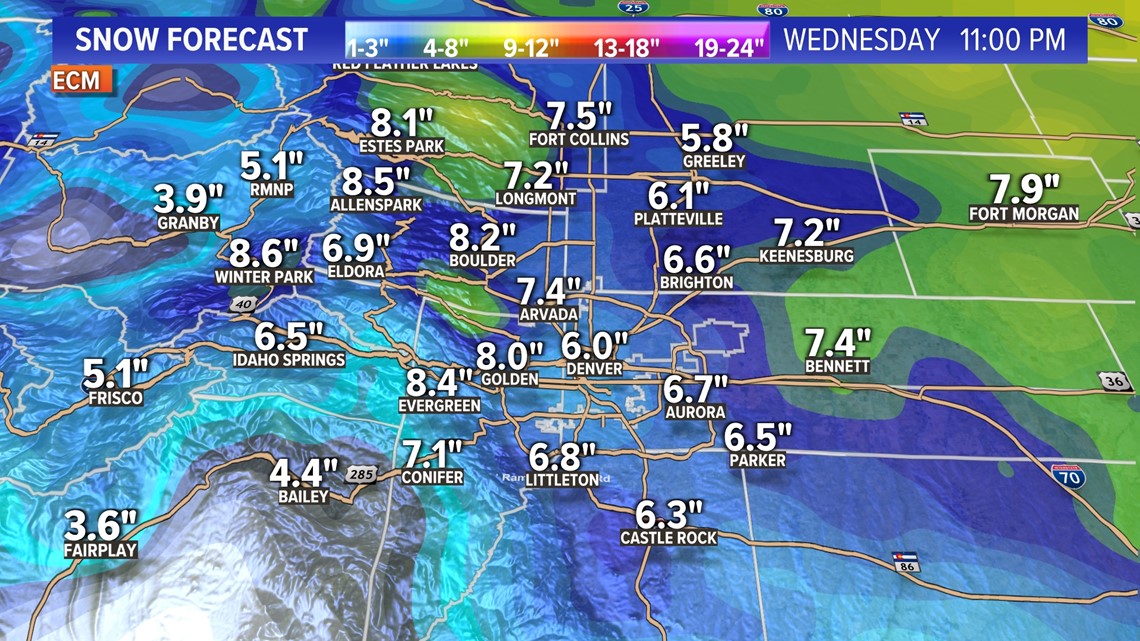 Wind gusts up to 35 mph caused blowing and drifting snow east of Interstate 25 and along Interstate 70 and 76 in eastern Colorado.
Colorado snow day/Día de nieve en Colorado
Northeast Colorado was predicted to see the highest snowfall amounts with up to a foot of snow in Sterling, Julesburg, Wray, Holyoke, Fort Morgan, and Akron.
NWS issued a Winter Storm Warning for portions of the San Juan Mountains, Four Corners, San Juan River Basin, and Elkhead and Park Mountains beginning at 5 p.m. Monday. One to two feet of snow was expected above 10,000 feet along with wind gusts as high as 40 mph.
The system was expected to leave the state by Wednesday night and a weak ridge will briefly build into the area before the next system arrives on Friday.
Colorado chain and traction laws
The CDOT urged travelers to be aware of chain and traction law codes before heading out on the roadway:
Code 18/Commercial Chain Law: Commercial vehicles and trucks must have chains. Vehicles without chains can often lose traction, causing traffic delays and sometimes road closures. For the safety of the traveling public, it's critical to use chains to comply with Colorado's chain law.
Code 15/Passenger Traction Law: All passenger vehicles must have appropriate all-weather tires with 3/16-inch depth. Vehicles must have one of the following: winter tires, tires with mud/snow (M+S) designation, chains or alternative traction devices such as an autosock. 4WD and AWD vehicles must have winter tires or all-weather tires.
Code 16/Passenger Chain Law: All passenger vehicles need chains, except for 4WD and AWD vehicles with all-weather tires with 3/16-inch tread depth.
9NEWS+
9NEWS+ has multiple live daily shows including 9NEWS Mornings, Next with Kyle Clark and 9NEWS+ Daily, an original streaming program. 9NEWS+ is where you can watch live breaking news, weather updates, and press conferences. You can also replay recent newscasts and find videos on demand of our top stories, local politics, investigations and Colorado specific features.