COLORADO, USA — The National Weather Service (NWS) website has a map that's a patchwork of warnings across Colorado, with large wildfires in the midst of winter weather advisories and some air quality and high wind concerns thrown in for good measure.
The overall message? Colorado is in for a wild ride Tuesday and Wednesday, after near-record high temperatures on Monday gave way to a big temperature plunge and snow on Tuesday and Wednesday.
It's a forecast that has everyone taking screenshots of their weather apps ... and asking some pretty legitimate questions. Below are the answers to the some of the most common from 9NEWS Meteorologist Becky Ditchfield, Cory Reppenhagen, the National Weather Service and fire managers.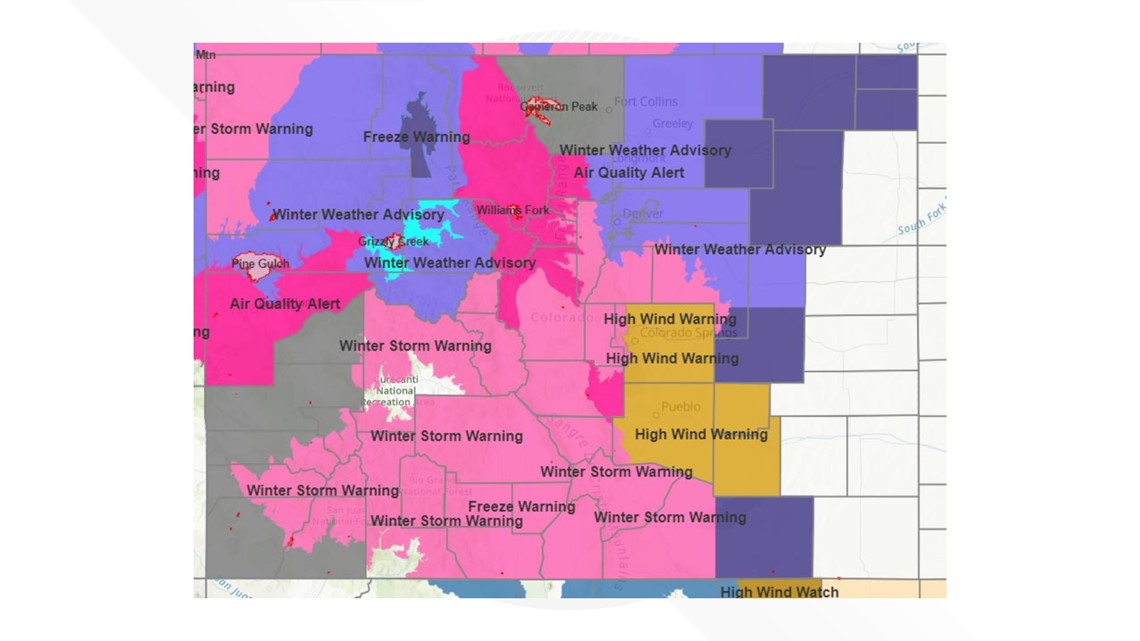 When is the cold front going to blow in?
The cold front is coming from the north, meaning that northern Colorado will get hit with what could be 45 mph wind gusts first, on Monday night.
The storm will move south, bringing high winds to the Denver metro area and Front Range early Tuesday morning.
Ninety-degree temperatures in Denver will plunge into the 40s early Tuesday morning, and then into the mid-30s as the front continues to blow in.
Tuesday's coldest temperatures will be at around 8 a.m., and that's also when snow will begin to fall.
When will the snow stop?
As of right now, the snow will continue to fall overnight into Wednesday morning.
Wednesday will be even colder, with temperatures dipping into the low 30s -- meaning that yes, now's the time to protect your plants and sprinklers from a potential freeze.
How much will it snow where I live?
We get it: people LOVE personalized forecasts. Here's the latest map of potential snow totals from the 9NEWS weather team: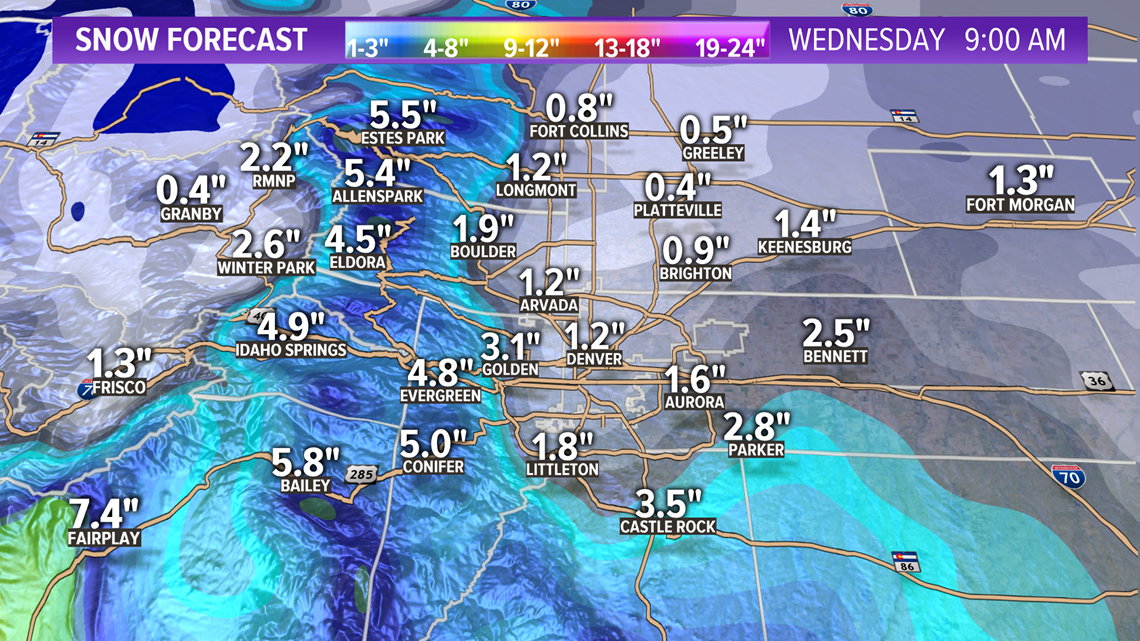 Will the snow even stick?
Given how hot it's been, the snow will not stick in the beginning, especially to the roads.
But, as it gets cooler, the snow will begin sticking to grassier areas, with potential patches of slush on the pavement.
Since this is Colorado, the snow won't last long. Temperatures are expected to return to the 80s this weekend.
This is weird, right?
Yes and no. It has snowed in September before, but the last time was in 2014, when there was just a trace.
The average date of Denver's first snowfall is Oct. 18. In 1971, it actually snowed 17 inches in September!
Click the link below for a breakdown of Colorado and September snow.
As for the big temperature drop on the way ... these tend to happen in Colorado, but not in September.
On Jan. 5, 2015 it plunged from 62 to -2 degrees in 24 hours. Most of these drops have happened during the winter.
When it comes to two-day swings, there is one fall anomaly: on Oct. 10, 2019, when there was a 70-degree temperature change from 80 degrees to a low of 13 degrees.
Will this storm help firefighters?
Between 4-12 inches of snow is expected to fall on the Cameron Peak Fire on Tuesday, with the higher totals expected on the eastern and more active perimeter of the fire.
This moisture is good news, but not a season-ender, according to Paul Bruggink, the public information officer for the Cameron Peak Fire.
He said it will take a succession of storms to ultimately put out the growing blaze, not just a single event.
Bruggink said what could happen is the fire will continue to smolder underneath the snow, before melting it and once again burning – especially as temperatures get warmer this weekend.
"Everything laying on the ground is very hot," he said. "It will be burning and smoldering underneath the snow, and when the snow melts off – and it will when we get the sun out again – and the fire underneath it will melt the snow, the soil's going to dry out, the duff layer will dry out, and if we get wind it could pick up again and get going."
"Either way, it will probably continue to burn for a while," Bruggink added.
Have we ever gotten this much snow when there's also a fire that's so active?
There really isn't a precedent for this much snow falling directly on a fire that is so active. It is very common for fire managers on large wildfire incidents to list late October as a estimated date of containment in their reports.
That is in reference to when Colorado usually starts to get consistent snow in the mountains.
Incident meteorologists at the Williams Fork, Pine Gulch, and Cameron Peak fires have said in their briefings that the fires will likely not be completely out until significant snow starts to fall.
The first impact of this storm will be wind. The cold front arrives in northern Colorado Monday night after sunset. Then, 25 to 50 mph gusts will be possible with the passage of that front. This will fan the flames and likely cause some fire growth before the precipitation starts.
The basic meteorology does suggest that it will have a huge impact though.
The humidity in the air alone will do that. One of the big issues with fighting wildfires in Colorado this year has been the dry nights.
Bruggink said he worked the Decker Fire near Salida last October, and that while there was a fair amount of snowfall with that incident, the flames still smoldered.
"Underneath the snow you could still see the smoke coming up," he said.
Watch the video below for a Q&A with 9NEWS Meteorologist Becky Ditchfield: