DENVER — The smoke in eastern Colorado is stifling, and most of us by now know that it comes from huge wildfires in central and northern Canada.
But how did wildfires start in Canada in mid-May, and how did the smoke from them seep all the way down into Colorado?
As you might've guessed, the wildfires that mostly sparked in early May started during an exceptionally warm and windy stretch for that region.
Temperatures in Fort McMurray, Alberta - a city far closer to the Arctic Circle than it is to Denver - reached 90 degrees Fahrenheit on May 4, according to data from Environment Canada. A bit further south, Edmonton, Alberta hit 87 degrees that same week, obliterating all sorts of records.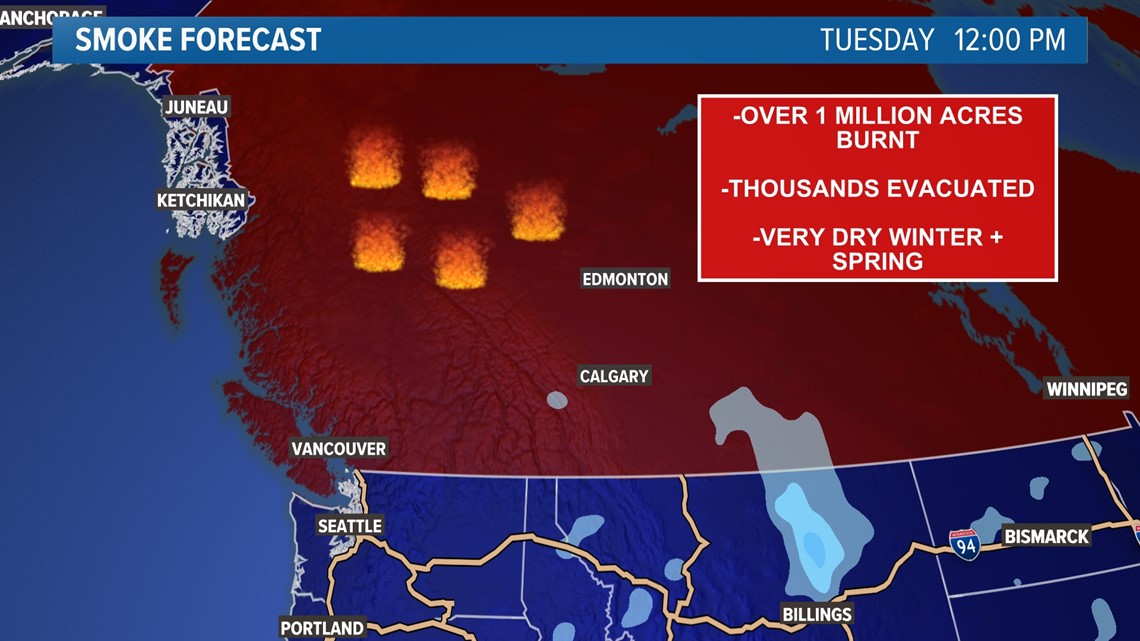 For context, Denver hasn't hit 87 degrees yet this spring.
On Sunday and Monday of this week, temperatures in both Alberta cities reached into the 80s again, continuing an exceptionally hot and dry May in that part of Canada.
That's spread huge wildfires that have already burned over a million acres, and they seemingly continue to mostly burn out of control.
The smoke from those systems continues to pour south into the lower 48, affecting air quality from coast to coast.
On top of that, the Rocky Mountains act as a defacto wall, stopping wildfire smoke and trapping it in. In the Denver area, the Palmer Divide off to our south also acts as yet another (smaller) wall, partially blocking the smoke from moving further south.
In order for the smoke to leave the Denver area, you'll usually want a west or a south wind to push the smoke off the mountains.
We should see more of a westerly wind shift on Wednesday, and that should help reduce some of the smoke later this week.