The 4,000-page peer-reviewed report goes into detail about what sort of threats could target specific regions, including the West and even as specific as the Southwest's annual monsoon season.
In short, the report indicates that the West will likely be looking at less snow, warmer summers, increased drought and increased wildfire smoke and ground pollution. That would obviously have big direct and indirect implications for Colorado as well.
"They have fairly good confidence that that is something that will continue in most scenarios that we will see more frequent droughts," said Dr. Becky Bolinger, Colorado's assistant state climatologist. "So that is one of the major findings that will have probably one of the highest impacts on Coloradans."
Take, for example, a look at the IPCC report's projection for what the North American monsoon season could look like with a relatively conservative 2-degree Celsius (3.6 degree Fahrenheit) increase.
The dark red dots in the middle show a gradual downward dip to the right, showing the projected impact of a warming world on the monsoon.
It'd likely decrease annual monsoon seasons, increasing the possibility for drought and wildfires in western and southern Colorado, in particular.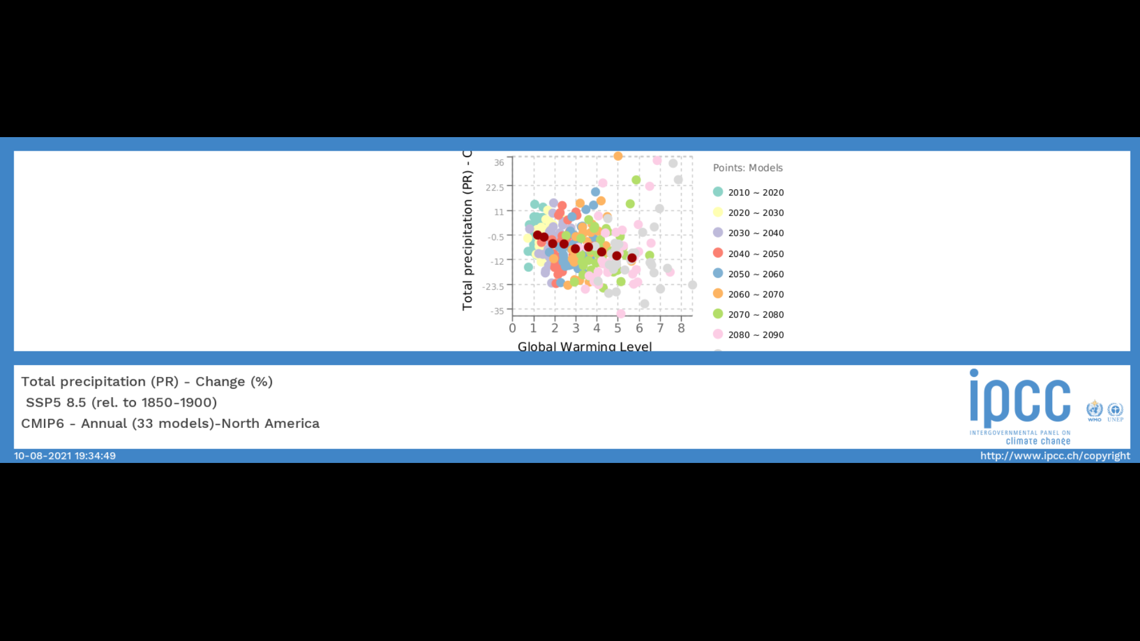 There's also a higher probability that air quality would continue to be on the lousy side more often, thanks to increased wildfire smoke from the West and warmer days adding to ground ozone levels in Denver, in particular.
"I would say that it is becoming more common that we are getting these increasing hazy days partially due to ozone, which is something that major urban areas have trouble with," Bolinger said. "But also when you're increasing the number and size of these wildfires throughout the Western U.S. we're going to have more days where we have more of those particulates in the air."
Finally, warmer summers and warmer days overall would also be likely in a warming world. That could also help decrease average annual snowfall amounts for southern and Western Colorado, in particular.
But not all is lost. The report outlines tangible actions that could be implemented to help avert the worst of climate change's impacts.
"If we can focus in on those things that are impacting our state and our cities and realize there are solutions we have to make things better," Bolinger said. "I think that can provide us with a more hopeful pathway instead of just a pathway to doom and gloom."