DENVER, Colorado — Air quality is measured in three categories: ozone, 24-hour particulates and long-term particulates.
The layer of smog surrounding the Denver metro area mostly shows the particulates and the raw volatile organic compounds that lead to ozone pollution.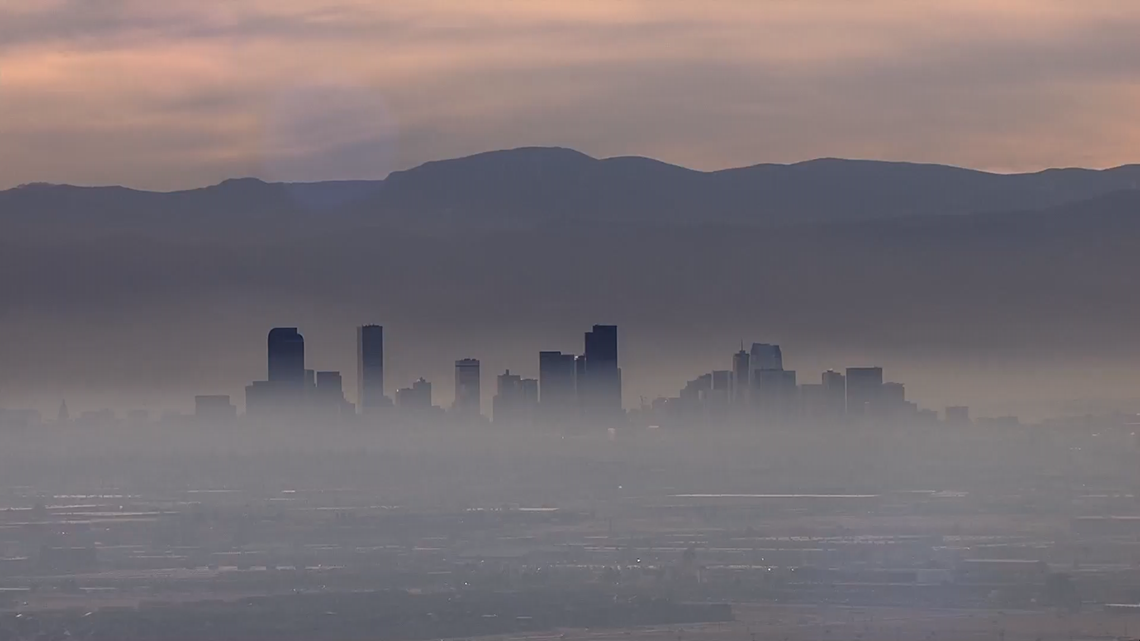 Here is a description of the three pollution types and how Denver ranks among other metro areas in the American Lung Associations (ALA) 'State of the Air 2019'.
Ozone pollution
Ozone is an invisible gas that results from the sun's rays baking volatile organic compounds, which mostly get released by the burning of fuels, or from oil and gas operations.
Pollution is breathed into the lungs and gets stored in the body.
"It basically can trigger something in your body that has an impact on their likelihood of developing a certain disease," said Forrest Lacy, a post-doc air pollution researcher at the National Center for Atmospheric Research in Boulder.
He said ozone exposure has been traced back to chronic obstructive pulmonary disease (COPD), lung cancer, heart disease, stroke and general respiratory infections.
Lacy said about 1% of the deaths resulting from those illnesses can be attributed to air pollution, but research on health impacts of ozone is relatively new compared to other pollutants.
In the 2019 ALA report, the Denver metro ranks 12th out of 227 other areas for worst ozone-polluted cites. The report said the Denver area has seen an increase in ozone action days from 2015-2017.
The ALA's annual report on air quality lags behind one year, so the data from 2018 will be in the 2020 report.
Particulates
Particulates are very small solid particles that come from things like coal-burning power plants, diesel emissions, wildfires and wood-burning devices.
Long-term particulates stem from sources that are persistent over long periods of time.
Lacy said particulate pollution can lead to the same diseases as ozone pollution but it can be attributed to about 5% of deaths.
24-hour particulates are the same solid particles as the long-term pollution, but the difference is that the sources are not as continual.
Denver has high levels of particulate pollution, but ranks 86th in long-term, and 32nd in 24-hour pollution.
He said Denver's rising population, plus growing oil and gas operations along the Front Range, are huge contributors, and that the city is also at a disadvantage due to our elevation and topography.
"Ozone needs sunlight to form. At our elevation, we naturally get more sunny days with less atmosphere to filer UV radiation," Lacy said. "Our geography plays a role because our air gets trapped up against the mountains by afternoon winds, allowing the pollution to build up."
These factors mean that the Denver area has to work a little harder at attaining clean air than some other metro areas, but Lacy said that we cannot allow that to be an excuse to live with pollution.
"I don't think it's a good excuse for us to have bad air quality because remember the first thing is, all of this is being caused by emissions from anthropogenic activity," Lacy said. "We may have a slight disadvantage, but its still something that we can control through our activities and what we do throughout the day."