DENVER — Winter storms are very common in the late spring in Colorado, but they don't always include Denver with a chance for snow accumulation. The storm on Monday night into Tuesday morning will likely do that this time.
The last time there was May snow accumulation in Denver was May 22, 2019.
May 10-11 (Monday-Tuesday)
Another wave of snow and rain showers through Tuesday. A Winter Storm Warning is in place for the mountains, but no advisory has yet to be issued for the lower elevations as of the time of this posting.
Mountains: Modeling shows moderate to heavy snow possible between about 8 a.m. Monday to 5 a.m. Tuesday.
Eisenhower/Johnson Tunnels: 8-12"
Berthoud Pass: 8-14"
Vail Pass: 4-8"
Kenosha Pass: 3-6"
Dillon: 2-4"
Winter Park: 4-8"
Leadville: 2:4"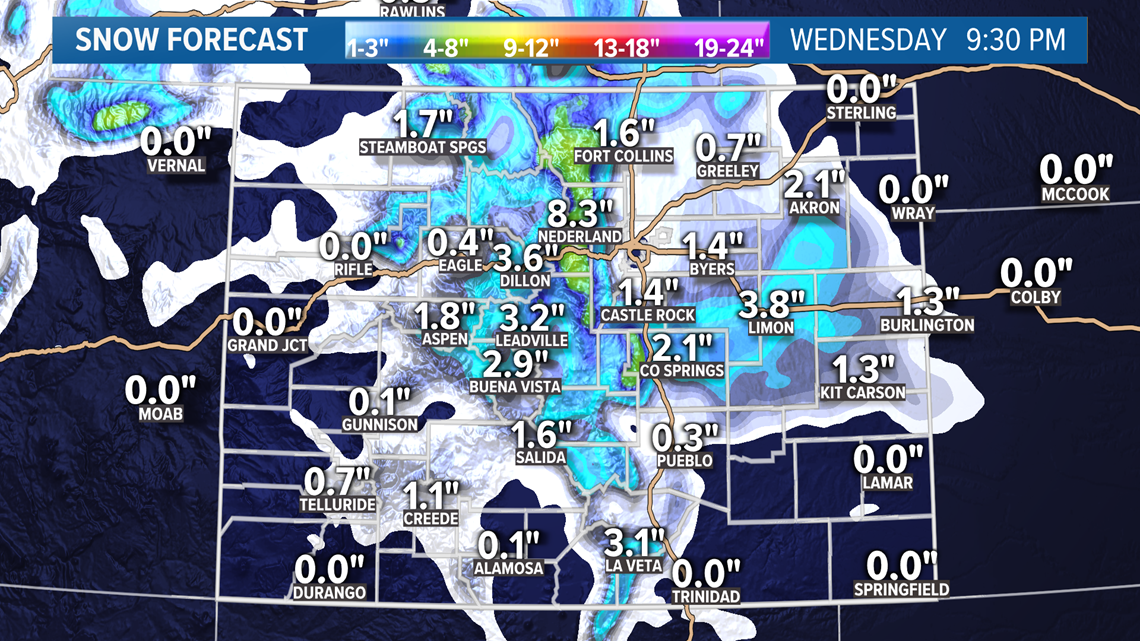 Upper Foothills (8,000-9,000 ft): There should be a wave of snow overnight but the heaviest snow should come after noon on Monday and could last through the day on Tuesday. Should mostly be snow but some rain is possible at times.
Most spots are likely to come in with less than a foot of snow by 9:30 a.m. Tuesday, but some modeling shows up to about 18" possible.
Nederland: 4-8"
Ward: 6-12"
Georgetown: 3-6"
Blackhawk: 4-8"
Conifer: 4-8"
Woodland Park: 4-8"
Lower Foothills (5,500-8,000ft): Same timing here except that there's a little higher chance for rain to mix in, and a little bit more melting is possible. The potential is good though, for example Evergreen is in the 3-6" range of highest probability but the probability of getting more than 10 inches is currently at 31%, which is better than some storms in the winter.
Evergreen: 3-6"
Golden: 2-4"
Boulder: 1-4"
Estes Park: 2-4"
Palmer Lake: 3-6"
Denver metro: The low elevation areas are not in favor of snow accumulation as the temperatures will likely stall out in the middle 30s, but there are a couple other factors should allow most spots to get the first snow accumulation of May.
Heavy snowfall rates and overnight timing could lead to snow accumulation and maybe even a few surprises. Most locations should end up with between 1-4 inches by 10 a.m. Tuesday, and just a few spots will be under an inch or over 4 inches. It would be a big surprise will be if somewhere in the metro went over 6 inches.
There should be scattered rain showers overnight Sunday and through Monday morning, but then it will turn to heavier rain after noon. It could also be mixed rain and snow during that time.
The rain could turn to very heavy snow as early as 5 p.m. Monday and potentially last beyond sunrise on Tuesday. The only model not showing snowfall rates greater than 1 inch per hour is the Euro, but that is the one I will post because it has the best track record for spring snow by far.
It will be difficult for the snow to accumulate at first, even if it is heavy, but since it is prolonged, there will be a good chance for accumulation between midnight and 7 a.m. on Tuesday.
Snow Spread: All areas in the metro should end up in the 1-4" range. I can see a few spots getting skunked and maybe a couple spots getting close to 6". It all depends on where heavier bands set up. The jet stream will be overhead, but the jet streaks will be smaller, and likely not include the entire metro.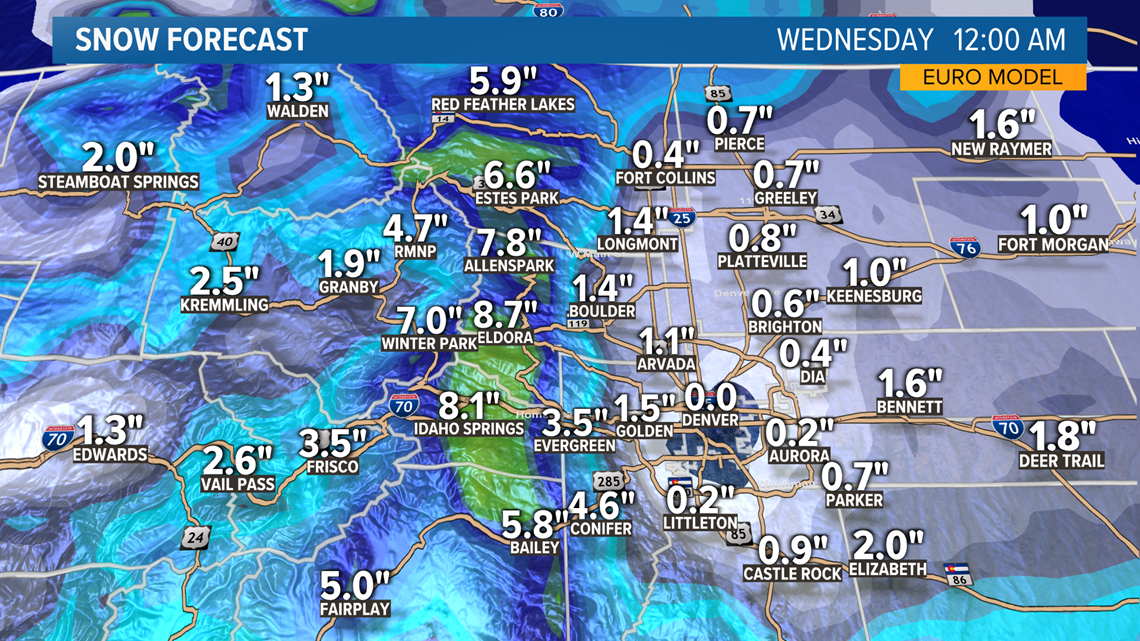 North metros and eastern plains: Less of a chance for snow accumulation here because of low elevation, lack of terrain favoring jet lift, along with unfavorable wind direction and temperature profile.
Yet still, all computer models do show just enough heavy snow to get some accumulation. 0-2" will probably be the most popular spread.
Palmer Divide: There better potential for snow accumulation here because of location, but perhaps not the most favorable lower wind direction from the southeast. One to four inches is a good expectation for the Palmer.
There will also likely be a round of early snow showers on Monday morning, before the rest of the area starts to get rain. That could give a little boost.
Pikes Peak Region: Elevation and wind direction is a little more favorable on the south side of the Palmer Divide and the Colorado Springs area. There is a Winter Storm Watch out for Teller County and the El Paso foothills.
Three to six inches is expected for most of the area, with four to eight inches likely up high.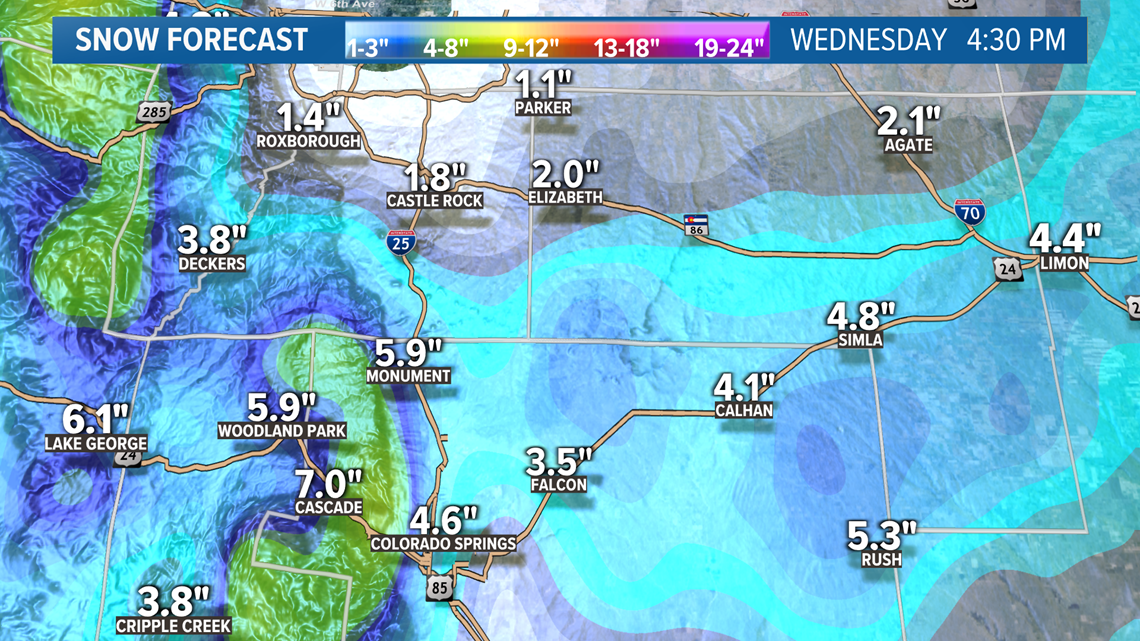 WEATHER LINE 9: Updated weather forecast information at 303-871-1492.