DENVER — Two very strong storm systems are being shown in the computer models for this week. At least one will have some impact on the Front Range. That will be on Tuesday.
This snow blog watches snow chances develop in the computer forecast models.
NOV 22-24
This storm system is just moving into Colorado on Sunday evening. Big snow totals are expected in the San Juan's where a winter storm warning is in place through Tuesday morning. 10-24 inches of snow is possible there.
That will be the focus of this storm but some of the central mountains have a winter weather advisory in place for 7-14 inches, and that advisory could be expanded further north as heavy snow is expected on the I-70 mountain corridor on Tuesday.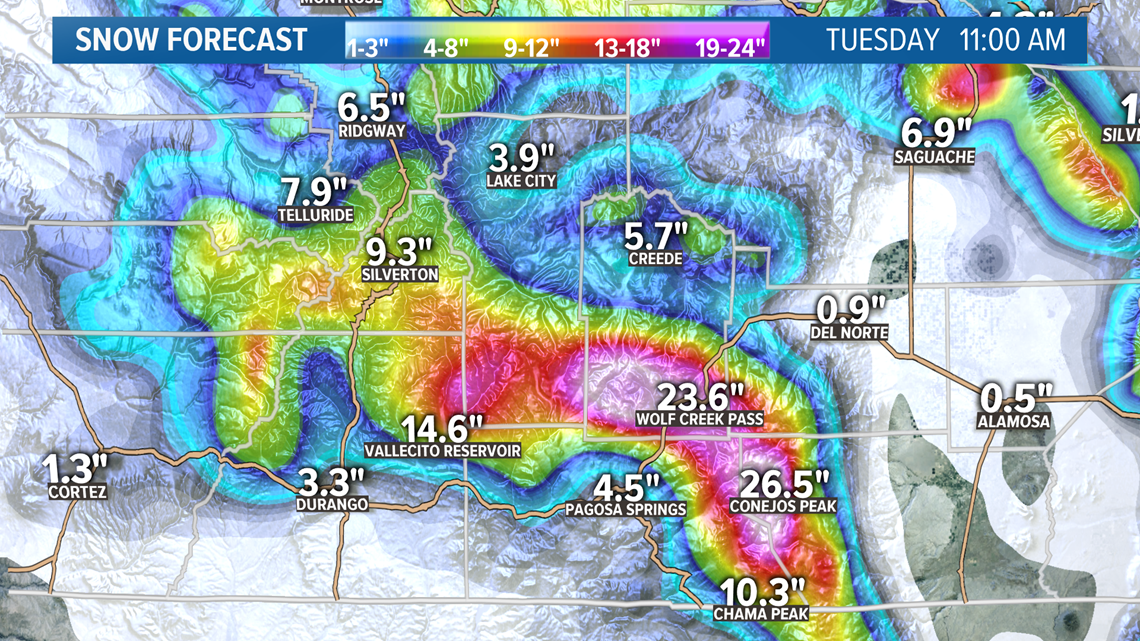 There could be up to a foot of snow on some of the passes near I-70 with 4-8 inches possible in some of the mountain towns. Most of the heavy snow there will be on Tuesday there will be snow on Monday as well.
There will be an opportunity on the Front Range and northeast plains to get some pretty exciting snowfall rates on Tuesday. It's possible that the precipitation could start falling as rain just after midnight on Monday but should switch to snow before sunrise on Tuesday.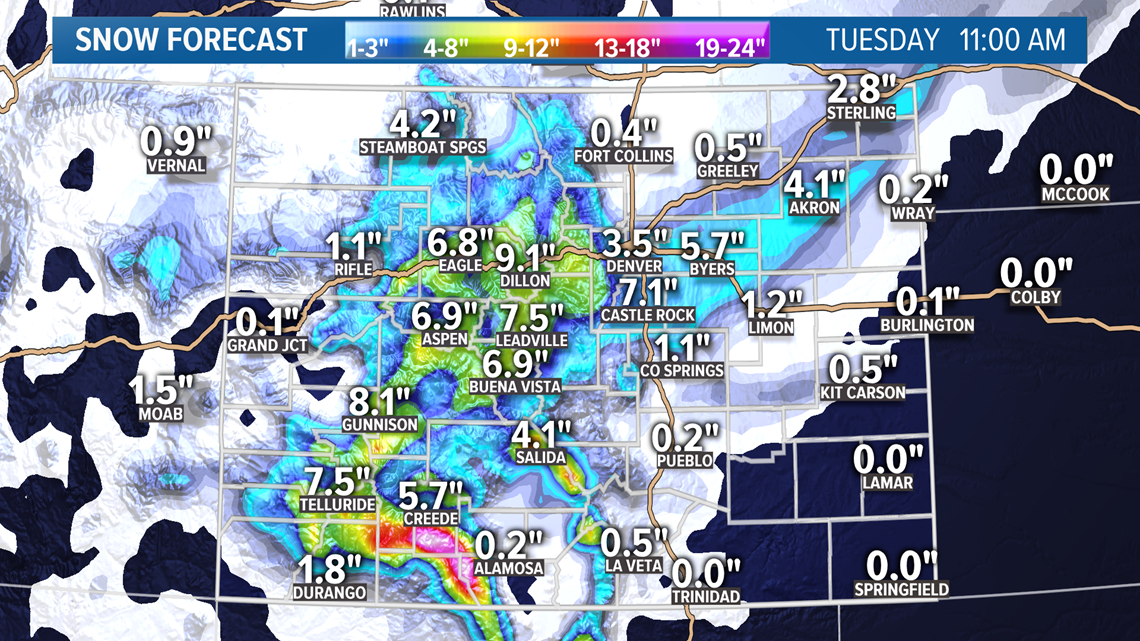 I would expect that many parts of foothills and Denver metro area could have some accumulation on the ground when we wake up Tuesday morning.
The heaviest snowfall in the Denver area will likely be between 5am Tuesday and about noon, and it could be very heavy snow during that short window. Probably not big accumulation numbers in that short amount of time, but the models are showing that most of the area will get between 2-4. That's pretty decent for just about 6 hours of heavy snow.
Temperatures in the metro will likely be hovering around 30-32 degrees during that time, so melting and compression will happen quickly so it may not look like that much by sunset. Also low impact to roads at that temperature, but during heavy squalls, the roads will get slick and slushy with low visibility.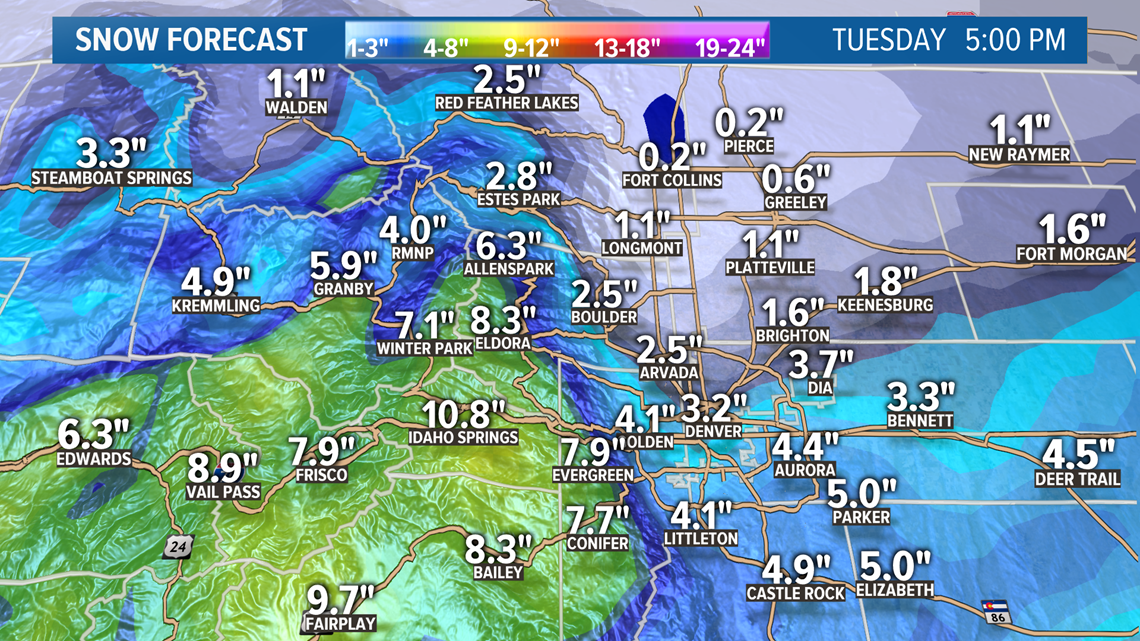 As the surface low sets up in eastern Colorado, there could be a nice area of convergence stretching out into the northeast corner which means even the plains could get an inch or two of accumulation.
Palmer Divide looks to get some real good stuff too. Models show a potential for 6 inches but not many spots will likely get that high. Bullseye remains in the higher foothills like Idaho Springs and Bailey.
Less snow to the north, but at least there will be some action there.
Clearing should happen quickly Tuesday afternoon. Out of the metro by 2pm and out of the state by 8pm.
NOV 26-27
Another storm system will dive into the country on Thanksgiving Day. This will be another strong, southern storm track. It may be too far south to have much impact on the Front Range.
Storm should move into the state Thursday morning and spread quickly from northwest to southeast.
Some of the mountain passes could get 1-6 inches of snow by Friday at noon.
We could see snow in the Denver area by about sunset on Thanksgiving with those chances lasting until about midnight. Accumulation potential looks pretty low with models showing between a half inch to one inch.
This one clears the metro area by noon Friday, and the southeast corner of the state later that night.
DEC 1-3
Models are showing another storm system starting December out right. So far there is some potential snow on the Front Range with this one. Nothing big showing early at just about a inch of accumulation.