DENVER — Starting Saturday, the mountains will get snow on four consecutive days. At least some part of the Colorado mountains will get some snow Sat-Tue, mostly in the central and southern mountains west of the Continental Divide.
These storm systems are not very organized which means mostly downsloping winds east of the Divide. Plains will have their chances though.
This snow blog watches snow chances develop in the computer forecast models.
Jan. 23 (Thru Saturday evening)
There will be some broad and organized troughiness over Colorado for the next several days. Since there really isn't any well defined storm systems, the easiest way to break this down is by day.
On Friday night when this post was written, it was just starting to snow heavy in the southern mountains, and that will be the focus of Saturday's snow. By 5pm, some parts of the San Juan's could end up with more than a foot of snow.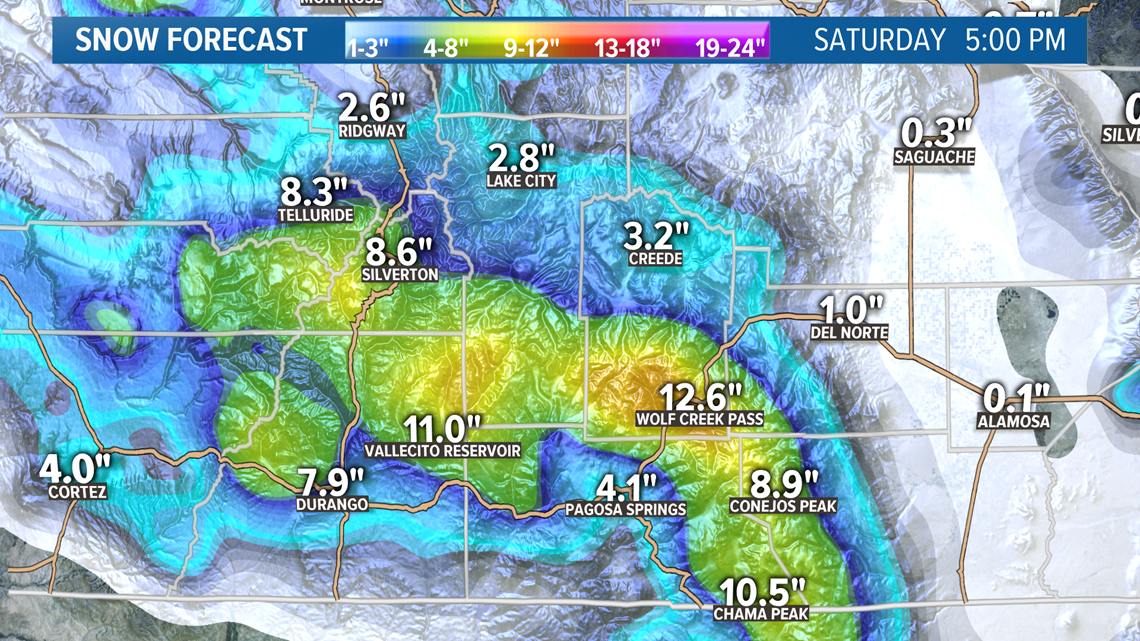 There is a winter weather advisory out for parts of the mountains on the western half of Colorado.
Some parts of the Elk mountains between Gunnison and Aspen could get close to 10 inches. The Summit zone could get between 1-6 inches. Not much snow is expected east of the Continental Divide.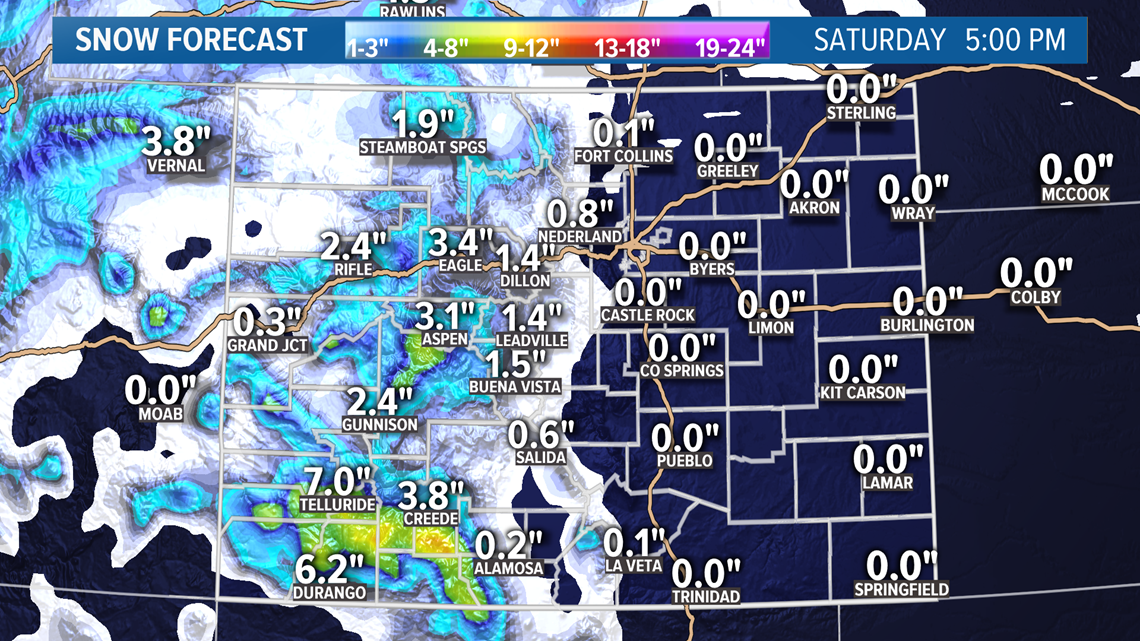 Some snow showers will break down onto the plains on Saturday morning between 3am and noon, but the coverage will be small and the snow will be light.
The Euro does show just enough for some accumulation to the north of the Denver area.

Jan. 23-24 (Sat. evening thru Sunday)
More snow on Saturday evening through the day on Sunday.
Some parts of the San Juan's could get another 5-9 inches bringing the weekend totals up close to two feet. Just modest totals in the central and northern mountains.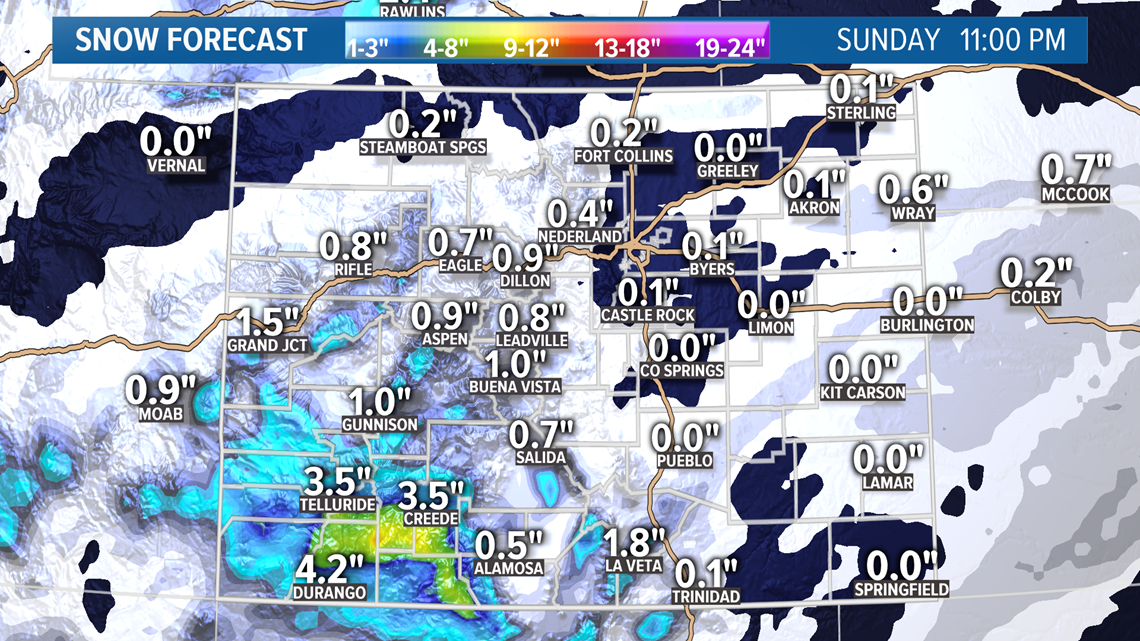 The plains will have a shot at some snow in this window as well, starting on Saturday night along the I-25 corridor north of Denver and parts of the northeast plains. This will be pretty light in nature and only result in less than a quarter of an inch of snow.
Then another slight chance on Sunday evening but I wouldn't count on seeing any of these scattered showers.
Jan. 25-26 (Monday to Tuesday morning)
More snow chances on Monday starting very early in the morning at about 1am. Models do show some showers on the Front Range but not exactly in the Denver metro area.
Best chance for snow in Denver looks to be Monday evening at this point but not more than an inch.
Better chance for snow on the eastern plains, especially along the Kansas state line. Models are showing about an inch in those area.
There will also be another wave of snow for the mountains but nothing too impressive, maybe just 1-4 more inches.
Jan. 26 (Tuesday)
More snow for Colorado on Tuesday. Inch or two for most of the mountains except maybe a little better down south.
The Palmer Divide and Colorado Springs area could get snow from Monday evening into the day Tuesday. Models show 1-4 inches in Douglas and Teller County, with a little less potential in El Paso County.
There should also be some more snow on the eastern plains but less than an inch.
The Denver area looks to have a few chances to catch a stray shower but with little accumulation.
Jan. 28 (Thursday)
Short break on Wednesday but there could be some very light mountain snow showers on Thursday.
Jan. 29-30 (Fri-Sat)
Models show a weak system moving through just before the weekend. No impact to the Front Range but maybe a few inches of snow for the mountains. Then we could start February out under a ridge of high pressure that would mean dry air and warmer than normal temperatures.