DENVER — This blog watches winter storms develop in computer modeling.
April 9 (Friday)
A trough is moving in from the northwest, headed for the Nebraska and Kansas area. Colorado will get a cold front out of it with some brief upslope conditions. Some snow will fall in the mountains while the Denver area gets a shot at some mixed showers.
A wave of snow showers should startup in the northern mountains early Friday morning around 3am and spread south towards I-70 by about 5am. It should be able to snow on and off in spots until about 2 or 3 in the afternoon.
Snow totals will likely be less than 2 inches.
Winds could briefly turn upslope in the morning which means precipitation is possible. With temps in the middle to upper 30's snow accumulation is not likely, but it is possible for some snow to fall.
The Euro does show some rain, snow, and mixed showers between 8am and 2pm with just enough snow to dust the grassy areas in some of the higher Denver suburbs or Palmer Divide.
Storm should move out by about 4 or 5 pm.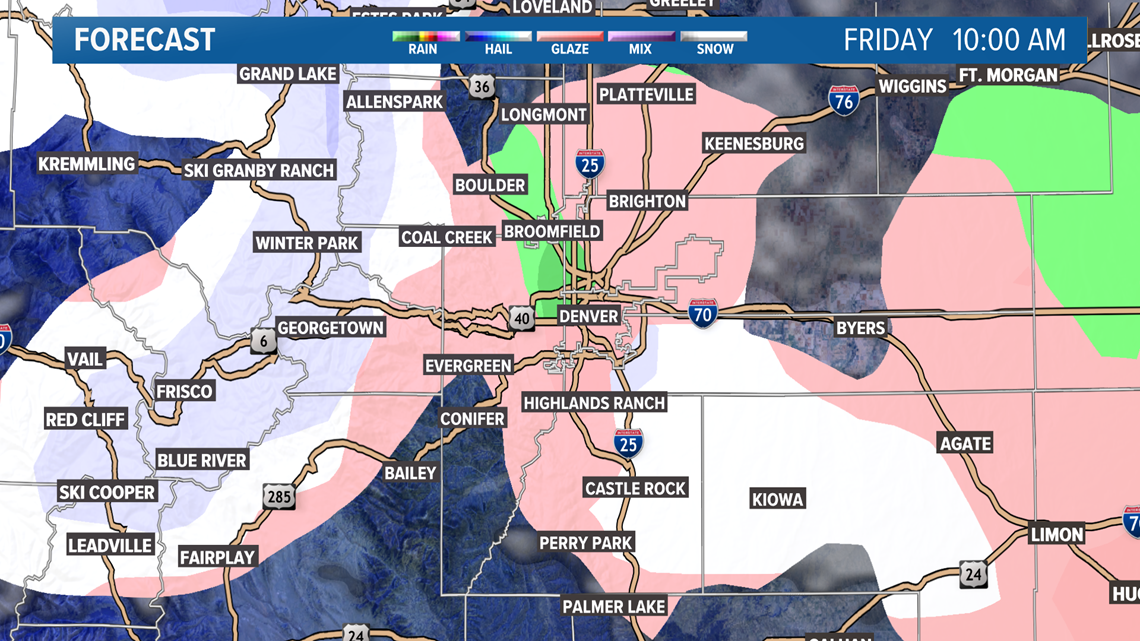 A few rain showers are possible but with very little coverage.
CHANCE OF SNOW IN DENVER: 10%
LIKELY STORM TOTAL ACCUMULATION AT DIA: 0"
April 11-12 (Sun-Mon)
This storm system is starting to look like it will miss Colorado by a substantial distance and end up in South Dakota, but it will manage to press some cold air into the area.
The foothills north of I-70 will have a chance to pick up a few snow showers resulting in less than an inch of snow, and only in scattered locations. The Denver area could get missed all together, but later in the night when the temps are colder, a wave of snow showers could slip through the eastern plains. Again less than an inch of snow.
CHANCE OF SNOW IN DENVER: 5%
LIKELY STORM TOTAL ACCUMULATION AT DIA: 0"
April 13-14 (Tue-Wed)
Then a much larger system is projected to dive into the Great Basin near northeastern California. The computer models have had some widely varying solution as to what will happen with this blob of troughiness.
It does look like it will have some impact to Colorado on Tuesday and Wednesday.
At this point it looks like scattered rain and snow showers Tuesday with better coverage on Wednesday as the first batch of this system moves passed. The chance for snow accumulation in the Denver area looks pretty low but models are showing about 1-3 inches in spots.
The Front Range mountains could get a good dose of snow with up to a foot possible while some foothills locations and mountain towns could get 1-4 inches.
CHANCE OF SNOW IN DENVER: 15%
LIKELY STORM TOTAL ACCUMULATION AT DIA: Less than an inch
April 15-17 (Thu-Sat)
There is still a lot to be resolved with this system and which days it will throw the best snow and rain chances at us. In the latest modeling, the snowiest day has switched from Tuesday to Thursday, and this will likely change again by the next update because of the strange nature of how this system is being shown stationary for so long.
The Euro shows a wave of heavy precipitation on Thursday morning which could end up bring heavy snow if the timing holds.
Then as the system finally ejects out of the southwest part of the country, the models show the most consistent and steady snow on Friday and Saturday. There is a total of about 3-6 inches of snow being shown in the Denver area for all three days, but I would not expect this to unfold quite like the models are showing. It will more likely be a shorter time period somewhere in this window, but 3-6 inches of snow will still be possible.
I would basically just expect a colder and wetter pattern with several rain and snow chances between Apr 13-18.
WEATHER LINE 9: Updated weather forecast information at 303-871-1492.