DENVER — The final winter storm of November will impact Colorado on Thursday and Friday although not very impressive. First storm of December has a little more potential but that one doesn't look too impressive in the models yet either.
This snow blog watches snow chances develop in the computer forecast models.
NOV 26-27
A weak storm system will move past Colorado over the next couple days bringing a few snow chances for a few of us.
The snow showers start up around midnight tonight for the northern mountains and continue into Thanksgiving day. These will not likely be very heavy and only result in less than an inch of accumulation. The models are showing less than a half inch for any of the mountains towns.
There will even be a few snow showers around the Front Range starting about 4pm on Thanksgiving. These showers will likely be more like flurries and at that hour, they will not likely result in any accumulation. But at least there will be some potential to see a few flakes between 4-11pm.
Then as this small cut-off low swirls across the bottom part of the state it will bring more snow chances for the south. The totals could be a little higher with this part of the storm, especially in the San Juan's. But again nothing special.
No advisories in Colorado with this storm system.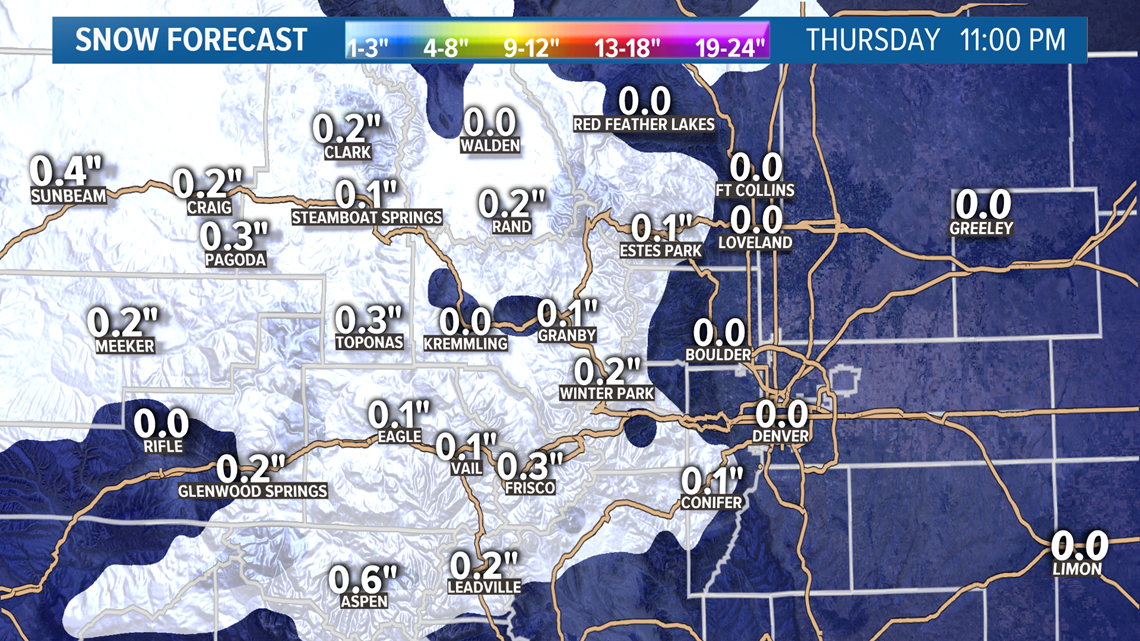 DEC 1-3
There is a little bit more potential with the first system of December although the model runs have not shown much in the way of snow accumulation yet. Models are actually showing this as two separate storms.
Mostly mountain impacts on Tuesday and then some light snow on the Front Range for Wednesday night. Nothing great being indicated so far in the modeling, but it's still early. Let's hope.