CASPER, Wyo. — Summer may be over, but the outdoor fun might not be quite yet.
The northern lights, or aurora borealis, are forecast to put on a show across Canada and the northern United States early this week.
The National Weather Service (NWS) said the Space Weather Prediction Center has indicated that the potential for a geomagnetic storm has increased late Monday into early Tuesday.
States in the forecasted zone to see the northern lights include Washington, Idaho, Montana, Minnesota, Wisconsin, Michigan, Vermont, New Hampshire, North Dakota, South Dakota, New York and Maine.
Northern Wyoming, Nebraska, Iowa, and Illinois are on the edge of the area that is likely to see a visible aurora borealis on the horizon. Colorado falls just south of the forecasted area.
There may also be a chance for an encore show Tuesday night, but it probably won't be as impressive as Monday's show.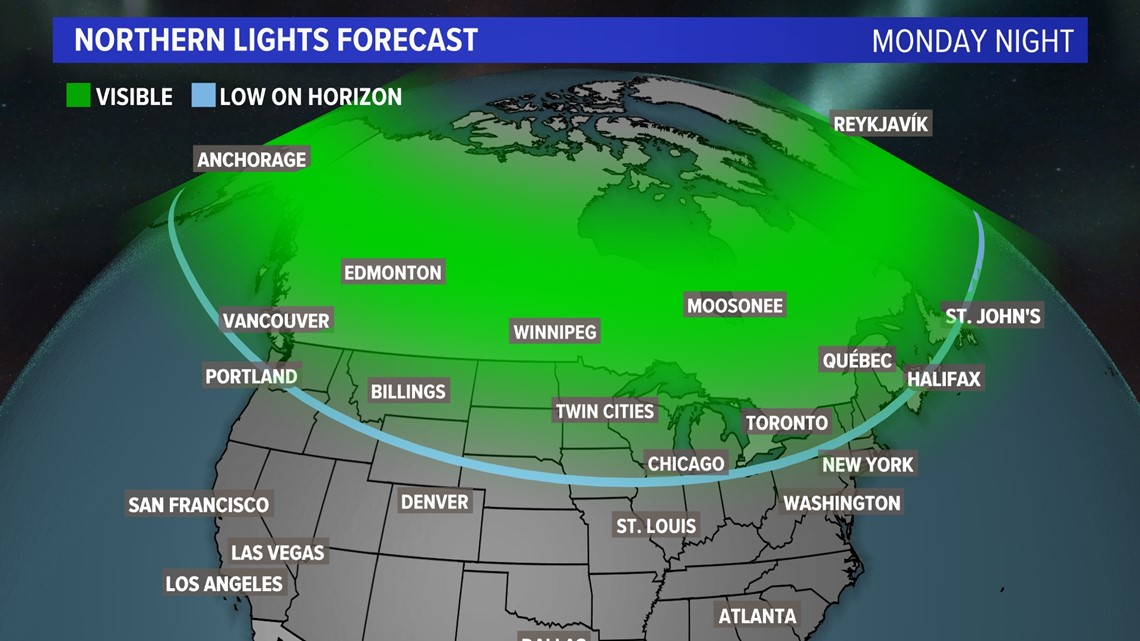 Photographing the aurora borealis
Photographers say the aurora borealis looks much dimmer to the naked eye in Colorado than it appears in photographs.
The key is to get a camera that allows you to adjust the length of time the iris is open during the capture. The longer the exposure, the more light there will be in the capture.
You will need a tripod when doing long-exposure photography because any movement of the camera while the iris is open will be recorded in the picture.
There has been some recent success in capturing the aurora with smartphones. Some have great low light settings or allow you to iris up a few levels manually before taking a picture.
Northern lights in Colorado
9NEWS+
9NEWS+ has multiple live daily shows including 9NEWS Mornings, Next with Kyle Clark and 9NEWS+ Daily, an original streaming program. 9NEWS+ is where you can watch live breaking news, weather updates, and press conferences. You can also replay recent newscasts and find videos on demand of our top stories, local politics, investigations and Colorado specific features.