DENVER — There's an ozone action alert in effect for the Front Range Wednesday. It's the 30th air quality alert of the year that includes the Denver metro area.
Ozone is a secondary pollutant, which means it's not emitted directly by humans. It actually forms through a photochemical reaction when sunlight heats human made pollution like car exhaust, methane waste from oil and gas operations, and emissions from industry.
The Colorado Department of Public Health and Environment (CDPHE) is responsible for issuing ozone alert days and other air quality alerts in Colorado.
So far in 2022, they've issued 30 air quality alerts for Denver, counting Wednesday. That's more than 50 percent fewer than last year (65), and also fewer than 2020 (43).
2022 is currently trailing 2019 by only two alerts, but it will likely surpass that number by this weekend. It could even match 2020 by the traditional end of ozone season in mid September, but 2021's mark will likely remain well out of reach, barring a major wildfire downstream of Colorado.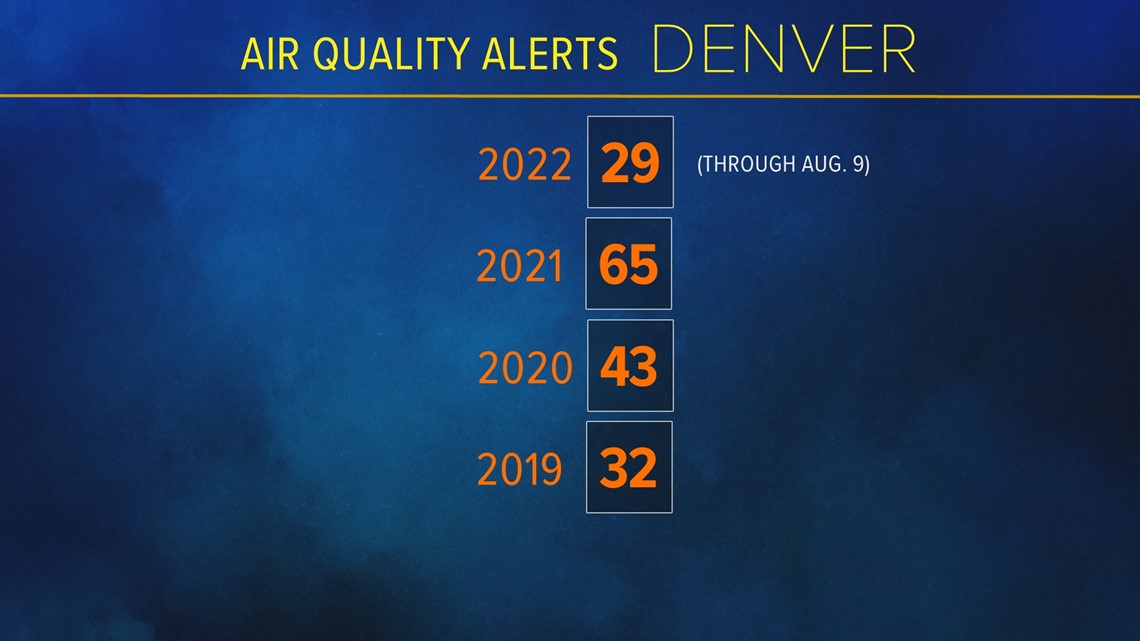 One of the reasons for the slight reduction in pollution is the active summer monsoon. Not so much because of the afternoon cloud cover, because that typically arrives too late in the afternoon to prevent the sun from baking the pollution on the Front Range.
"What we do see is rain coming from those thunderstorms in the afternoons," said Scoot Landes, a meteorologist with CDPHE. "And even if they don't produce a lot of rain, they'll produce a lot of wind. And both rain and wind will disrupt ozone formation."
With most of the alerts so far this summer, the Air Quality Index or AQI has been in the 100 to 150 range, which is only considered to be "unhealthy for sensitive groups".
There's only been one "unhealthy for everyone" day this year, far fewer than 2021, and 2020.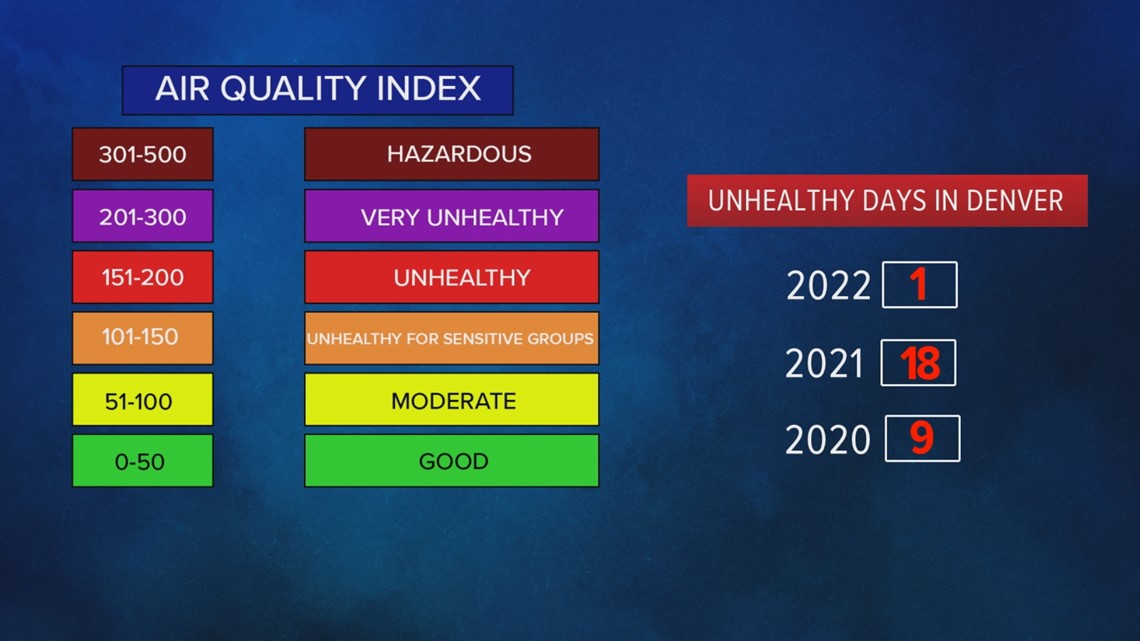 The one unhealthy day in 2022 was on June 16. The AQI hit 169 that afternoon, partially because of some wildfire smoke drifting in from New Mexico, but Landes said there was also a strong stratospheric intrusion as well.
That's when the ozone concentrations from the stratosphere get forced down to the surface of the planet, by the stratosphere physically lowering in altitude.
Another factor keeping the air quality at bay this year, is the lack of wildfire smoke.
Compared to the last two summers, Denver's air quality is better this year, but Landes says it's nowhere near acceptable.
"I think everybody still has 2021 fresh in their minds, and that was an exceptionally bad summer," said Landes. " So this summer is not as bad in comparison, but no I would not consider it a good air quality year. We have an ozone problem here on the northern Front Range, there's no getting around that."