DENVER — Denver residents have 24 hours to clear snow off their sidewalks after it stops falling, and businesses need to clear it right away.
That's according to Laura Swartz, communications director for the City of Denver Community Planning and Development, who added that city workers do not shovel sidewalks for private property owners.
The city of Denver will be sending out 14 inspectors all week to monitor over 3,000 miles of sidewalks to make sure they are clear of snow and accessible before trick-or-treaters take to the streets.
"We do have inspectors that go out and around the city and they make sure that people are doing their due diligence and shoveling their sidewalks and driveways," said Denver Community and Planning spokesperson Amanda Weston.
"We encouraging people to have their sidewalks clear for the holiday coming up so that our little ones aren't slipping around and sliding all over the streets," said Baker Historic Neighborhood Association president Luchia Brown. "People know that but sometimes they just need a little encouragement.
Brown's association, along with other neighborhoods like Capitol Hill and City Park West, have turned to social media to help get the message out.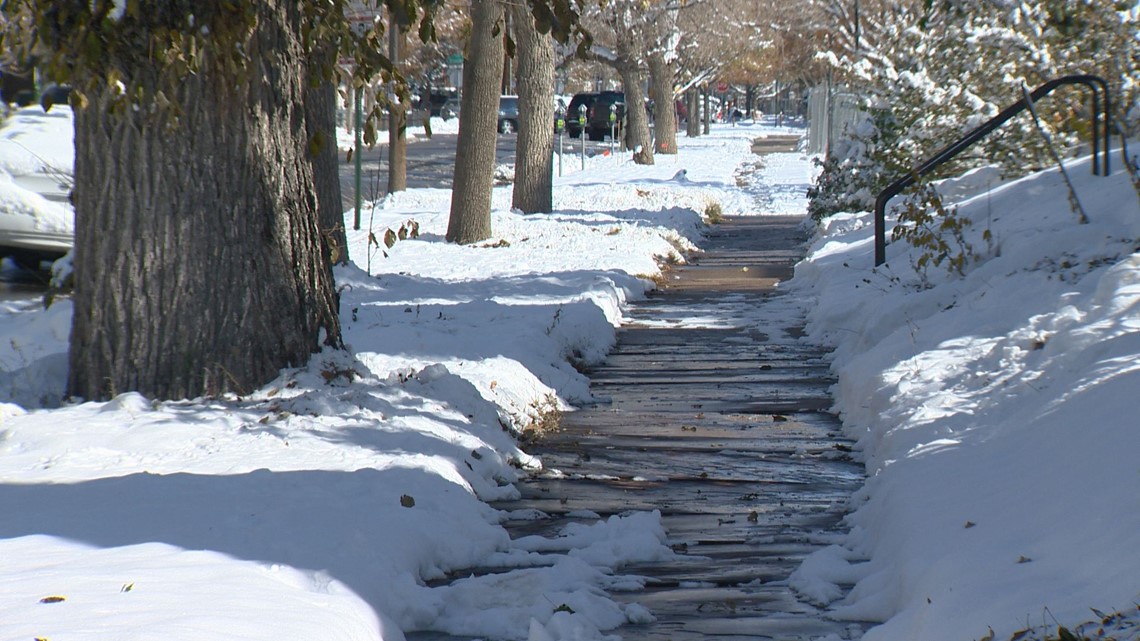 She said after our latest snowstorm, along with more snow and colder temperatures on the way, the sidewalks may become an issue for Halloween.
9NEWS legal Analyst Scott Robinson said a homeowner could even be held liable for negligence if someone fell and got hurt.
"You could be found liable in a court of law, for negligence if you fail to do your best to clear your sidewalks for people to walk on," he said.
Worst case scenario, Robinson said it could cost millions. Most homeowner's insurance policies would cover a negligent failure to clear a sidewalk.
City officials recommend shoveling early and often to prevent snow from piling up.
"Weeks like this where the snow kind of keeps coming throughout the days we just encourage you to shovel frequently and make sure to clear up those pathways as soon as you're able to so that there isn't any ice accumulation on those sidewalks," Weston said.
According to a Denver spokesperson, neighbors made more than 1,961 calls to the city about snow removal in 2018. Those could have been questions about the snowy sidewalk policy, or complaints about others' sidewalks.
As of October 2019, neighbors have made 4,942 calls to the city so far this year. There were 1,126 calls in March alone, as a result of the Bomb Cyclone.
This week, calls to the city's informational number, 311, have been only questions about policy, the city said, adding they expect more complaint calls soon.
Last October, when the snowfall total was under three inches for the month, the city received five calls about snow-covered sidewalks. This month, the city has handled 78 calls about snowy sidewalks, 73 of which have come in since Sunday.
As people look forward to Halloween on Thursday, Brown said she hopes the city's enforcement will bring cleaner sidewalks to neighborhoods like hers, so little ghosts and goblins can have a safe time collecting candy.
"I just hope the sidewalks are as clear as possible and that we have lots of jack-o-lanterns lit and lots of kids coming around," Brown said.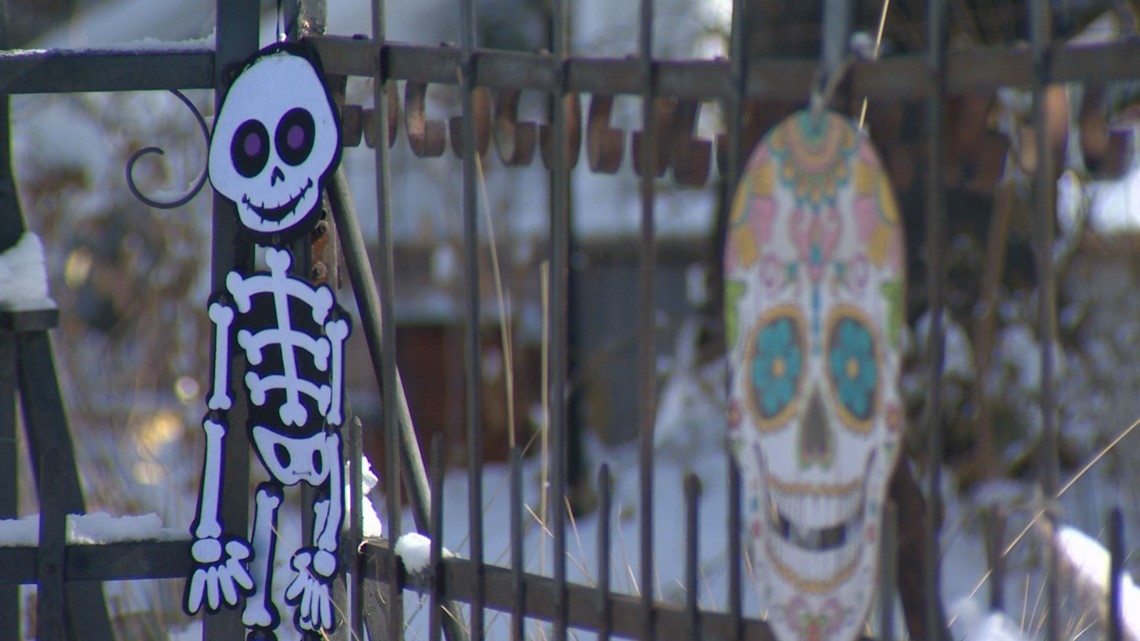 Denver has the following tips for snow shoveling:
Push (do not lift) the snow with a snow shovel.
Shovel snow into your yard to avoid blocking a bike or travel lane. This will also avoid the snowplow from pushing snow back on your sidewalk.
Be mindful of neighbors and those you could help if they are unable to shovel or snow-blow, etc.
A reminder that Colorado law prohibits plowing, blowing, shoveling or snow placement onto public roadways, according to the Colorado Department of Transportation (CDOT). This also includes the ditch and right-of-way area along roadsides.
The law states pushing snow on public roadways can increase hazards with each snowstorm, as snow piles or berms become larger, freeze and are more difficult to manage throughout the winter.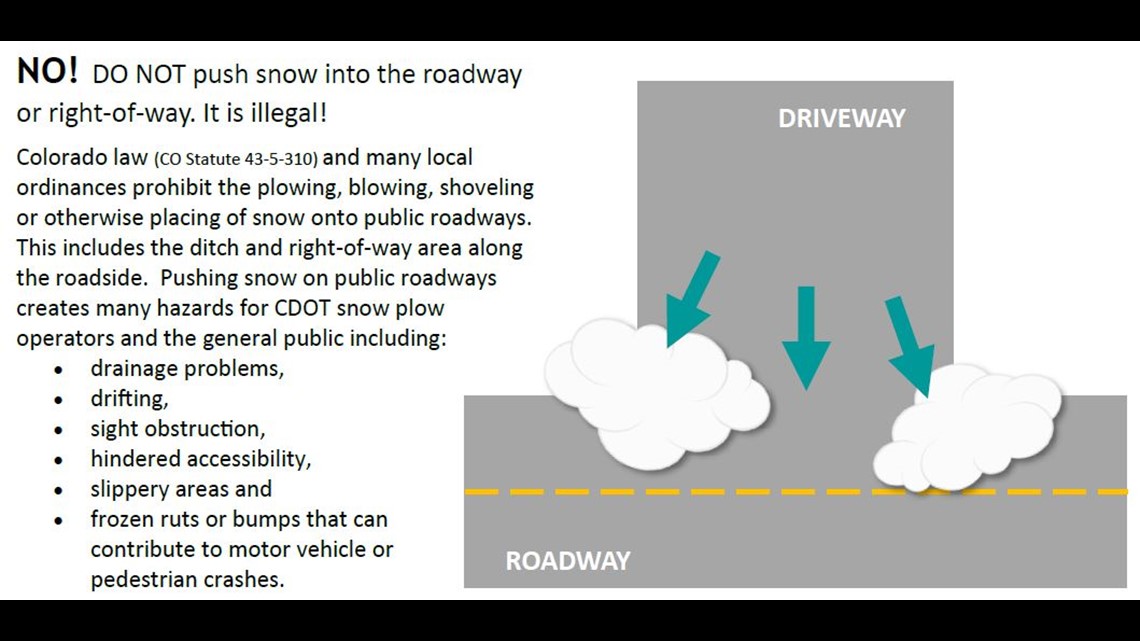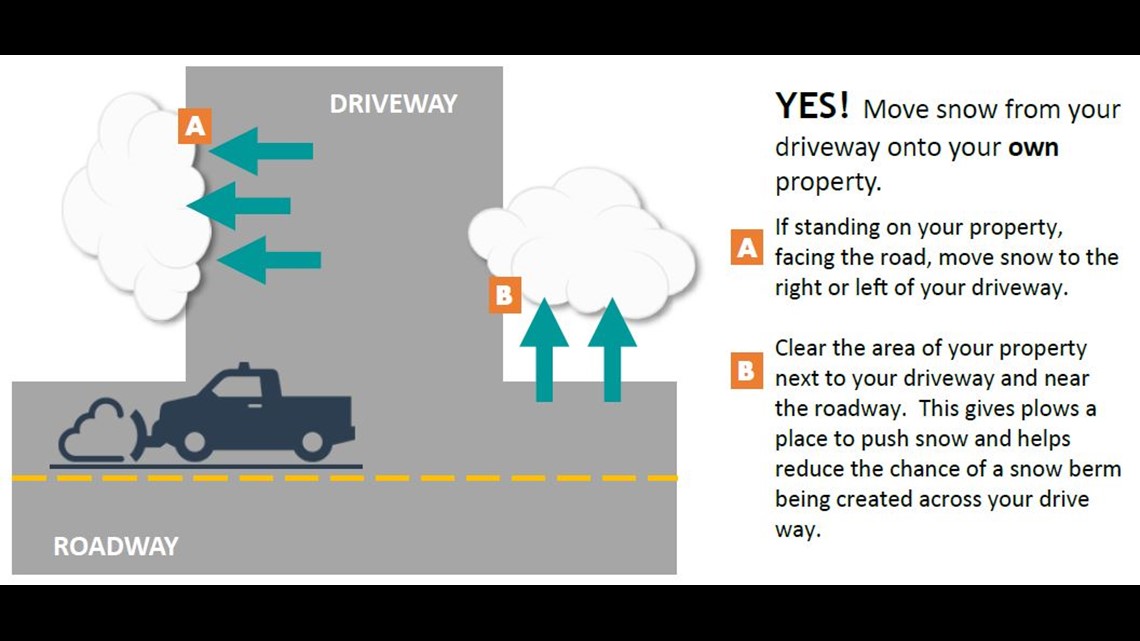 Residents who encounter unsafe sidewalks can report the address to Denver 3-1-1.