DENVER — Key data related to COVID-19 in Colorado is at a "high plateau," but it's unclear exactly why that is and whether we'll see a spike in numbers from the Thanksgiving holiday, state health leaders said Thursday.
"For the last couple of days we've seen a declining trend," said Dr. Rachel Herlihy an epidemiologist with the Colorado Department of Health and Environment (CDPHE). "Overall we know these numbers are still really high. There is still really a large amount of COVID-19 transmission that's happening around the state."
CDPHE Chief Medical Officer Dr. Eric France and Tri-County Health Department Executive Director Dr. John M. Douglas, Jr. joined Herlihy to discuss the latest virus trends during a briefing.

Several weeks ago cases of COVID-19 were rapidly increasing, but now data shows cases remain high, but relatively steady. Herlihy outlined two possibilities for the change in trends. First, she suggested it might be too soon for the data to reflect any changes related to transmission over the Thanksgiving holiday.
"The other possibility is that all of those things that were implemented leading up to Thanksgiving and all of the actions that Coloradans took leading up to Thanksgiving and during Thanksgiving are having an impact here and are potentially suppressing or decreasing the impact that we could be experiencing or could have experienced because of Thanksgiving," Herlihy said.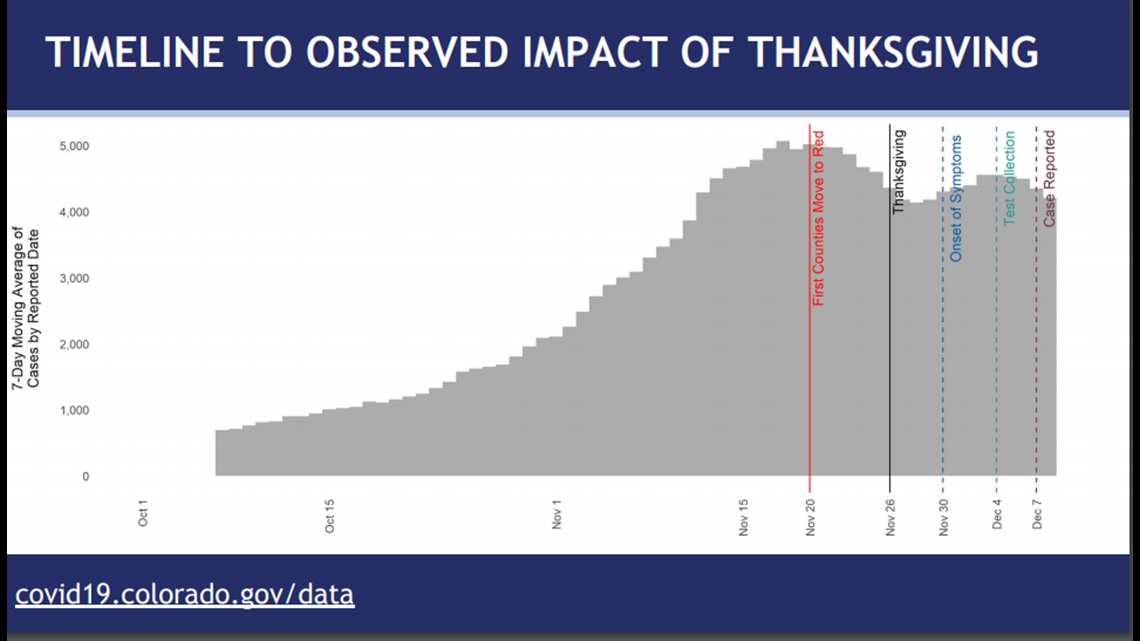 If we continue to see a stable or even a downward trend, Herlihy said that the second option is the most likely scenario. She also cautioned that a downward trend doesn't mean we can let our guard down over the holidays later this month.
"All of the things we did to lessen the impact would be needed again for the next holiday," she said.
Douglas spoke specifically about the trends in Adams County which had seen a high level of transmission. They've implemented numerous public health orders since mid-October in an attempt to slow transmission.
"I believe really what we've seen is a sequence of policy changes, honestly they've been shotgun," Douglas said. "They have lots of pellets, we can't tell which pellet is actually making the most difference."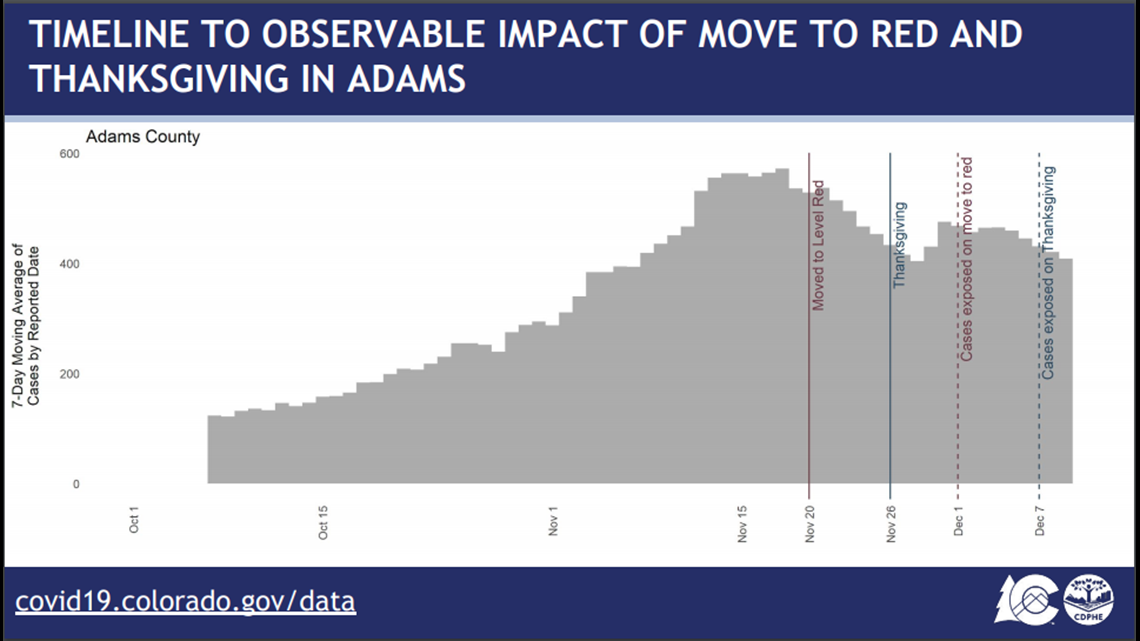 He also acknowledged the change in trend could simply be people deciding to take action as they began to recognize the seriousness of the current situation.
"As more and more awareness, oh gosh, this third wave, it's not a wave, it's a tsunami, began to hit people's consciousness, I do believe we began to see the changes that Dr. Herlihy has described."
He said he's "cautiously optimistic" that we're seeing a payoff from the health orders and increased personal responsibility, but said the downward trends need to continue if we hope to reopen schools and keep them open in January.
"They have had tremendous difficulty operating due to quarantine and illnesses among staff at the rates we have been at," Douglas said. "Honestly we probably need to continue the downward trend, even accelerate it to give schools oxygen to get that done."
WATCH: Will Colorado see a Thanksgiving COVID spike?
Thursday's briefing came as the state expects to receive its first shipment of 46,800 Pfizer vaccinations early next week. The first shipment of 95,600 Moderna vaccine doses is expected to arrive about a week later.
France, who is the chief medical officer with CDPHE spoke about the vaccine and noted that about 4% of trial participants experienced a fever related to the vaccine when they received the first dose. That increased to 16% with the second dose, he said.
People who have direct contact with COVID-19 patients for 15 minutes or more, such as emergency room workers and staff at long-term care facilities, will receive first-priority vaccines, state officials announced Wednesday.
Due to some of the side effects, France said that hospitals may need to vaccinate their workers in waves.
CDPHE will approve and enroll providers in the vaccine program and coordinate with the Centers For Disease Control and Prevention (CDC). First vaccines will most likely be distributed by employers and local public health agencies, officials said. It will likely be summer before the general population can get the vaccine and while we wait, safety protocols must remain in place.
"We need to continue with our basics, wearing our masks, staying six feet apart, avoiding in-person gatherings working from home when we can, staying within our bubble, our household members, all of that is very important," France said.
He also urged everyone to sign up for the exposure notifications app. So far, about 22% of Colorado residents have done so.
As of Dec. 9, there are 1,565 patients hospitalized in Colorado, and the seven-day, moving average positivity rate is 11.71%, according to CDPHE.
In a release Thursday morning, CDPHE urged Coloradans to only interact in-person with people from their household this holiday season.
"Just because we keep physical distance doesn't mean we have to be distant in other ways," the release says. "There are many creative things you can do to make those closest to you feel loved while making sure they stay healthy for many more seasons to come."
As it pertains to COVID-19, CDPHE said the top three most important things to remember during the holidays are:
Only interact in-person with people from your household (defined as those who normally live and sleep under the same roof.)
Refrain from traveling. Celebrate virtually with the people who don't live with you.
Avoid crowded stores. Shop for gifts online and have them delivered or pick them up curbside. Find local Colorado businesses to support via the #ShopLocalColorado campaign. Wear a mask and keep your distance whenever you do leave your home.