GREELEY — Two warehouses in Greeley have been filled with monsters for 40 years. But don't panic, Ed Edmunds tells 9NEWS. Most of them are nice.
"Monsters don't scare me," Edmunds said. "Bill collectors, IRS – those guys scare me."
Edmunds creates lifelike creatures with Distortions Unlimited. It's a company he started four decades ago, but one that he has help running today.
"This business has allowed me to be this nerd kid who was taking things a little too seriously when it came to monsters," Edmunds said. "Now I'm old, but I've had all these incredible experiences."
PHOTOS | This is the place where they make monsters in Greeley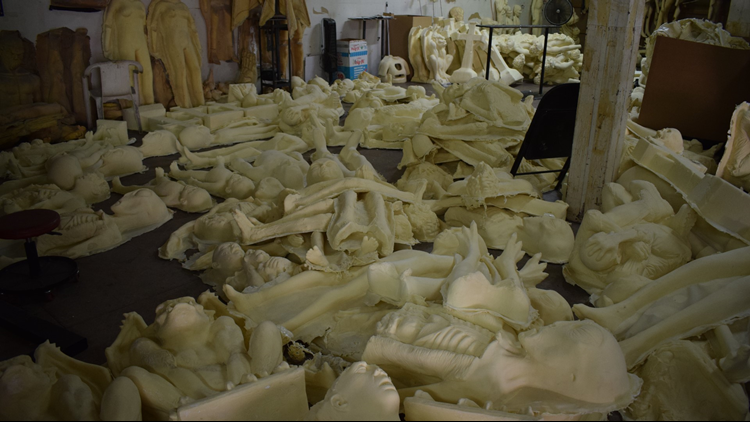 Edmunds and his team start with sketches of aliens, monsters, ghosts and goblins, sculpt them in clay, cast them in a plaster mold, pour in latex rubber, then paint them when they're ready.
They add motors and voices to make them look alive, and then sell them to haunted houses, horror aficionados and sometimes, even Hollywood.
"We did like some extra costumes for Batman," Edmonds told 9NEWS. "We're selling stuff to Dick Van Dyke! We've gone out to his house at Halloween. He loves monsters."

Edmunds believes most monsters are simply misunderstood, but there are a few that you should probably stay away from.
"Some are misunderstood," Edmunds said. "Some are very, very naughty."
And he has plenty that fit the latter description, all of them call Greeley home.
"We really like it here for many reasons, you know, the cost of living, the central location, just the lifestyle," he said.

"It's been a wonderful life," he said. "I know it's not, like, the traditional wonderful life, the Christmas movie, but, it's been a wonderful life with monsters."
Ed sells and rents all of his monsters and props. You browse his collection on his website.