DENVER — FORECAST BY: Meteorologist Kathy Sabine
THIS EVENING AT A GLANCE: Our latest Spring storm brought 3-6" across the metro area overnight bringing our seasonal total to 73.3"! The snowiest season since 2013!
Occasional snow showers tonight but no additional accumulation. Cold lows in the mid 20s with a cold north to northeast wind. Some snow showers early Saturday then clearing with afternoon temps in the mid 40s. Sunday warm and dry with mostly sunny skies and highs in the mid 50s.
Winter Weather and travel advisories remain in effect for the southern mountains this evening.
Look for a cool start to the weekend across Colorado. Daytime highs will only climb into the mid 40s Saturday around the city with partly cloudy skies in the afternoon. It'll be a bit warmer and drier Sunday but we'll still remain below-average with highs in the mid 50s.
Another system will dive into Colorado Monday afternoon bringing another round of snow to the Front Range. It'll linger into early Tuesday morning along with cold temperatures in the upper 30s and lower 40s. The weather pattern remains unsettled for much of next week with some clearing by next Friday. Enjoy the weekend!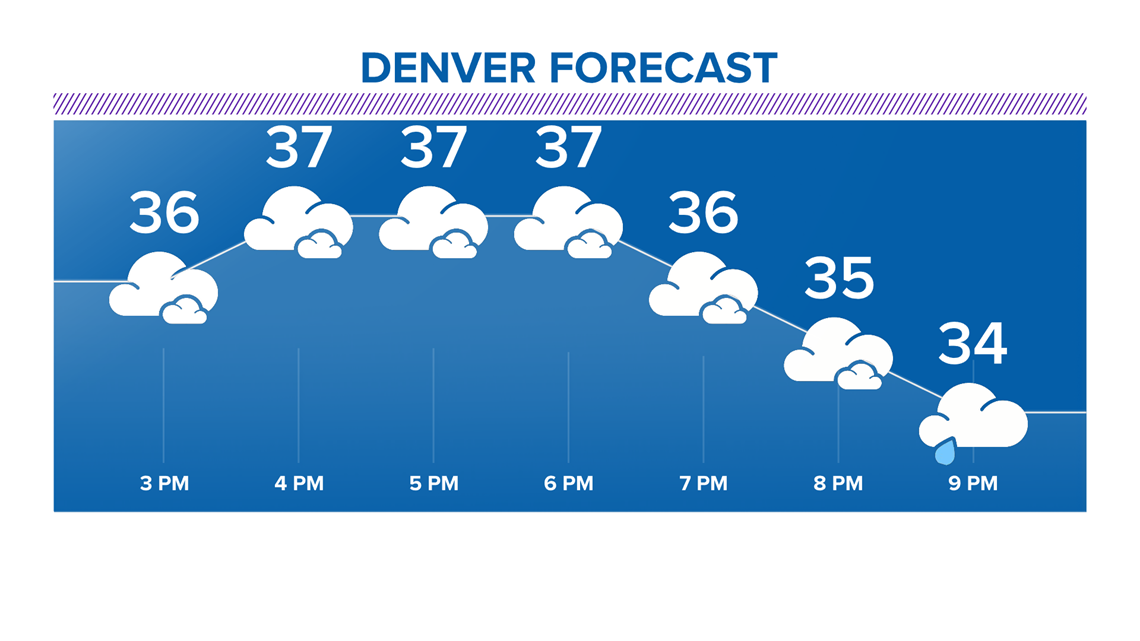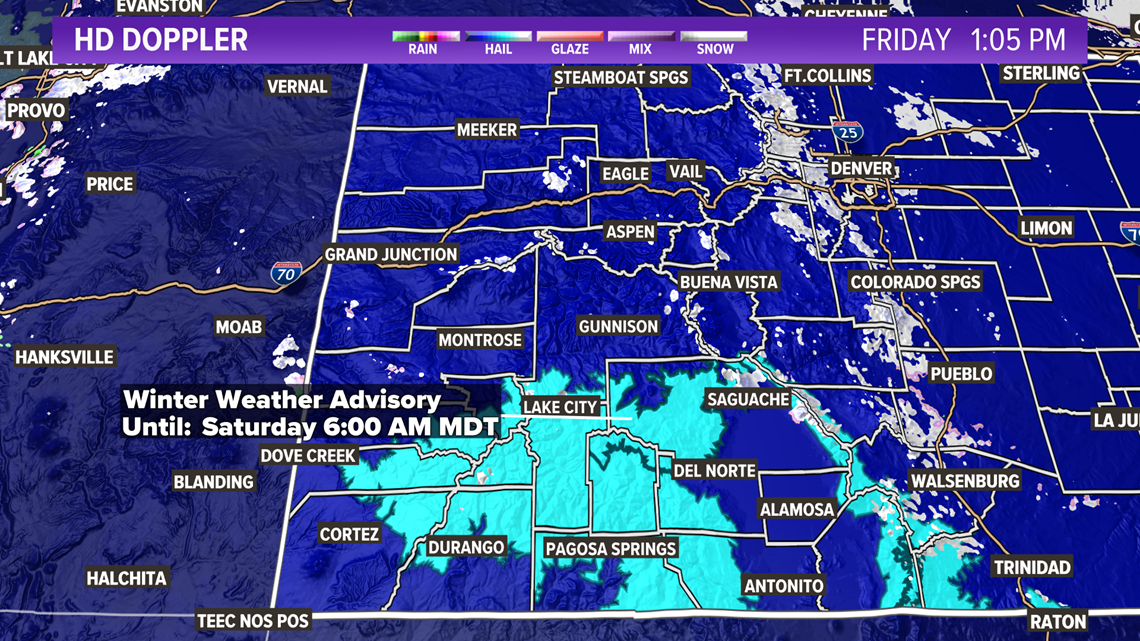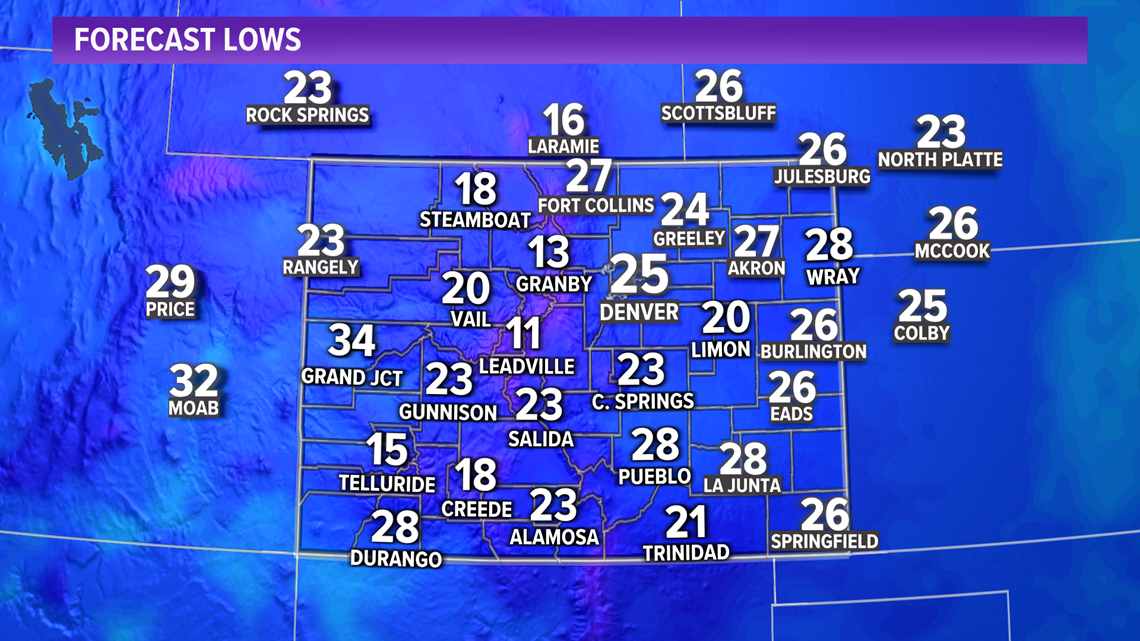 Saturday: Mostly cloudy with scattered snow showers in the morning. Gradual clearing in the afternoon. High of 44, skies becoming mostly clear overnight, low of 26.
Sunday: Mostly sunny and not as cold. High of 53, mostly clear overnight, low around 30.
Monday: Cooler with scattered snow showers back in the forecast. High of 46, snow showers overnight, low of 23.
Tuesday: Partly cloudy and cooler with scattered snow showers. High of 45, partly cloudy overnight, low of 27.
Wednesday: Partly cloudy with scattered rain showers. High of 52, mostly cloudy with scattered rain or snow showers overnight, low of 32.
Thursday: Mostly cloudy with scattered showers. High of 56, partly cloudy overnight, low of 35.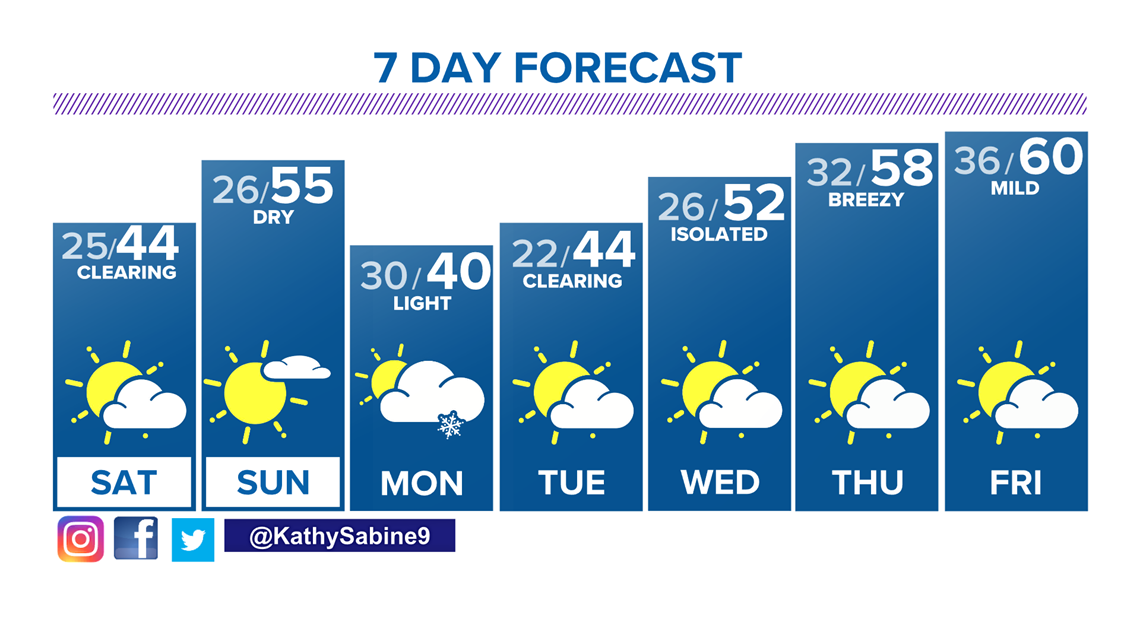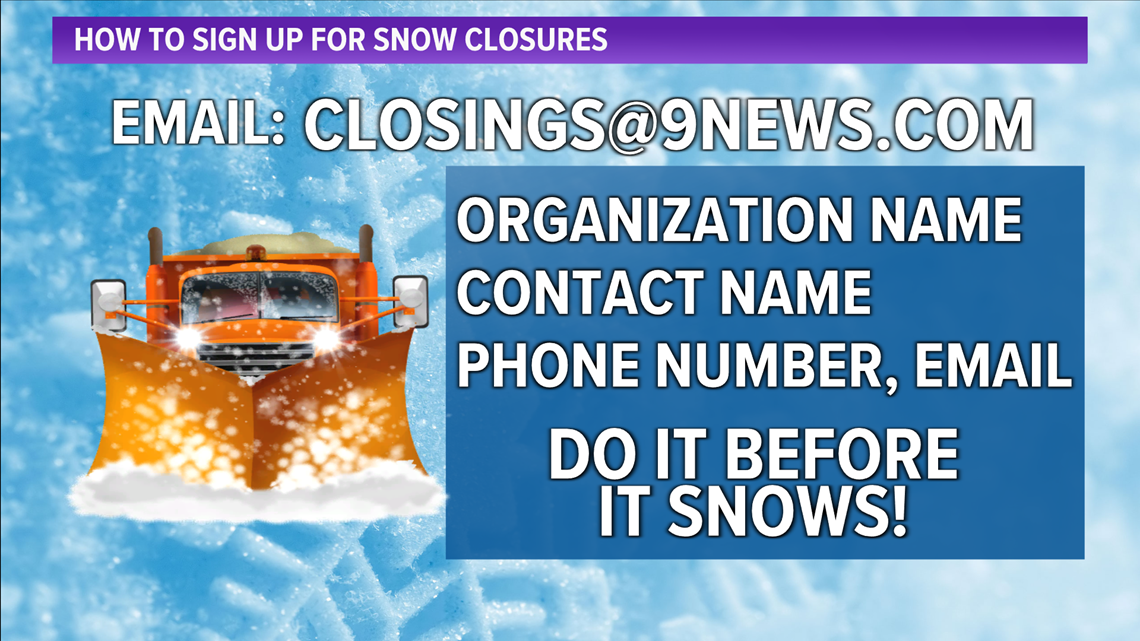 WEATHER LINE 9: Updated weather forecast information at 303-871-1492.
If you have a weather report, photo or video to share, you can contact the 9NEWS Weather Team in these ways:
The 9NEWS Weather team of Kathy Sabine, Danielle Grant, Cory Reppenhagen, Laurann Robinson and Ed Greene update the Denver weather forecast multiple times each day. Bookmark this link to always have the latest forecast from 9NEWS. The team values your local weather reports and often features your photos and videos during weather segments in all newscasts.