COLORADO, USA — FORECAST BY: Meteorologist Kathy Sabine
THIS EVENING AT A GLANCE: There is a big Spring storm headed for Colorado tonight! We go from near record highs and high fire danger today to cold and heavy wet snow Friday and Saturday.
Today will be the warmest day of the week, with partly cloudy skies, highs soars into the upper 80s. The normal high for this time of year is 72 degrees. The record for today is 92 degrees... we will come close. A cold front will move across the state from the north tonight, bringing gusty winds and much colder temperatures along with overnight rain showers.
Rain showers is will begin in Northern Colorado Friday morning with a few showers in the Denver metro by mid-morning. Highs will only make it into the mid-40s. Rain will change over to snow by Friday afternoon into the evening. The heaviest snow will fall late Friday night into Saturday morning. Look for 3 to 6 inches of snow and up to 12 inches in the foothills.
A Winter Storm Warning is in effect for the Front Range, northern and central mountains from noon Friday to noon Saturday. The heaviest snow will be around the Rocky Mountain National Park into the northern mountains will up to two feet of new snow. Travel will be incredibly difficult if not impossible in areas above 7,500 feet Friday into Saturday.
Don't forget to protect your pipes and plants this weekend as temperatures will drop below-freezing Saturday and Sunday mornings.
It'll stay cloudy with isolated rain showers and not quite as chilly Sunday. Temperatures will moderate a bit next week with highs into the lower 80s by Thursday.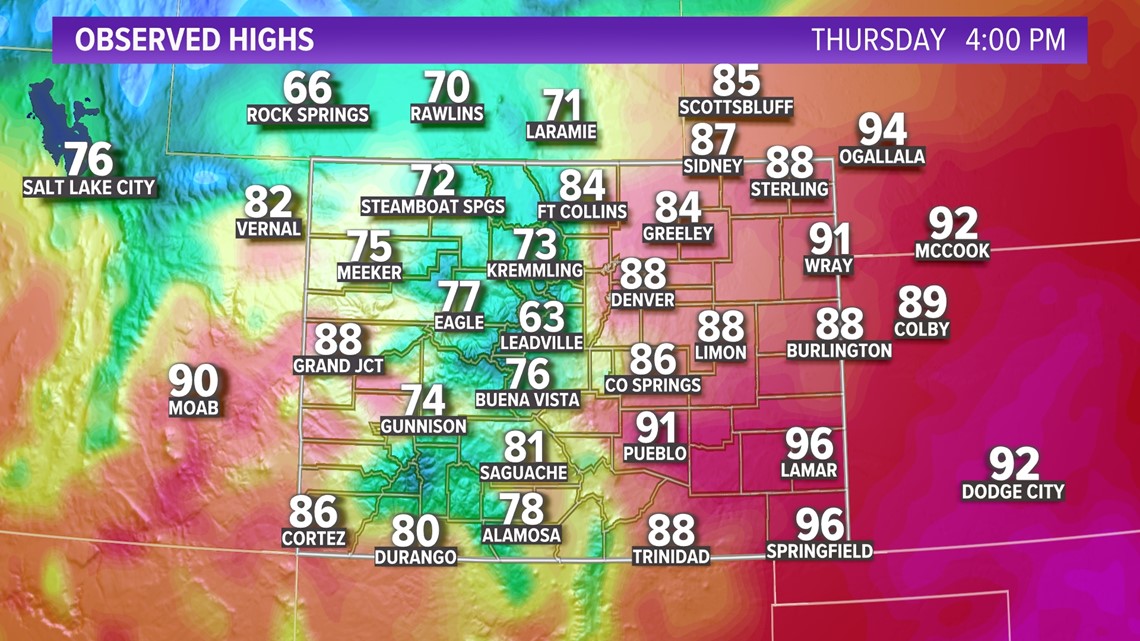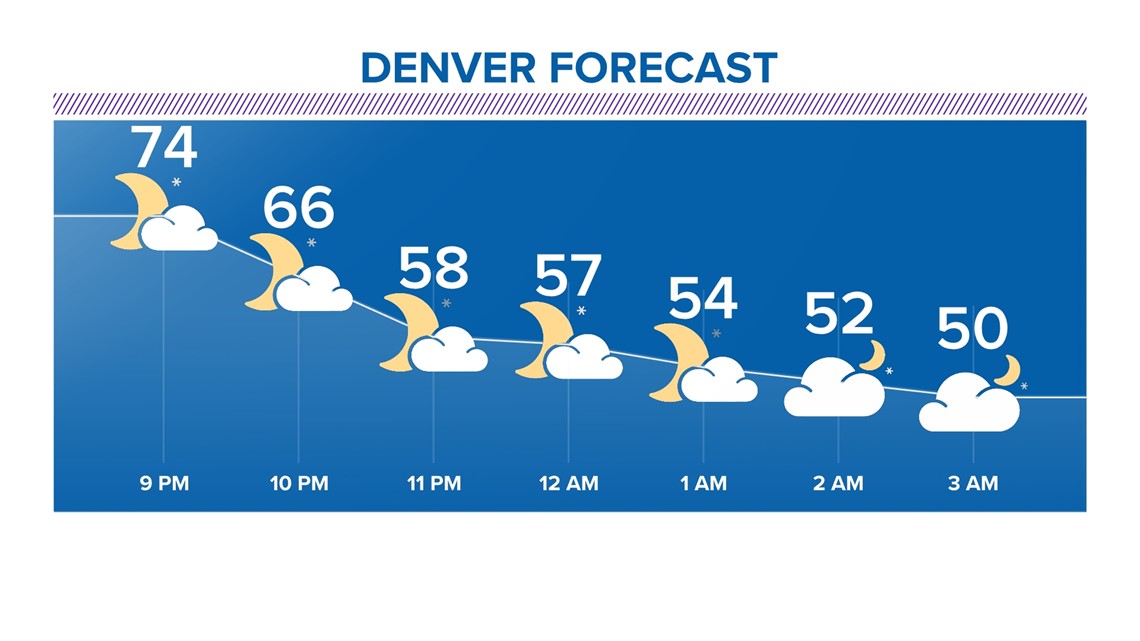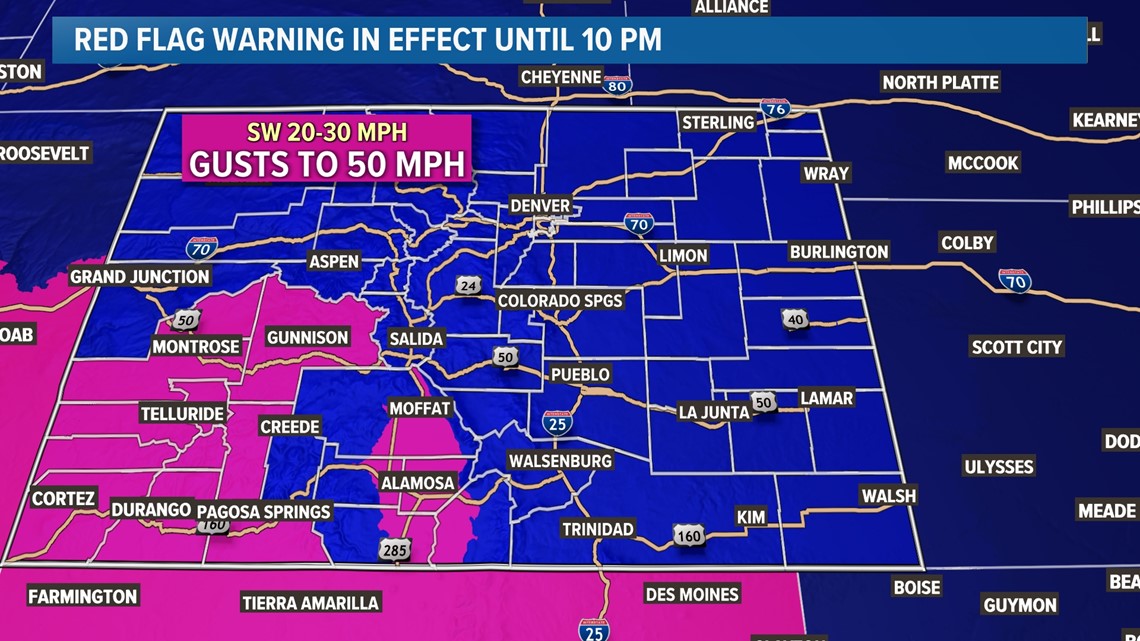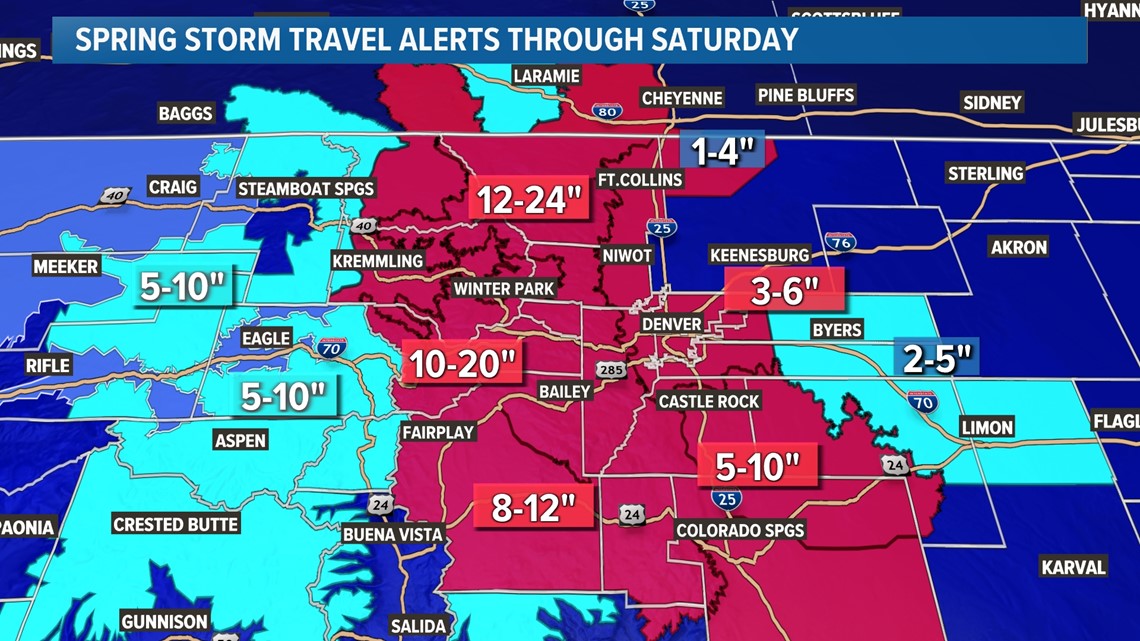 THURSDAY: Partly cloudy, windy and very warm, Red Flag Warning, high 88; mostly cloudy with isolated showers and colder, low 38.
FRIDAY: Winter Storm Warning for heavy wet snow, cloudy, cold with rain and snow showers, high 43, snow 3-6" possible, low 31.
SATURDAY: Scattered snow showers, cloudy and cold to start, some afternoon clearing, high 40; overnight, low 28.
SUNDAY: Mostly cloudy with isolated rain showers, high 53; mostly cloudy with isolated showers overnight, low around 37.
MONDAY: Partly cloudy with a few rain showers, high 58; partly cloudy with a chance for an isolated storm overnight, low 38.
TUESDAY: Partly cloudy with an isolated storm and milder, high 61; partly cloudy overnight, low 42.
WEDNESDAY: Mostly sunny and warmer, high 72, mostly clear overnight, low 50.
THURSDAY: Mostly sunny and warmer, high 81, mostly clear overnight, low 51.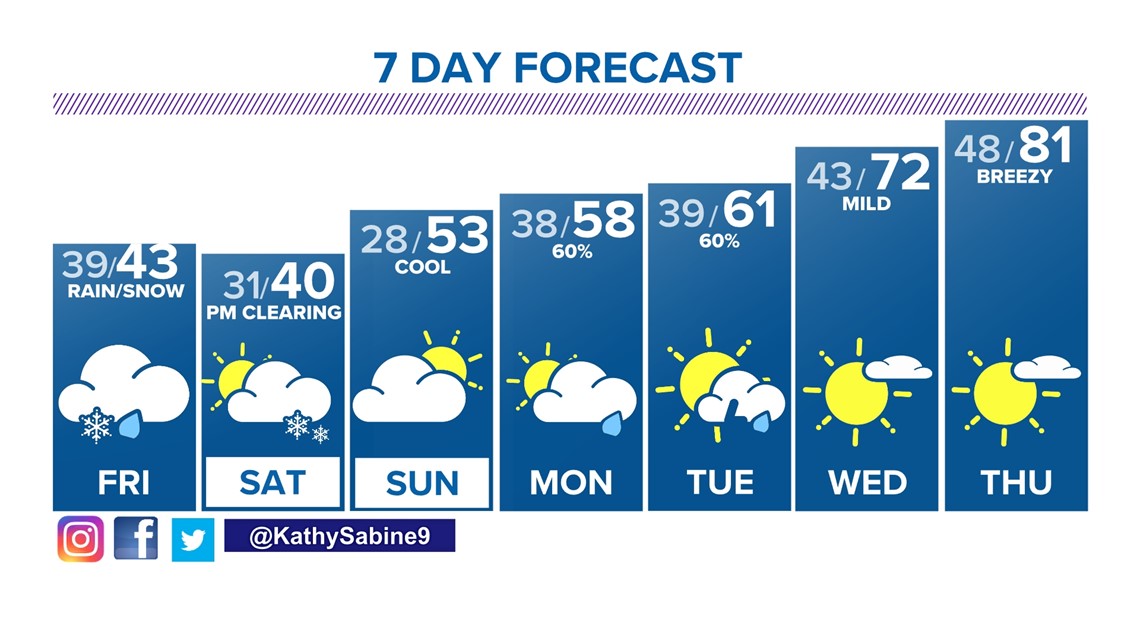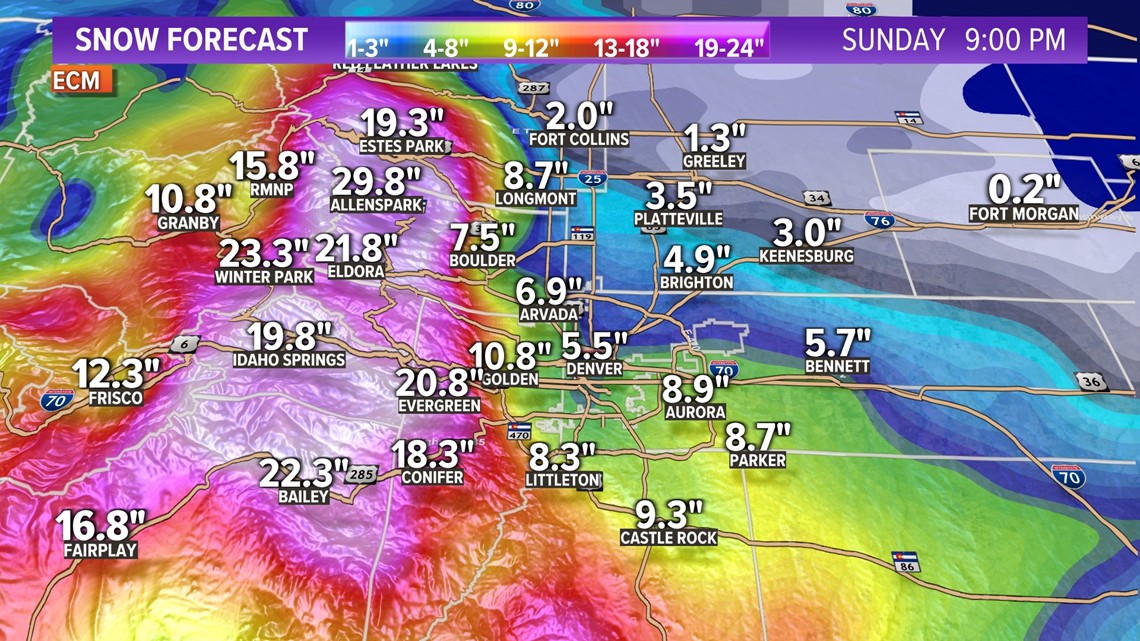 WEATHER LINE 9: Updated weather info at 303-871-1492.
WEATHER LINE 9: Updated weather forecast information at 303-871-1492.
If you have a weather report, photo or video to share, you can contact the 9NEWS Weather Team in these ways:
The 9NEWS Weather team of Kathy Sabine, Danielle Grant, Cory Reppenhagen, Keely Chalmers, Ed Greene and Chris Bianchi update the Denver weather forecast multiple times each day. Bookmark this link to always have the latest forecast from 9NEWS. The team values your local weather reports and often features your photos and videos during weather segments in all newscasts.