The photography project that connects senior citizens with students through stories
20 students, 20 stories, and 40 photographs. The residents and students were asked if they had to leave a burning house and they could only bring one photograph with them, what would it be.
It's About Love
:
The story behind a photography project bridging the gap between young and young-at-heart.
Ann Scholburg just so happens to have a claim to fame. Her photo was in a 1958 issue of Life magazine.
It was taken while she did her job as a physical therapist, working on Roy Campanella, the second African American to play Major League Baseball—right behind Jackie Robinson.
For decades, Scholburg has kept her copy of Life Magazine. And, now, the photograph of her in it has new life.
"That's me in the photograph on the left," she writes. "The patient's name is Roy Campanella, and he played baseball for the Brooklyn Dodgers."
Scholburg holds the magazine in a portrait she took for a book created by University of Denver Associate Professor Roddy MacInnes.
He teaches in the university's School of Art and Art History.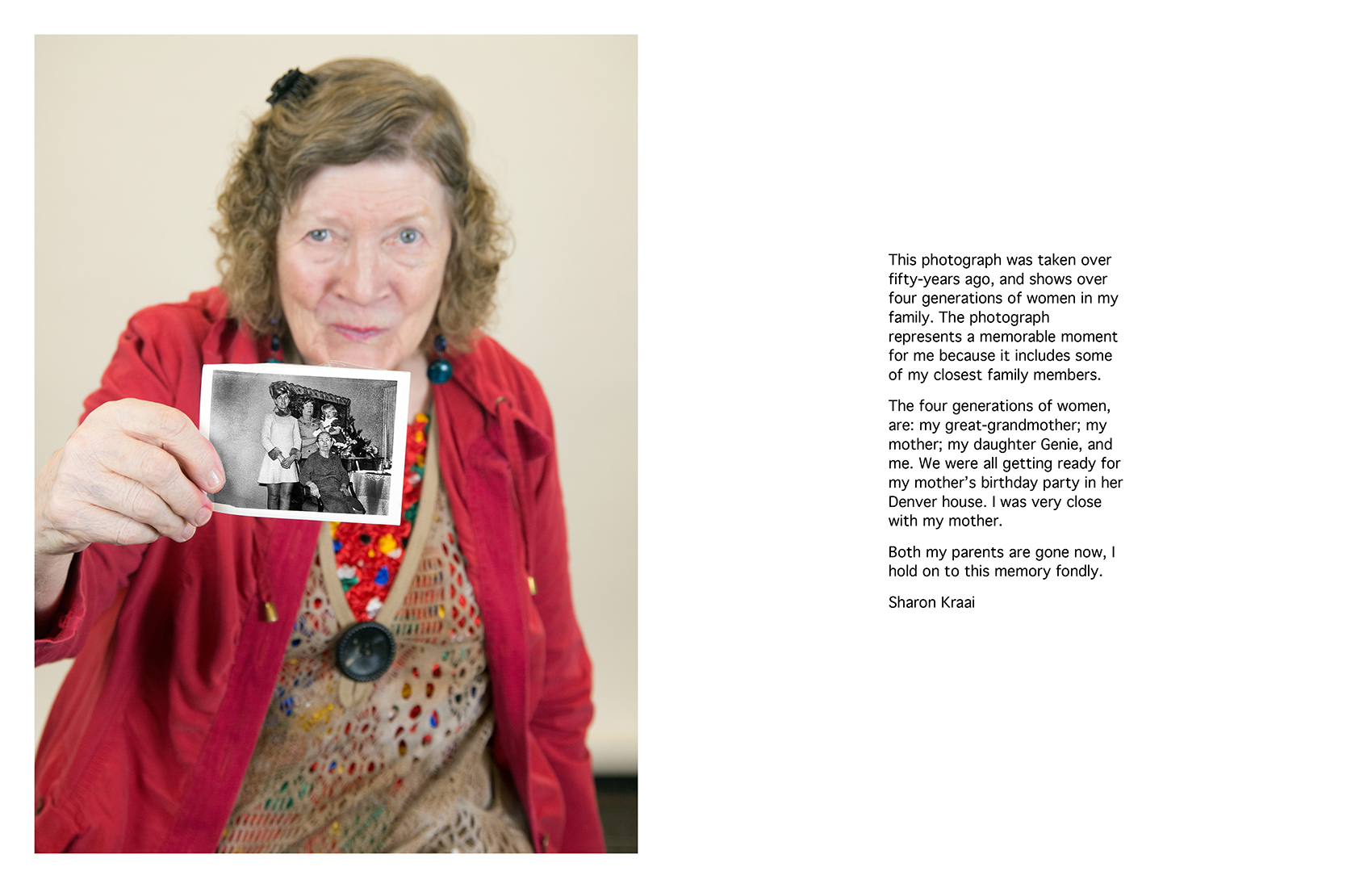 And, last spring, he had an idea for a project that he calls Personal Histories Photography.
MacInnes paired up his students with seniors living in Clermont Park retirement community and asked them a question.
"The residents and students were asked if they had to leave a burning house and they could only bring one photograph with them, what would it be," he said.
The students and seniors then had an interview and a photo session with their chosen picture.
"We photograph each person with their chosen photograph and then recorded them telling us why that photograph was important," said MacInnes. "We transcribe that and transpose that with the photographs for this exhibition."
The photos now hang on the walls at the art school. Each senior and student also got a book featuring their stories and their photos.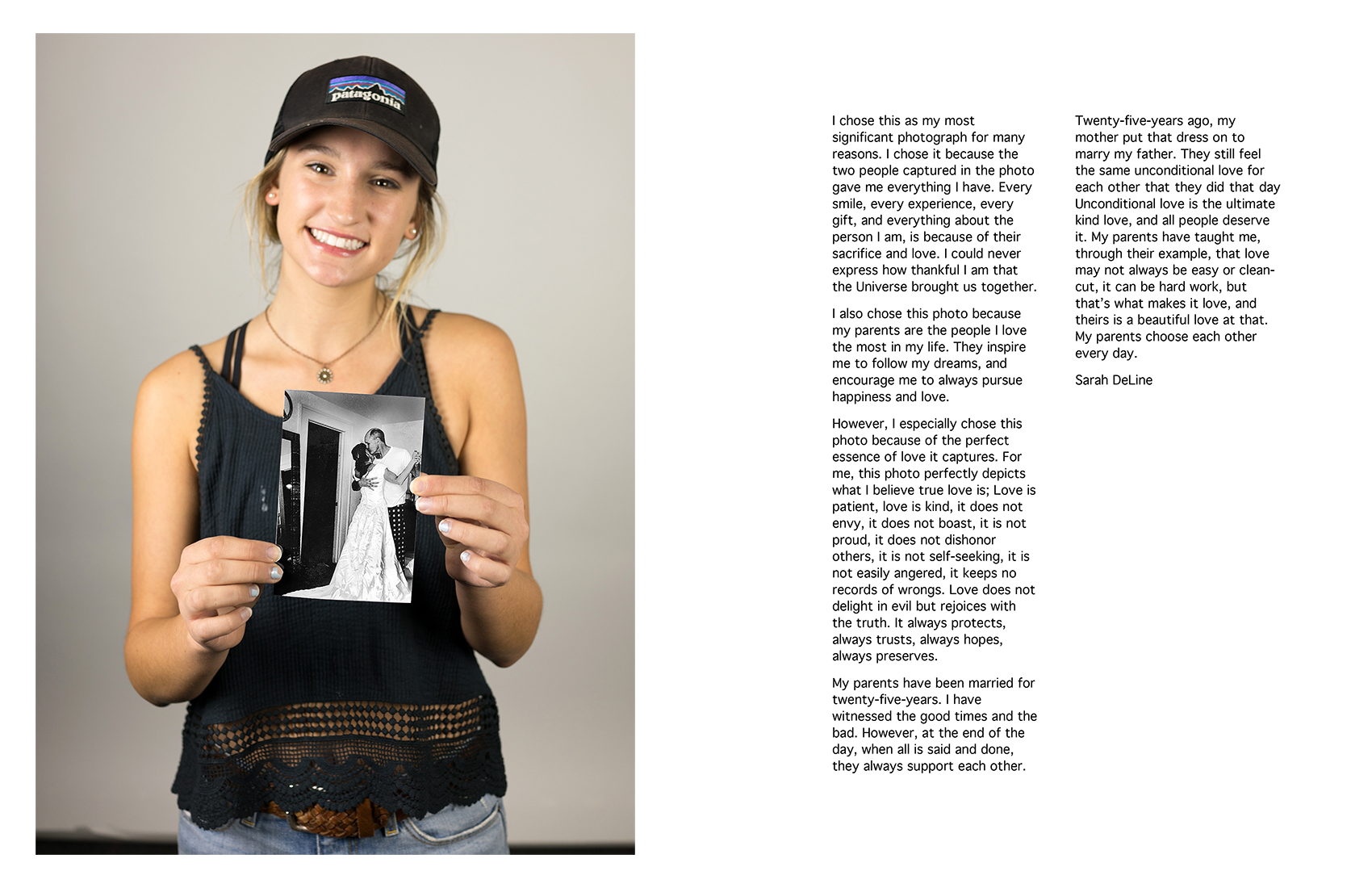 "It blossoms into this beautiful relationship," said Mary Lawrence, who coordinates activities for the seniors at Clermont Park.
The students agree, eagerly listening to stories from their new-found senior friends.
There are so many varying stories.
Lawrence Engelsman poses with a photo from the Korean War. He stands, in military uniform, outside a camp in Baumholder, Germany.
In the photograph, he holds a box of dishes he had just purchased in town. To this day, the china sits in his hutch at Clermont Park.
He's never even so much as poured a cup of coffee into them.
This is the second quarter for the class project. MacInnis says it also has a deeper meaning.
"When each person knows each other's story, then we're much more compassionate about each other," he said. "The project is about love, basically."
Students also shared their stories.
"This is a picture of my mom and dad taken in 1989. This image is so bittersweet and special to me because you can see how much they loved each other. My dad passed away a little over two years ago after an eighteen-month battle with Multiple Sclerosis, I miss him more than anything, and I know my mom does too," writes Madeline Head.
The Photos
:
Scroll through each student, and senior's, story and portrait in this photo gallery
The photos that connect seniors and students through stories