DENVER - If you put all of the students whose classes were canceled Thursday and Friday due to teacher rallies in the same place, it would be Colorado's second-largest city.
Some of the more than 530,000 students who had the day off used the time to join their teachers in rallying at the State Capitol for better K-12 funding, higher pay and protections to their retirement benefits. Friday was the second day of protests, and it brought in teachers from Denver Public Schools, Cherry Creek Public Schools, and dozens of smaller districts from across the state.
RELATED| Colorado, Arizona teachers rally for a second day
RELATED| These districts are canceling class today due to teacher walkouts
During the march, teachers cited the Gallagher Amendment (which requires a constant ratio between residential and business property tax) and the Taxpayers Bill of Rights as big reasons for what they call education funding shortfalls.
Kate Witten, a senior at Elizabeth High School, say she hadn't heard about TABOR in class — and instead, researched it on her own because her mom's a teacher.
"I don't learn any of that in classes whatsoever," she said as she stood just outside the Colorado State Capitol.
RELATED| TABOR, Colorado education funding and the teacher protests
Ian Armstrong is one of Witten's classmates. A sophomore, he says he wants to be a teacher when he graduates college, despite the protests.
"I love helping people," he said.
PHOTOS: Teachers rally at State Capitol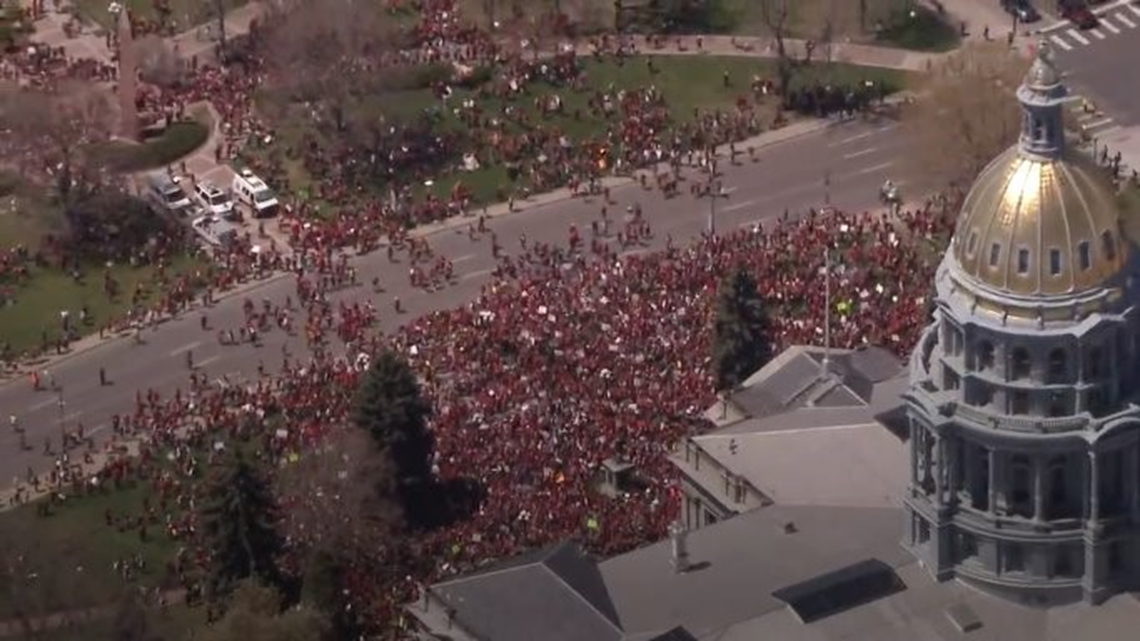 Timothy Schwager is a senior at Pueblo East High School. Teachers at his district voted for a strike due to a lack of funding. He says he also hasn't learned about TABOR, but that he was at the march to support his mom, who teaches.
"I learned that teachers really matter," he said.
Patrice McGivney also goes to Pueblo East, and says she and her sister spent two-and-a-half hours to come to the rally. Neither of them had learned about TABOR in their classes.
"It's better to be part of history than in a history class," McGivney said. She says that the majority of students that she knows support their teachers and what they're protesting.
RELATED| Gov. Hickenlooper addresses teachers at rally
PREVIOUS| Aurora teachers who rally at capitol will be taking unpaid leave
Kai Warren is a fifth grader whose grandma is a former teacher. He wants to be a pro baseball player when he grows up, but that he came to the rally to express his freedom of speech.
"If I were a legislator, I would say this isn't fair," Warren said.
SKY9
Micah Tobin, 9, is a fourth grader and came to the rally with his dad, who teaches at Northfield High School in Denver. His mom is also a teacher, but was working because she helps with the district's Shakespeare festival.
"I'm going to tell my students about the importance of making a change," Micah's dad, Brad, said.
Reanna Medina, a junior at Elizabeth High School, said even though class wasn't canceled in her district Friday, she came to the Capitol anyway in support of the people who teach her everyday.
She said it wasn't weird to see her teachers outside of class, because all of them were there for the same reason.
"A lot of people think it's just walking around and not making an impact, but it is," she said.