'If we can do it for pizzas, we can do it for emergency alerts': Obstacles hinder improvements to alert system
AMBER Alert-style messages could include pictures, maps and more languages if changes are adopted.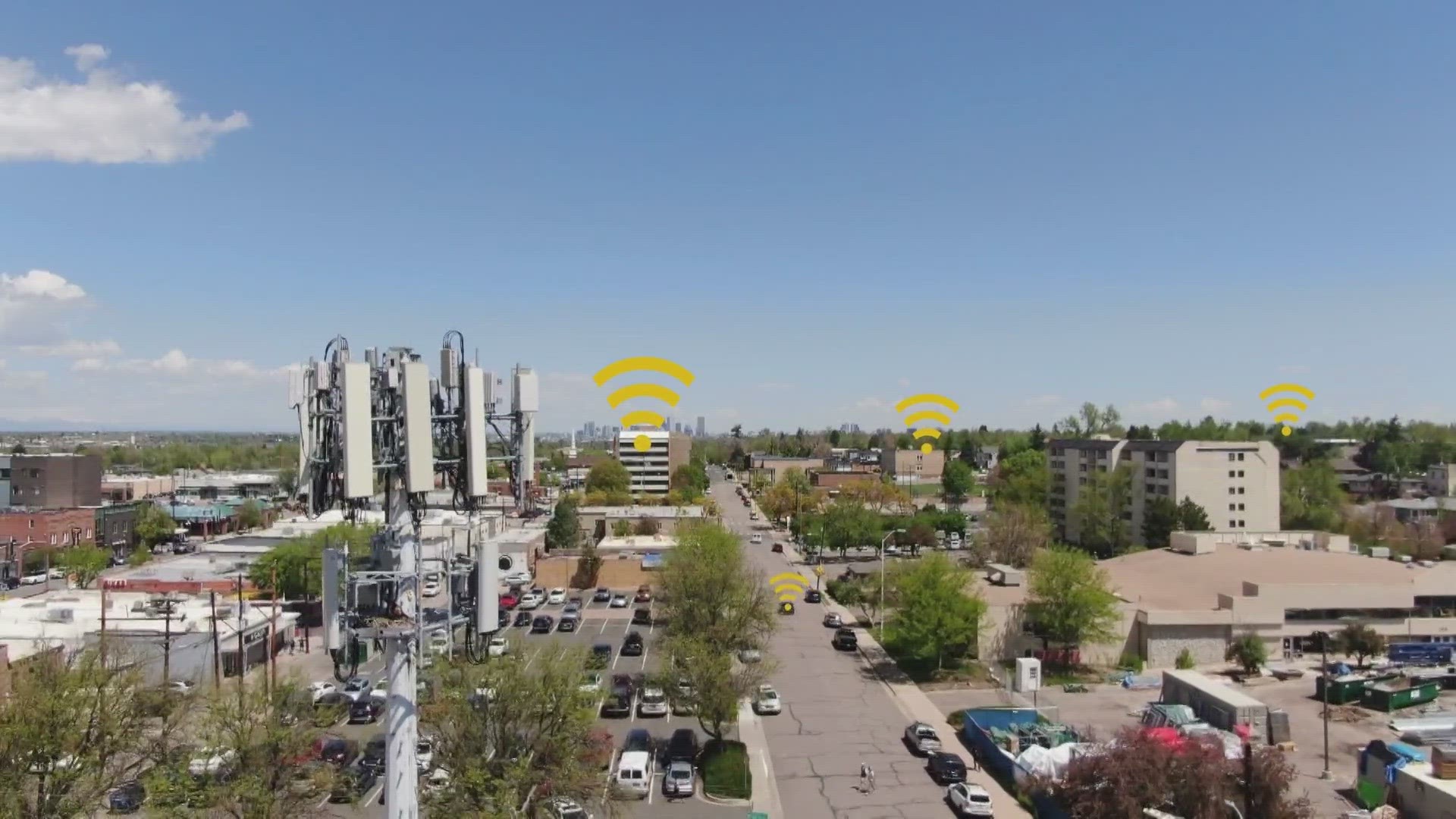 On May 10, the Denver metro area's most intense severe weather day in five years triggered a tornado threat impacting more than half a million people. It offered a refresher on the necessity – and limitations – of our nation's most critical emergency alert system.
The National Weather Service in Boulder issued more tornado warnings on that day than it did in all of 2022. With each warning came an AMBER Alert-style message to phones, telling people to take shelter.
Mo Kirk and her husband were at home in Littleton as the storms rolled in. Her husband's phone blasted the alert. As the couple raced to the basement, they noticed her phone stayed quiet.
"My husband's looking online and just says 'I think it's not here. It's like further east of us,'" Kirk said. "It is surprising and unacceptable that two phones in the same residence would operate differently during an emergency."
It was surprising to Kirk, but not to emergency managers who regularly struggle with the federal Wireless Emergency Alert system, or WEA.
Nearly a year and a half's worth of reporting tells us some people who needed the message that afternoon likely didn't get it, and many people who weren't in the path of the storm, like the Kirks, saw their phones go off about a threat that didn't apply to them.

"It seems like one of the most important reasons to have a cellular device you can have with you at all times is to know when there's an emergency," Kirk said.
It's a reality of the decade-old system - one that emergency managers in Colorado have come to expect, and have spent the last year arguing needs to change.
The Federal Communications Commission is now weighing such changes. The FCC cited 9NEWS' reporting in a proposal for a slate of improvements to WEA. Those proposed improvements include creating the capability to send maps or images with alerts, translating messages in languages other than English and Spanish, allowing emergency managers and alert recipients to turn off the alert noise, improving the location accuracy of the alerts and developing a mechanism so emergency managers know where their message was received.
They are changes alert and warning experts say could dramatically improve the WEA system's ability to reach the right people with the best information in life-threatening situations. They're also things our phones are already doing for just about everything besides emergency communications.
Fear of the unknown
:
The WEA system enables emergency managers to reach all cell phones in a certain area drawn on a map. It's different than opt-in, subscription-based alert systems like Everbridge and Smart911, which use databases of cell phone and landline numbers tied to home addresses in addition to sign ups to communicate emergency information.
WEA can reach more people than those systems, and it can also reach people in unpredictable places.
"When we do WEA now and the 911 center sends that out, it's going from Berthoud down to Arvada and Brighton, all the way up to Nederland, and we drew a polygon that's literally for a neighborhood in Boulder," Boulder County Director of Emergency Management Mike Chard told 9NEWS last year. "We can't get that nailed down."
The system doesn't tell 911 dispatchers where or even if the message is received. Instead, they tend to find out about what's known as "over-alerting" when confused people call 911, asking if the alert applies to them.
Colorado Springs experienced this in May 2022, when an evacuation alert meant for one neighborhood with a few dozen homes went instead to the entirety of El Paso County, as well as people outside the county.
It meant 911 dispatchers dealing with multiple wildfires suddenly also had to face confusion from people in five counties.
"We got calls south of Pueblo, we got calls in Conifer," El Paso-Teller 911 Authority Director Ben Bills said. "It went pretty darn far."
The newest cell phones are supposed to be geographically accurate down to one tenth of a mile, filtering out alerts that don't apply to the phone's location. Older phones, or phones with location services turned off, are less precise.
Tests in Jefferson County and other communities across the country in September showed the process known as "geofencing" only works about one-third of the time, according to the FCC's review.
"One of the big problems is if people perceive that they're getting messages that don't apply to them, they may become more inclined to turn the system off," said Dr. Jeannette Sutton, a social scientist studying alert and warning at the University of Albany. "If an emergency manager wants people to keep them turned on, they become really concerned about this problem of inaccuracy of messages going out."
Sutton is concerned fear of so-called "alert fatigue" could stop some emergency managers from using the lifesaving tool, though she questions why geofencing is still so limited given today's technology.
"Our phones are technologically capable of doing so much more than what they are designed to do for the WEA system right now," Sutton said.
A voluntary system
:
From the system's launch in 2012, WEA was limited compared to everything else on a smartphone.
When Doordash, Postmates and UberEats started allowing customers to track food deliveries from a restaurant to their door, WEA was sending messages to entire counties.
People comfortable with languages other than English could set their smartphone to the language of their choice. But when it started, WEA could only send messages in English. Today, the system can send messages in English and Spanish, excluding more than 300,000 Coloradans whose primary language is something other than English or Spanish, according to the Colorado Health Institute's count.
At the same time people could send lengthy texts complete with videos and images, WEA was limited to a multimedia-free 90 characters. It's now up to 360 characters, but images still can't be included.
Retired Navy Rear Admiral David Simpson ran the division of the FCC that oversees WEA from 2013 through 2016.
"We asked the question, well, if we can get a picture in a message between two smartphones, why can't we send a picture of the Amber Alert of a child who has just been abducted?" he said. "Why can't we embed a link so that if somebody sees the picture, and then has some relevant information about that missing child, they can click on the link and immediately upload that to the agency that's looking for the child?"
Simpson and his team encountered an obstacle built into WEA from the start. The system, which FEMA calls "an essential part of America's emergency preparedness," is voluntary for cell phone companies to participate in.
All the big companies do. But the voluntary nature of the system combined with the lack of profit for cell phone companies means technological development of WEA happens at a slower pace, Simpson said.
"We had to [make changes] in steps, so that we wouldn't cause wireless providers to say, 'I'm out,'" Simpson said. "There's no money in this for them, right? It's not a profit center."
Simpson pointed to language limitations as one illustration of that slow development, arguing phones could've been translating emergency alerts years ago.
"We first proposed [expanded translation] in the last few years of the Obama administration, and it was not picked up on," Simpson said. "The industry didn't want to move too far, too fast on their obligations. There wasn't universal political support for it. But I think times have changed."
At its meeting in April, an FCC commissioner acknowledged that dynamic ahead of the unanimous vote advancing the series of proposed WEA improvements.
"Carriers also have to have the right incentives to not opt out of the system itself," Commissioner Brendan Carr said.
"I wrote to the nine largest providers to inquire about what can be done to have these alerts available in more languages," FCC Chairwoman Jessica Rosenworcel said. "Their responses informed this effort, and I am hopeful they will speed this process."
Trade groups representing the cell phone industry started pushing back on the proposed changes before the FCC commissioners even voted. The group Cellular Telephone Industries Association, or CTIA, argued creating a mechanism for emergency managers to see where and if alerts were received would "require extensive development—possibly even a costly redesign of the system," according to its filing to the FCC.
CTIA argued, as it has in previous WEA discussions, that past national tests of the system show WEAs were received by more than 9 in 10 people participating in the operation. These national tests, however, are limited.
The latest test in 2021 was only available to people who enabled "test alerts" on their phone. Nationwide tests also fail to represent the common challenge emergency managers face with alerts going beyond their intended area. Large areas are easier to capture than smaller and more specific alert areas employed during an emergency situation like a wildfire.
Another cell phone industry group, the Alliance for Telecommunications Industry Solutions, wrote in its filing to the FCC it is already examining ways to provide WEAs in additional languages, but says that work will be put on hold while it addresses other proposals from the FCC.
The FCC proposed implementing expanded translations, image capability for alerts and the capability for silent alerts in two and a half to three years. CTIA argued those timelines are not feasible, because the "estimated timelines do not reflect that each of the proposed WEA enhancements could not be accomplished in a parallel (simultaneous) manner."
"I understand the technology takes a really long time to design and to make sure that all moves correctly through the systems," Sutton said. "But 30 months, that's three wildfire seasons. That's a lot of property that's lost, potentially a lot of lives lost."
"The FCC has to be careful to ensure that the cost of adding in the new capabilities is positively correlated with the benefits of society, the number of lives saved or property that doesn't get damaged," Simpson said. "If we want to get the most out of our public safety investment, of course we need to be doing these kinds of things."
"You don't make money by issuing alerts and warnings, and it is asking them to do more for free," Sutton said. "But every cell phone company has the ability to do what they do because of government making it possible for them, and because of us purchasing their services. It seems like they should be giving back."
A vision for the future
:
As the FCC, cell phone companies and emergency managers debate if and how to update WEA to match the capabilities of everything else on our phones, Simpson envisions a more precise, surgical system more equipped to help us in our worst moments.
In an active shooter situation, for example, Simpson said, "we should be able to draw a circle around the school where an active shooter might be and send a message to the kids 'hi, take cover. We're coming.' But then outside that circle, draw a second, larger circle that's intended to go to the parents that says 'don't go to this school, you're likely going to make things worse.'"
"Imagine after an earthquake, if we sent a Wireless Emergency Alert out that had several links to choose from. Did you feel the earthquake? Do you have injuries where you're at? Do you have physical damage?" Simpson said. "Then [we could] build a map that would support the efficient triage of available responders around a mass casualty event like that."
"If you had all the money in the world, you could build a SpaceX for warnings," Sutton said. "You put all the experts into one place to build something with all the technological sophistication, and all of the right policy people who are pulling the right levers with Congress and getting the funding. Then you can build something really fast. But we have all these different systems… and then there's that emergency manager who's facing the public, and asked to make these decisions about whether or not they're going to push the button."
Those visions of the future of WEA are not complicated merely by the operations of the FCC and cell phone companies. More than a decade after its adoption, many communities still do not have access to the federal system.
In Colorado, 11 counties are unable to send WEAs on their own, according to the state. Colorado Division of Homeland Security and Emergency Management Director Kevin Klein told 9NEWS last year his goal was to have every county on WEA by the end of 2023.
Even communities with WEA capability encounter problems. Beyond the common over-alerting, emergency managers discover weird, technical quirks that cause problems. For example, the May 2022 alert meant for a Colorado Springs neighborhood that instead blasted to the whole county and then some was caused by a map that had too many lines, confusing the system. The 911 Authority had to work with FEMA and their alert subscription service to uncover the issue and fix it.
Simpson emphasizes regular, localized testing of the system so the people hitting "send" on the alerts have more practice and more of an opportunity to troubleshoot problems outside the context of an emergency.
Sutton, who runs a Twitter account discussing alert language, regularly finds messages sent across the country that lack critical details. She is developing a tool to help emergency managers quickly craft the best message possible, as informed by social science.
In a time where natural disasters move faster than ever, experts and emergency managers agree alert systems must catch up.
"That's not insurmountable," Simpson said. "If we can do it for your pizzas, we can do it for emergency alerting."