DENVER — In a rush to get people off Maui, flight crews are stretched thin -- so a Denver pilot who was on vacation jumped in to help.
"We woke up Tuesday morning about 3 a.m. and the power had gone off and it sounded like a freight train running through the hotel room because of the winds, it was so crazy," Kathy said.
So the family decided they'd head to the airport early.
"The first we heard there were fires was when we were checking out and the person checking us out said be really careful, there's wires down and there's some fires kicking up," Kathy said.
Despite traffic and detours, they made it to the airport. But their flight kept getting delayed further and further.
"I actually knew one of the pilots who works for me," said Vince, a longtime pilot and 777 Line Training Manager with United Airlines. "So I talked to him and basically, the flight attendants were staying in Lahaina or Kaanapali. So right about the time they probably had to get on the bus to come to the airport was right about the time Lahaina was really in trouble."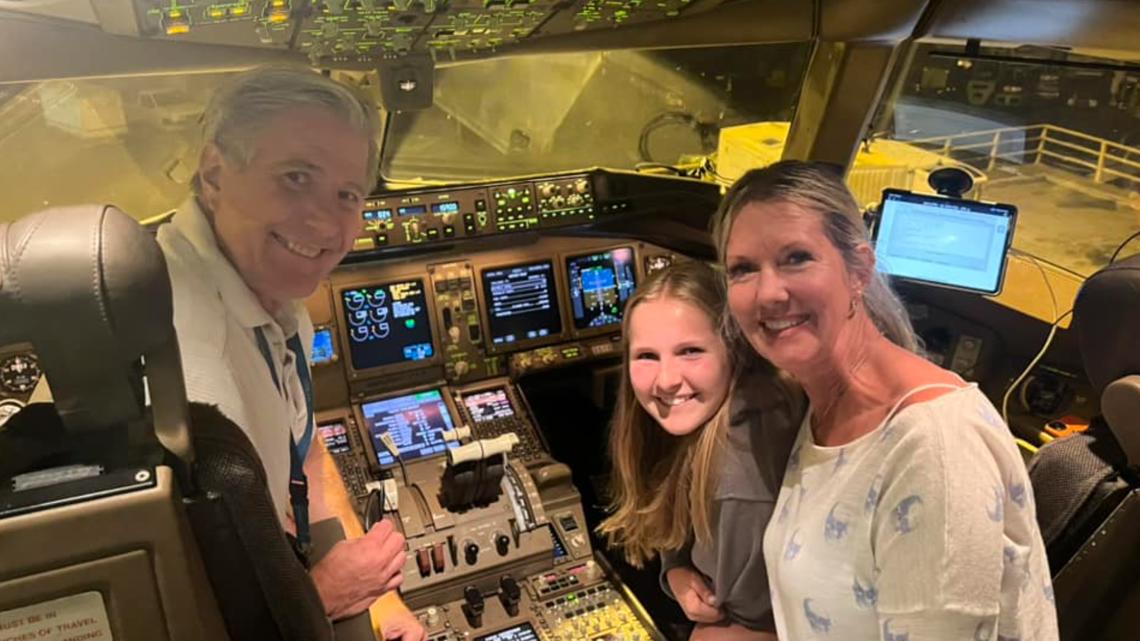 With no flight attendants, their flight was canceled. The family bunked into the airport for the night as the terminal began filling up.
"And it was just devastating hearing people had lost homes. People were arriving and showing us pictures of their burned-out rental cars because they were trying to get out of Lahaina. I don't know how they got to the airport, but it was pretty devastating," Kathy said. "The next morning, I was speaking with a police officer who told us his partner lost his home. He told us Front Street was gone. And that was so surreal to us. That was the first that we had heard about Front Street."
Vince has been flying planes for more than three decades. He still picks up at least a flight a month, but spends most of his days as a 777 Line Training Manager.
When he saw the delays and issues with crews getting to and from the airport, he offered to help.
"I knew the line check pilot and I texted him and said, 'Hey, I'm available to augment you if you'd like,'" Vince said. "The crew desk didn't need me initially."
He decided to head down to the ticketing desk just in case, grabbing his bag with everything he'd need to fly inside. The woman at the ticketing counter, he said, was surprised.
"She was like, 'Really, you're going to do that? Wow, that's amazing. Thank you so much,'" Vince said. "And I was like, 'wait, wait, wait, what about you? How is your family?' And she just took a step back and she's like, 'I don't know where my sister is.' And she's like, 'I'm here.' All I could do for her, all I could say to her was 'thank you, thank you for helping all these people out also.'"
After a sleepless night in the airport for Vince's wife Kathy and their high school-age daughter Kallie, the next day United's crew desk called Vince.
"They knew I was available because I'd offered to augment, and asked me if I could fly. And I said of course, anything I can do to help out," he said. "But here I am in a polo shirt, shorts and tennis shoes flying the airplane back. And I was really comfortable!"
Shortly after 8 p.m. that night, Eckelkamp helped fly more than 300 people, including his wife and daughter, off Maui on a plane that couldn't have left at all had he not stepped in.
"Seeing my dad be able to take care of these people and take them back to their homes or back to somewhere else where they're safer meant a lot to me," Kallie said.
Safe back home in Denver once again, the Eckelkamps said they're happy to be back but heartbroken at the memory of the destruction and devastation they left behind in Maui.
"I just feel like I'm such a small piece of such a huge puzzle," Vince said. "And there's just so much that Maui needs right now and my part in it was so small and I'm so glad I was able to do it."
Vince's work helping get folks off the island isn't the only way United Airlines crews have been helping those in Maui. Last Friday, two flights left San Francisco carrying supplies for the American Red Cross, filled with work gloves, trash bags, cleaning supplies, personal hygiene items and blankets for the thousands left stranded in Maui.