9NEWS hosted the debate on Feb. 16, among candidates in the race for mayor that could very well decide the future of Colorado's largest city. It was in partnership with Metropolitan State University of Denver, Colorado Latino Leadership, Advocacy & Research Organization (CLLARO), and Fair Elections Fund.
> Watch the full debate in the video player above.
Kyle Clark, Anusha Roy, and Marshall Zelinger of 9NEWS were the moderators.
All 13 candidates receiving matching funds from the Fair Elections Fund participated: Kelly Brough, Lisa Calderon, Chris Hansen, Leslie Herod, Mike Johnston, Aurelio Martinez, Debbie Ortega, Terrance Roberts, Trinidad Rodriguez, Kwame Spearman, Ean Tafoya, James Walsh and Thomas Wolf.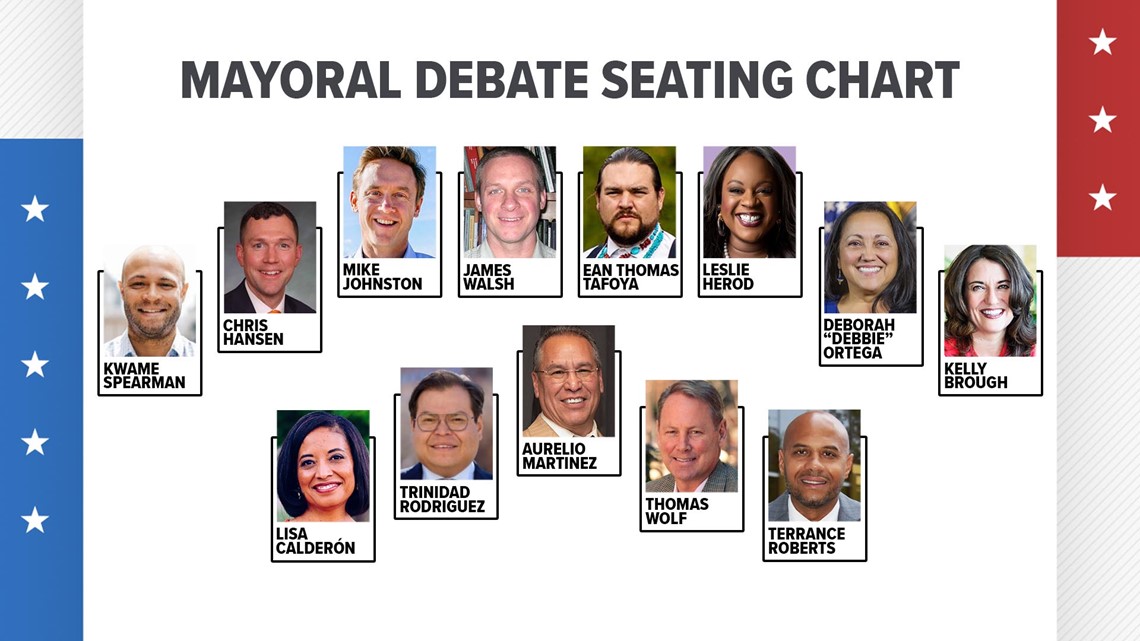 In 2018, Denver voters approved the Fair Elections Fund, creating an $8 million fund from Denver's general fund to match donations for candidates running for Denver mayor, city council, auditor, judge, and clerk & recorder. Candidates receive a 9x match for donations up to $50.
Mayoral candidates participating in the Fair Elections Fund are required to participate in two debates sanctioned by the Fair Elections Fund.
Four additional candidates are not receiving matching funds from the Fair Elections Fund: Renate Behrens, Al Gardner, Andy Rougeot, and Robert Treta.
For the first time since 2011, there won't be an incumbent seeking reelection since Mayor Michael Hancock is term-limited after serving three terms. A total of 17 candidates qualified to have their names printed on the ballot.
Among them are two state lawmakers, a veteran city councilor, a former state lawmaker and nonprofit chief, the former longtime head of the city's chamber of commerce, several prominent social justice advocates, and two CEOs who own or co-own homegrown local businesses.
Ballots will go out by mail on March 13, and voters have until April 4 to vote.
If no candidate gets more than 50% of the vote, the top two candidates will compete in a run-off on June 6.

About Metropolitan State University of Denver
MSU Denver is a comprehensive, modified open-access university offering a relevant, rigorous education in the heart of Denver. The University serves 17,000 students of all ages and backgrounds in 90+ majors and 10 graduate programs. And nearly 80% of our 100,000+ alumni stay in Colorado, advancing our communities and economy.
CLLARO is a non-profit organization established in 1964 to help Latinos in Colorado solve problems facing their communities. Our mission is to empower Latinos through leadership development, advocacy, and policy research to strengthen Colorado. CLLARO is committed to reducing the constant inequities in income, education, health, and policies that have limited opportunities for Colorado's growing Latino population since 1848. CLLARO seeks to establish equitable opportunities for all Coloradoans and thereby increase the productivity of workers, promote equity in civic institutions, and improve Colorado's quality of life for decades to come. Our vision for the future is a State of Colorado where Latinos achieve their fullest potential.