DENVER — FORECAST BY: Meteorologist Danielle Grant
THIS EVENING AT A GLANCE: That high pressure ridge continues to dominate our region, so our fair weather with highs well above normal will continue right through Saturday. Daytime highs will climb into the mid to upper 80s by through Saturday under mostly sunny skies.
Our next system will begin to feed moisture into the southwesterly flow over the state which could bring a few isolated showers to the metro area by Sunday with high temperatures "cooling" by just a few degrees.
The winds will kick up a bit over the weekend leading to high fire danger concerns for eastern Colorado. It'll bring slightly cooler temperatures for the start of October.
Mid 80s, sunny skies this week
TONIGHT: Mostly clear skies tonight, low around 50.
WEDNESDAY: Mostly sunny and very warm, high 86; clear and breezy overnight, low 54.
THURSDAY: Mostly sunny, breezy and very warm, high 87; mostly clear overnight, low 52.
FRIDAY: Mostly sunny and very warm, high 86; mostly clear overnight, low 53.
SATURDAY: Mostly sunny, breezy and still very warm, high 87; partly cloudy overnight, low 56.
SUNDAY: Mostly sunny and warm, high 85; partly cloudy with a slight chance for a storm overnight, low 51.
MONDAY: Mostly sunny and mild, high 81; mostly clear overnight, low 49.
TUESDAY: Mostly sunny and slightly cooler, high 77; mostly clear overnight, low 47.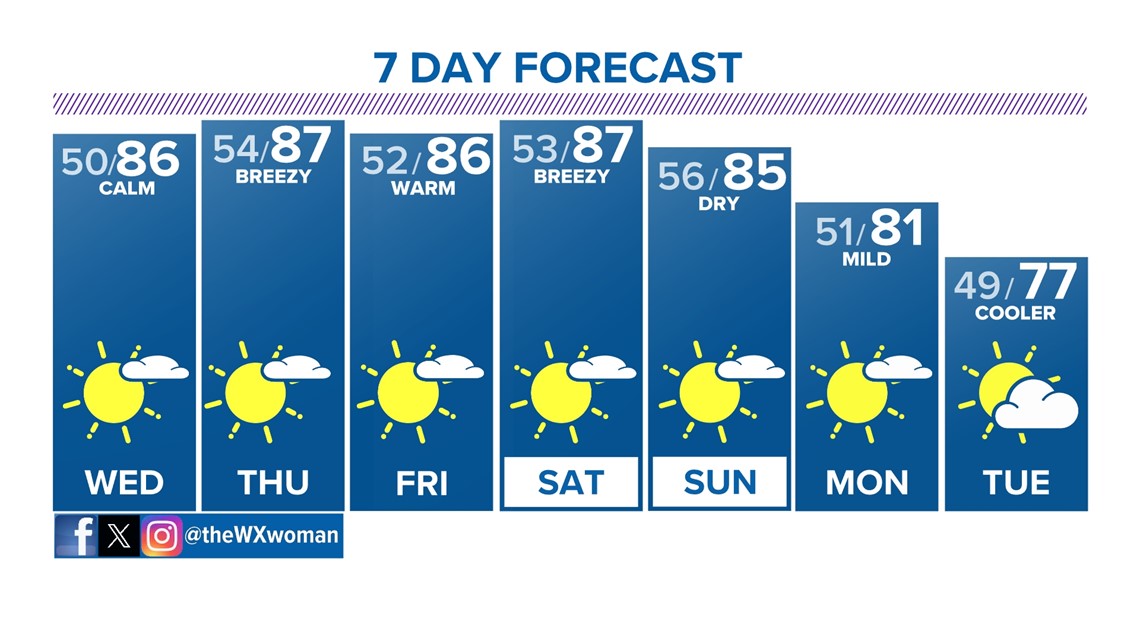 WEATHER LINE 9: Updated weather forecast information at 303-871-1492.
If you have a weather report, photo or video to share, you can contact the 9NEWS Weather Team in these ways:
The 9NEWS Weather team of Kathy Sabine, Danielle Grant, Cory Reppenhagen, Laurann Robinson, Keely Chalmers, Ed Greene and Chris Bianchi update the Denver weather forecast multiple times each day. Bookmark this link to always have the latest forecast from 9NEWS. The team values your local weather reports and often features your photos and videos during weather segments in all newscasts.