DENVER — FORECAST BY: Ed Greene
TODAY AT A GLANCE: The high pressure ridge we saw begin to build into the state over the weekend and will only grow stronger as it remains right over Colorado.
Daytime highs will be in the lower 80s Monday and climb into the mid to upper 80s by Thursday.
So far, 2023 is tied in 5th place for the warmest September in Denver on record. Of course, we still have a few more days to go but with above-average readings, we'll most likely stay in the top five.
This very dry air mass will continue into the beginning of the weekend with highs staying well above normal. Then our next system arrives on Sunday bringing cooler and more seasonal weather with a slight chance for isolated storms.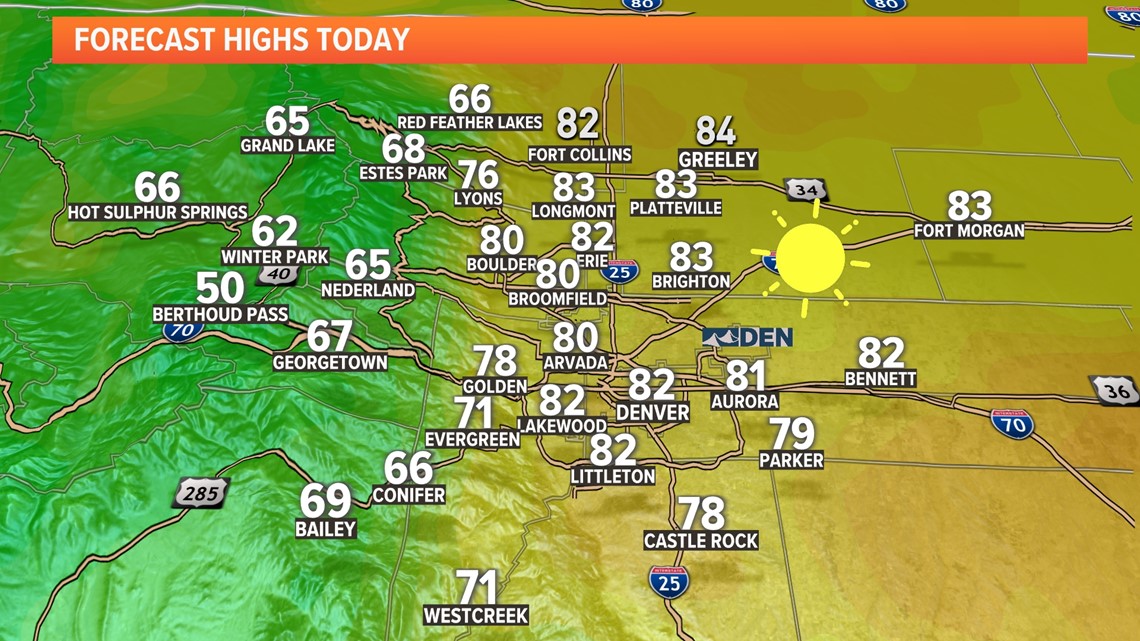 MONDAY: Sunny and warm, high 82; clear skies tonight, low around 52.
TUESDAY: Continued sunny and warm, high 83; clear skies overnight, low 52.
WEDNESDAY: Sunny and very warm, high 86; mostly clear overnight, low 54.
THURSDAY: Mostly sunny and staying warm, high 85; mostly clear overnight, low 53.
FRIDAY: Mostly sunny and warm, high 84; mostly clear overnight, low 53.
SATURDAY: Mostly sunny and still warm, high 83; mostly clear overnight, low 53.
SUNDAY: Partly cloudy and cooler with a chance for a late storm, high 75; mostly clear overnight, low 48.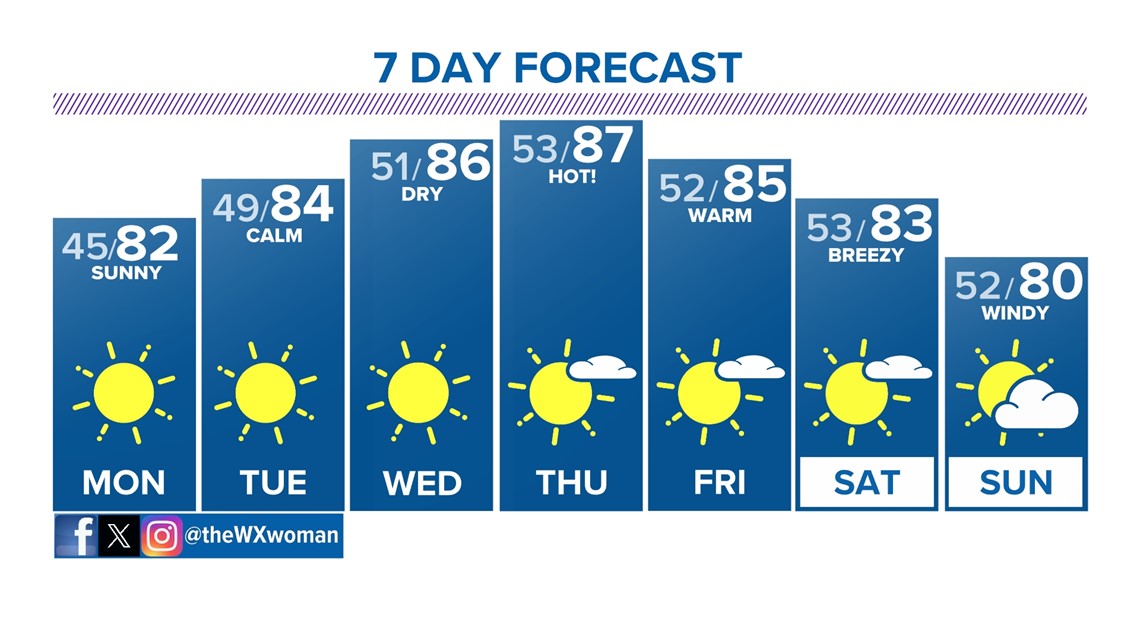 WEATHER LINE 9: Updated weather forecast information at 303-871-1492.
If you have a weather report, photo or video to share, you can contact the 9NEWS Weather Team in these ways:
The 9NEWS Weather team of Kathy Sabine, Danielle Grant, Cory Reppenhagen, Laurann Robinson, Keely Chalmers, Ed Greene and Chris Bianchi update the Denver weather forecast multiple times each day. Bookmark this link to always have the latest forecast from 9NEWS. The team values your local weather reports and often features your photos and videos during weather segments in all newscasts.