DENVER — FORECAST BY: Meteorologist Danielle Grant
FORECAST AT A GLANCE: So long summer! As we wrap up the summer season, we're in for another warm and dry day around the metro area and most of the state.
While we have clear skies tonight, look for some patchy fog around Denver and the NE Plains early Friday morning. It shouldn't last long as skies clear by 8 to 9am. Mostly sunny skies will be the name of the game throughout the day with highs in the lower 80s. A pretty perfect end to the summer season!
A Red Flag Warning will be in effect for south central Colorado from 11am to 7pm for wind gusts up to 45mph and humidity values as low as 10 percent. This will increase the threat for wildfires along the Palmer Divide and south Friday afternoon.
A weak storm will skirt just to the north of Colorado Friday ushering in a cold front to the state. While it'll bring in cooler air, we won't see much moisture from this system.
Temperatures will fall into the mid to upper 70s this weekend, making it feel a bit more like fall! Mother Nature isn't done with summer heat; highs skyrocket into the mid 80s for much of next week.
Warm, breezy final day of summer
TONIGHT: Mostly clear skies overnight, low 50.
FRIDAY: Mostly sunny, breezy and warm, high 81; mostly clear and breezy overnight, low 48.
SATURDAY - FIRST DAY OF FALL: Mostly sunny and seasonal, high 77; mostly clear overnight, low 46.
SUNDAY: Mostly sunny and mild, high 78, mostly clear overnight, low 47.
MONDAY: Mostly sunny and warm, high 82; mostly clear overnight, low 50.
TUESDAY: Mostly sunny and dry, high 84; mostly clear overnight, low 52.
WEDNESDAY: Mostly sunny and warm, high 85; mostly clear overnight, low 51.
THURSDAY: Mostly sunny and warmer, high 87; mostly clear overnight, low 52.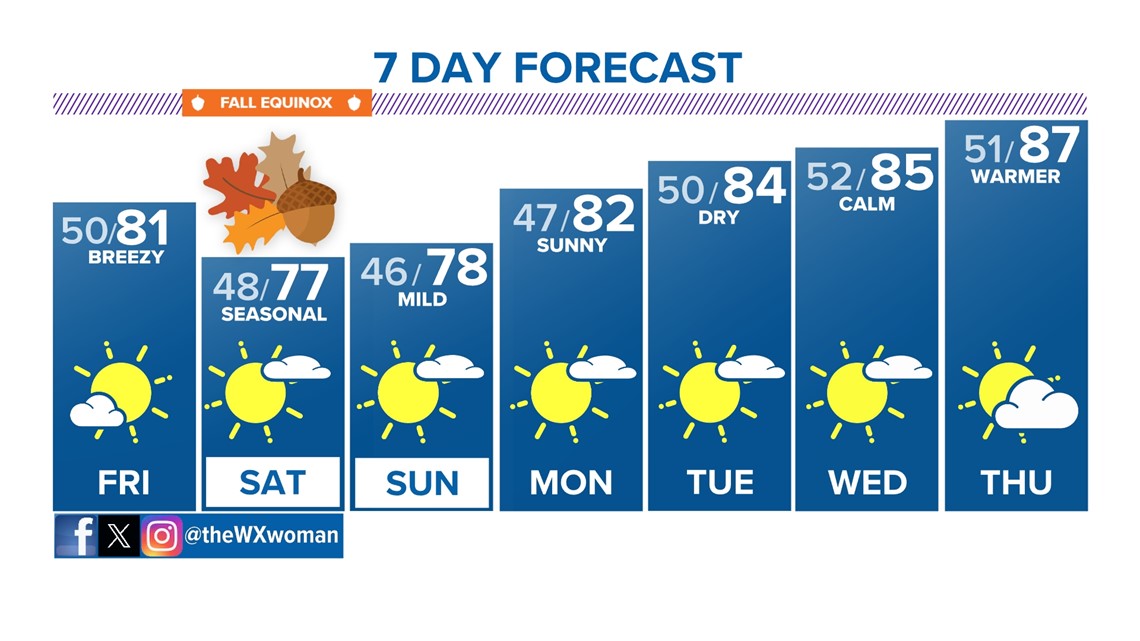 WEATHER LINE 9: Updated weather forecast information at 303-871-1492.
If you have a weather report, photo or video to share, you can contact the 9NEWS Weather Team in these ways:
The 9NEWS Weather team of Kathy Sabine, Danielle Grant, Cory Reppenhagen, Laurann Robinson, Keely Chalmers, Ed Greene and Chris Bianchi update the Denver weather forecast multiple times each day. Bookmark this link to always have the latest forecast from 9NEWS. The team values your local weather reports and often features your photos and videos during weather segments in all newscasts.