LAKEWOOD — Art is part of Iqra Hassan. It was a way to get through hard times at the Al-Kharaz refugee camp in Yemen when she was a young girl.
It was also a way to make a little extra money for treats.
"When we lived in the refugee camp, I would steal gasoline from my mom and I would put it on a paper and it would make it see through, and I would collect cartoon boxes and trace them onto the paper," Hassan said.
She would then sell them to her friends so she could buy candy. She was pretty successful.
"I would buy candies and stuff—that's why I have a lot of cavities," Hassan said with a laugh.
PHOTOS: Exhibit highlights refugee artists and their stories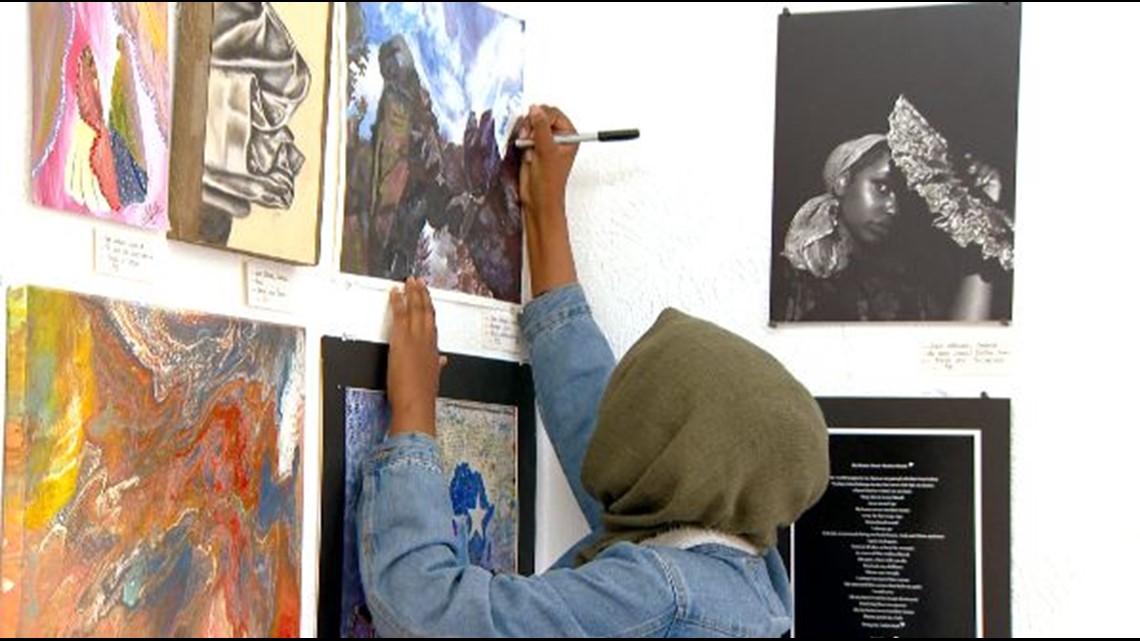 This is just one of the many stories behind the artwork at a new exhibition at the EDGE Gallery in Lakewood. "Voice: A Celebration of Refugee Stories" focuses on artwork by refugees and asylees, or work by artists who focus on refugee stories.
"As far as I know, this is the first art gallery that's really exhibiting and showcasing the stories of refugees and asylees," Emma Whitehead said, the exhibition's coordinator. "I think that there are a lot of barriers in the professional art world of voices that are out of the mainstream, and this is an opportunity for these artists.
"There's such a breadth and depth of creativity and story and passion in this community that we're able to showcase here."
Passion like Hassan's. The 19-year-old college freshman was born in Yemen after her parents came there from Somalia. She lived there for 11 years.
"When I felt lonely, art was the only thing that I would turn to," Hassan said. "I'm a different person when I'm in my art world."
After Hassan and her family moved to the United States eight years ago, she kept up with her artwork. This time, she used those experiences to help create.
"I feel like when I'm doing art, it somewhat reminds me of what I've been through," Hassan said. "Every little art that I have has to do with what I've been through."
The exhibit opens Friday and includes a handful of Hassan's work. It also showcases 17 other artists from nine different countries. It will be up through Oct. 28.
All of the artwork is for sale, and 20 percent of the profits will go to a scholarship fund for young women in East Africa.
To learn more about EDGE Gallery and "Voice: A Celebration of Refugee Stories," go to their website.