ARVADA, Colo. — The little wooden room in the Arvada VFW fell silent Wednesday.
The 12-foot red flag emblazoned with that instantly recognizable symbol has a tendency to dominate any room it's unfurled in.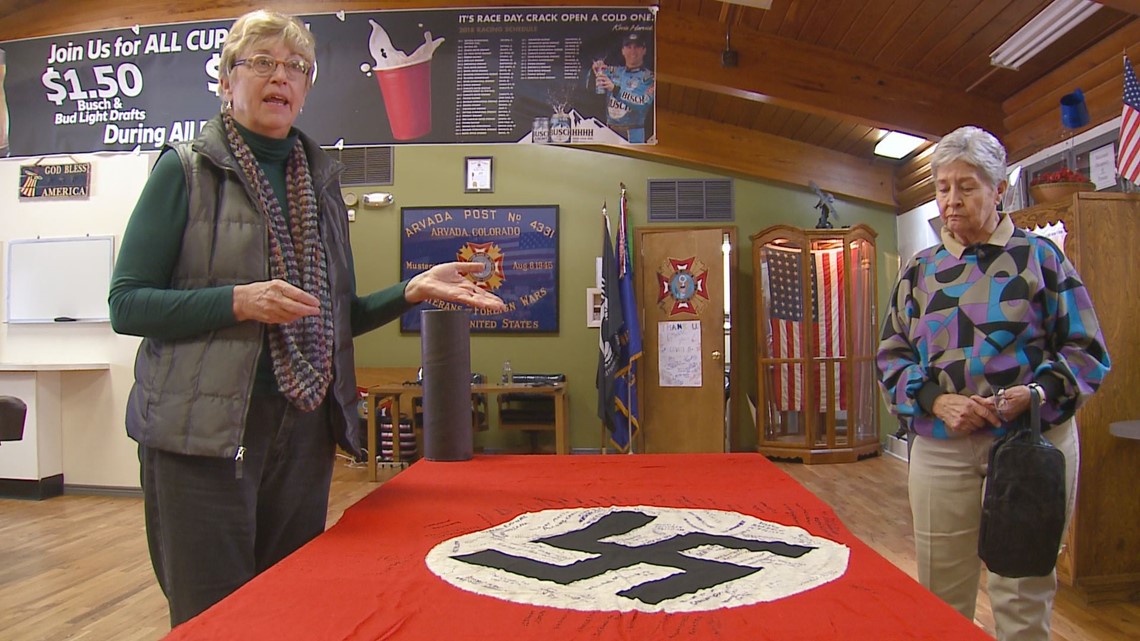 "It's very shocking isn't it," Gigi Hickey's voice crackles, "the swastika."
Not long after her mother passed away, Gigi found a banner in her mother's South Dakota home in 2013. It's branded with the names of 84 men, including her mother's first husband, Maurice "Pete" Henrichsen.
The other names belong to his brothers in arms - members of Cannon Company, 358th Infantry, 90th Division, also known as the Tough Hombres.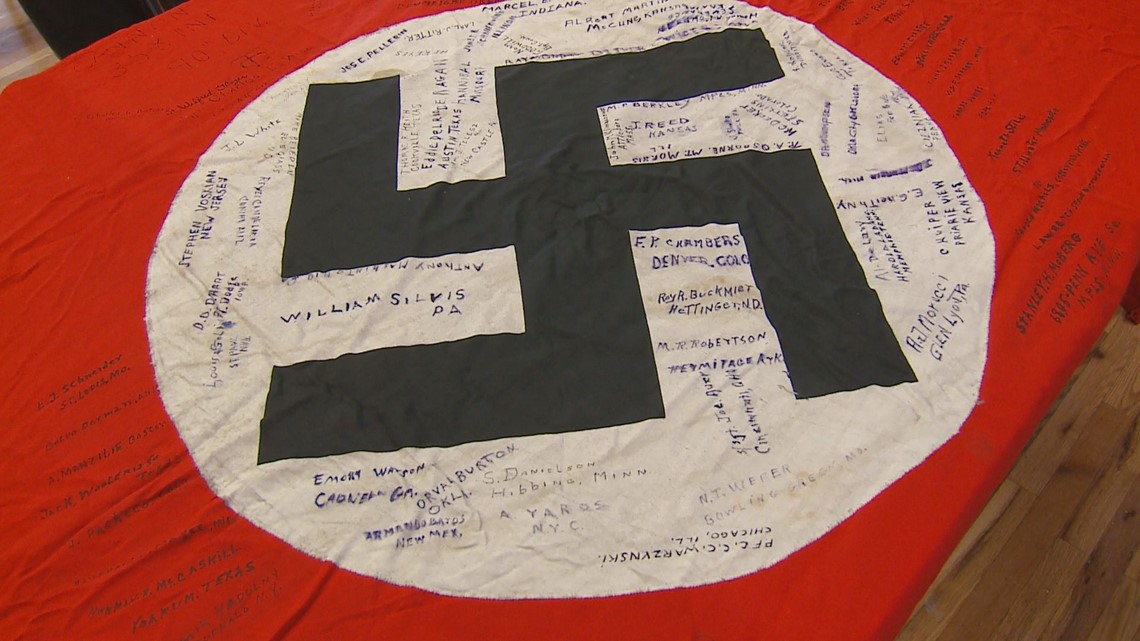 It was common for American soldiers to send or bring home war memorabilia, like this flag, during World War II. This piece is believed to come from a village liberated after the Battle of the Bulge.
"Now what's important to you guys over here," Gigi says while scanning the names, "Your father, grandfather, brother's name..."
"Julian Pacheco," Donna Aguirre says.
Julian was her brother. He fought with Cannon Company in the war, and now his name adorns this flag.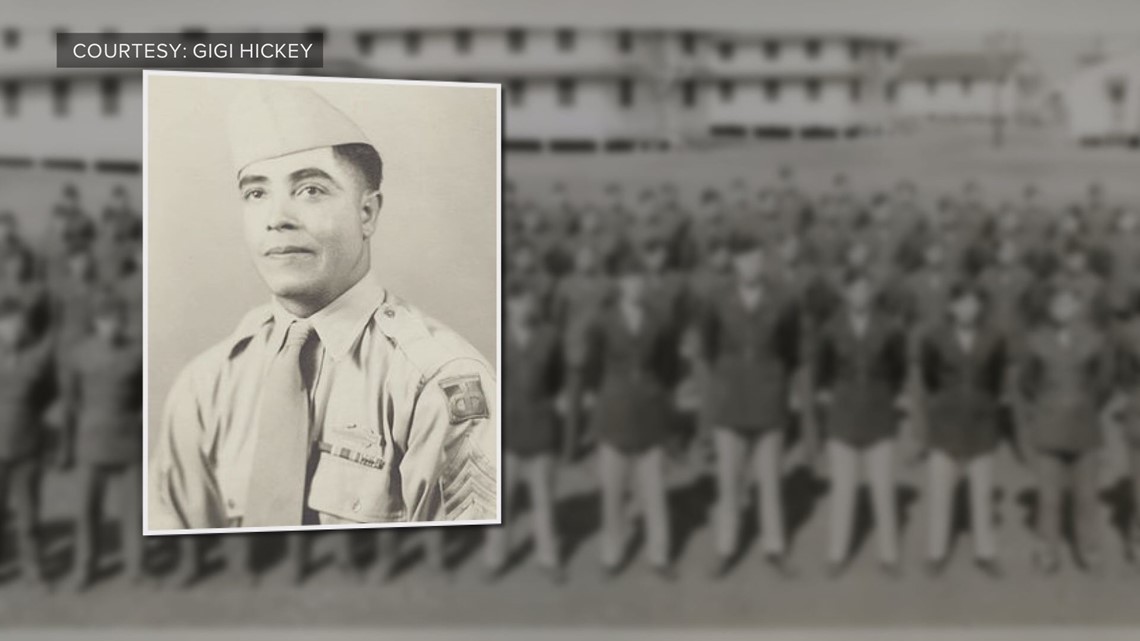 "It's terrible," the octogenarian with short gray hair says. "It's great, but it's terrible."
Her brother survived being shot in the leg in the war. He took a Purple Heart back to the family ranch in La Veta, Colorado. Donna, along with Julian's daughters and grandson, came to see this piece of history.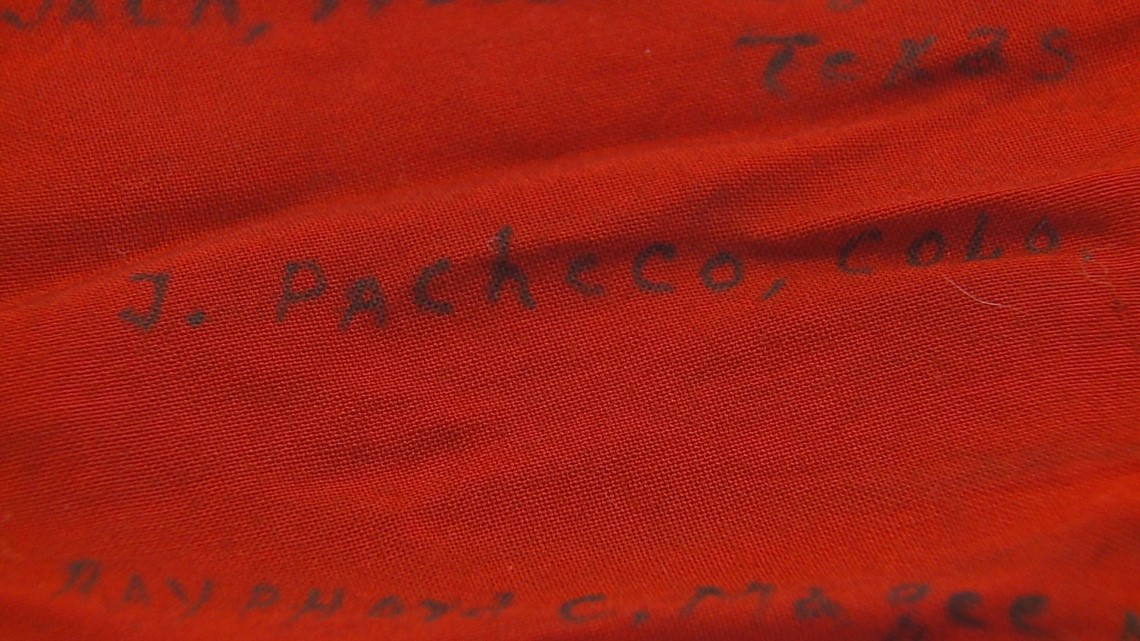 From her home just outside Minneapolis, Gigi is attempting to locate as many family members of the men whose names are on the flag as she can.
"It's heartwarming to bring it to family," says Gigi.
She hopes to eventually get it a permanent home in a museum. "We need to remember the sacrifices that were made."
Donna's niece wipes a tear from her eye as she wraps her arm around her aunt.
"I'm proud," she says. "I'm proud of my dad."
"Me too," Donna replies. "I'm glad I came."