We recently showed you the case of Juan Carlos Penalver, one of a growing group of Denver homeowners who've recently realized they bought a designated "affordable" home without knowing it.
The city told Penalver to expect a notice requiring him to sell his Green Valley Ranch home to a qualified buyer for less than he paid for it in 2016.
The city says 1,200 homes belong to this affordable housing program in Green Valley Ranch, Stapleton, and Lowry.
The Denver Office of Economic Development now has more staffers working to check on the homes involved and has been finding more homeowners who bought into the program without knowing it.
A deeper dive into city records reveals where things went wrong in Penalver's case.
When his house was built in 2004 by Oakwood Homes they gave the buyer a deed that also contained a two-page addendum explaining that it has price restrictions under the city program.
When that first owner sold the home in 2007 is when things started to go wrong. The second owner got a deed, but no addendum about the price restrictions.
That happened again when Juan Carlos bought it in 2016.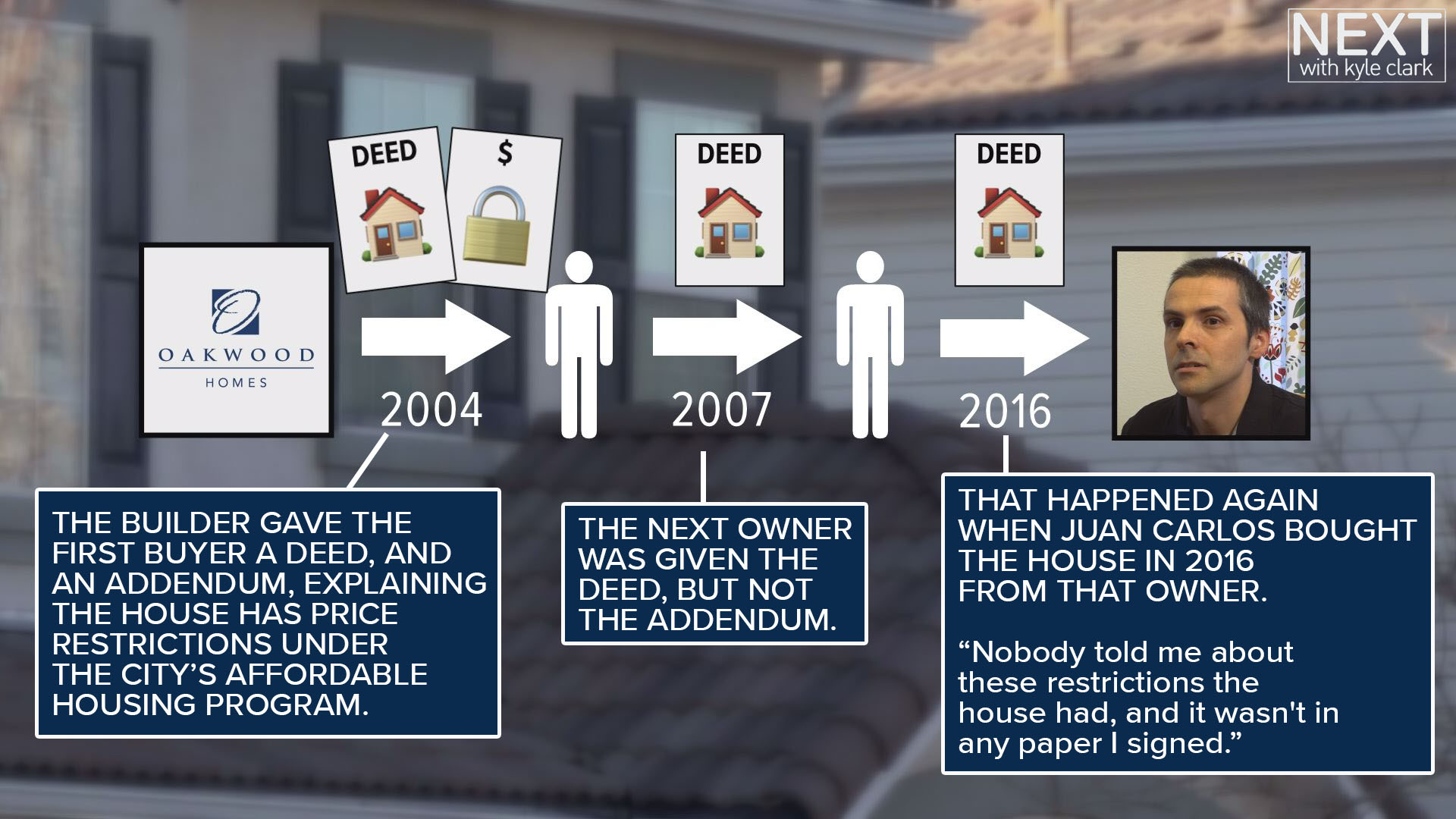 If someone would have looked back to the first sale when Juan Carlos bought the property they would have seen the price restrictions—and that the restrictions apply to future owners.
Evidently, no one did look at the original deed.
We've found this same pattern playing out in the deed records on at least a dozen more homes in the Green Valley Ranch area.
Their owners say the same thing Juan Carlos did.
"Nobody told me about these restrictions the house had," Penalver said. "And it wasn't in any paper I signed."
Many viewers asked 9NEWS whether the title insurance or title company can potentially compensate him for that. Penalver's lawyer told us that's paid some of his other clients for the price differences on their homes when the city made them sell.
But this case isn't just about money. Penalver wants to keep the house.
If the city tries to make him sell it to a qualified buyer, he might have to take the city to court in order to stop the sale.
None of these cases have gone that far yet.
This affordable housing program applies to hundreds of homes in Green Valley Ranch, Stapleton and Lowry. If you think you're in one of these affordable homes and didn't know about the program when you bought it, we'd like to hear from you. Email Verify@9news.com.