DENVER — Elected representatives put up with a lot.
At times, they have to deal with an electorate that is unhappy with their work.
At meetings, they get an earful.
When they open their email, angry ALL CAPS emails could await.
Online, social media has many keyboard warriors.
Twitter and Facebook allow users to block other users.
Next wanted to know who our local representatives are blocking.
9WantsToKnow requested the accounts blocked by Gov. John Hickenlooper and Denver Mayor Michael Hancock.
Hickenlooper banned 65 accounts on Facebook, but none on Twitter. His most recent ban was June 2014.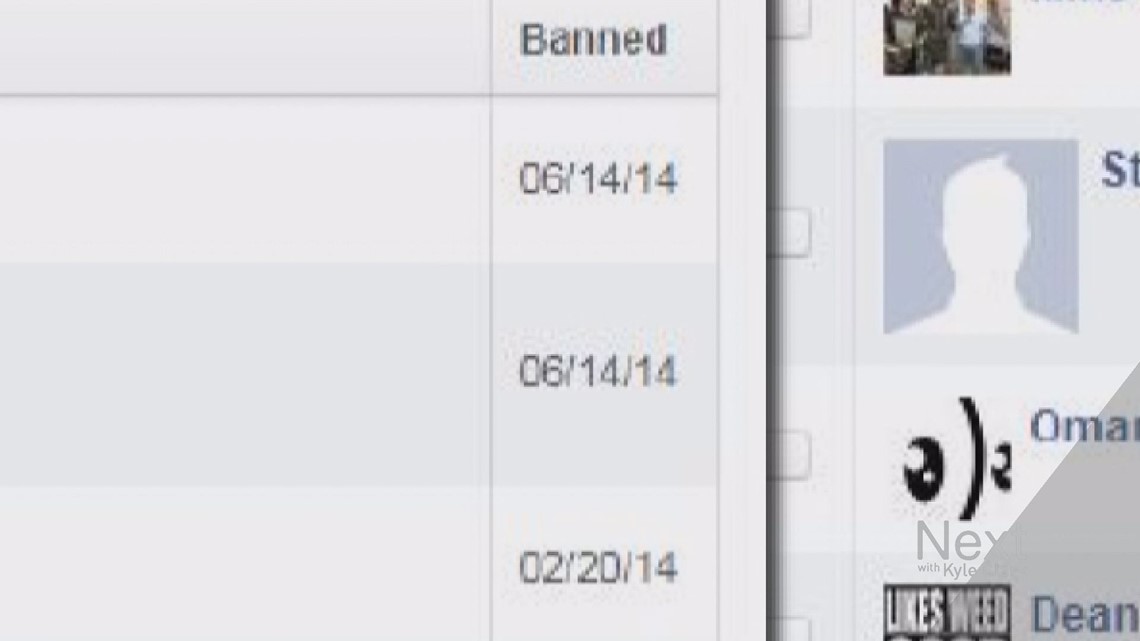 "If we question a post because it involves threatening language or obscenities, the communications team gets together to discuss the issue and determine next steps," said Hickenlooper spokeswoman Jacque Montgomery.
None of those bans have been reversed, though Montgomery did say, "We will take a close review of the case (from yesterday) and see if we need to adjust our policy."
She said the governor's current staff was not involved in any of the bans that took place prior to 2014.
"I tweet '@southstands303' and, unfortunately, I no longer have any relationship with the mayor of my city because I have been blocked on Twitter by the Mayor of Denver," said blogger and podcast host Colin Daniels. "I realized I was blocked one time when somebody retweeted something that the Mayor's Office had tweeted out and I realized I had not seen that on my timeline."
A review of tweets from his account either about or tagging @MayorHancock show multiple references in 2012 to "hookers."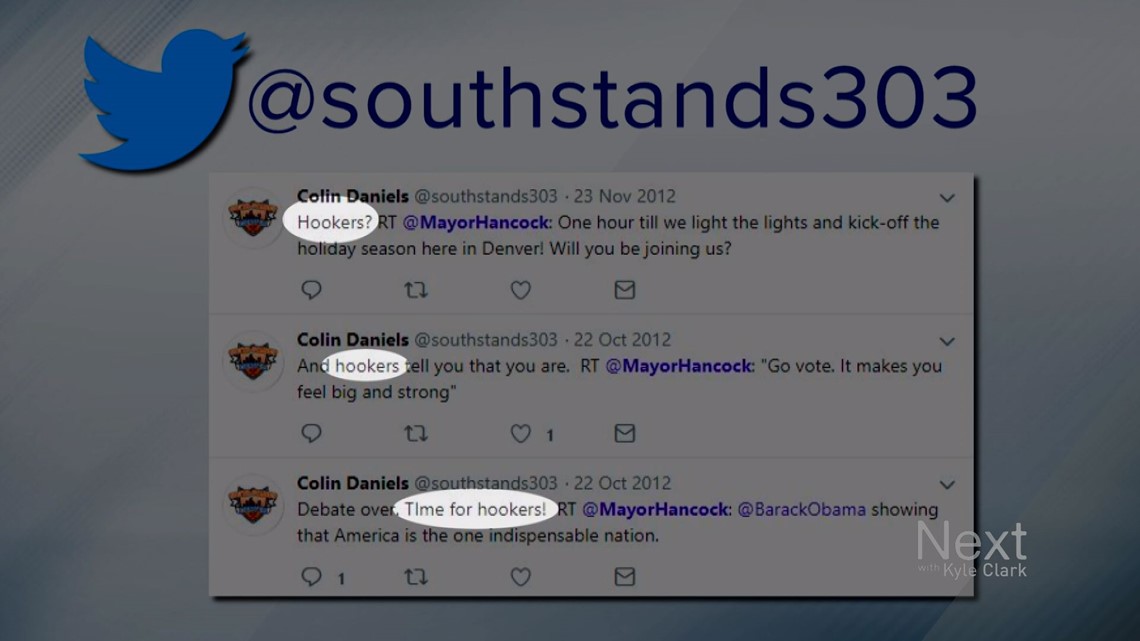 "I was engaging him about the Denver Players escort scandal," said Daniels.
When Hancock was elected in 2011, he also had to answer allegations that he patronized prostitutes. For the last seven years, he has held firm that he did not.
"A politician is under no obligation to have a Twitter presence. But, if they choose to, they should not pick and choose from whom they receive feedback," said Daniels. "I don't expect him to reply, but I don't expect to be blocked in that manner, either."
"The reason for blocking accounts on the Mayor's Twitter page is typically due to reoccurring profanities, obscenities and racial slurs," said Hancock spokeswoman Amber Miller.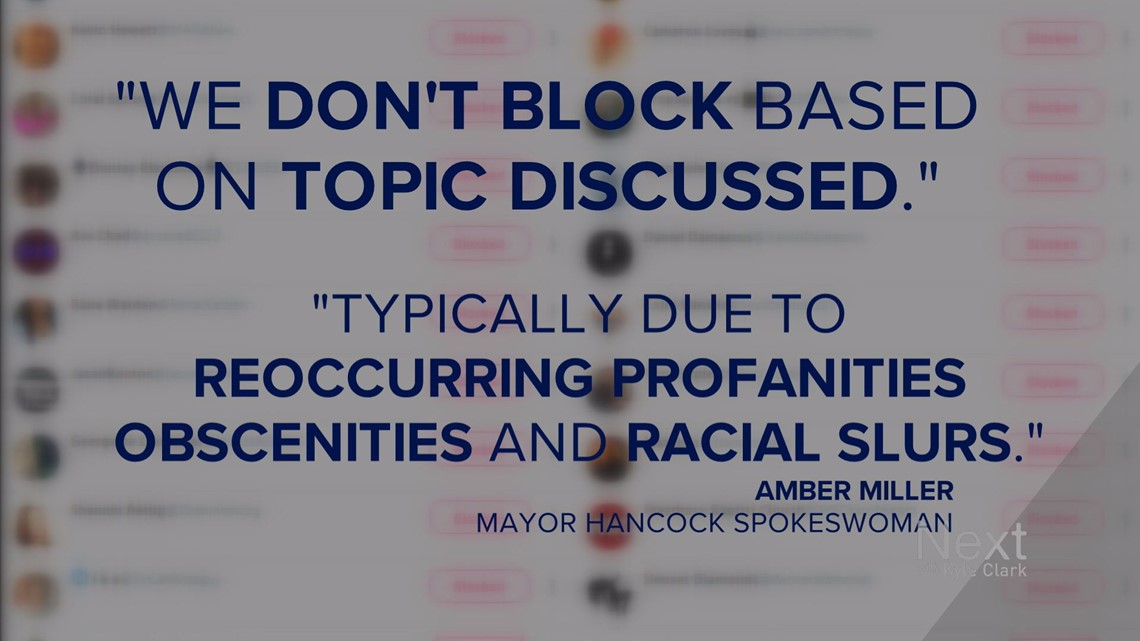 Using the advanced search tool on Twitter, we reviewed the handles blocked by Hancock. The tweets had two themes that stuck out: escort scandal and homeless sweeps.
"We don't block based on topic discussed," said Miller.
"If a politician wants to have a social media presence, they should be prepared to handle the slings and arrows that go along with having a social media presence. It's not all going to be wine and roses," said Daniels. "Aside from threats to physical safety and four-letter word insults, no, I don't think there's any justification to block somebody if you're a public official."
"The politician has a First Amendment right as well, but I don't think that can trump your First Amendment right to say what you believe, as long as you're not being disruptive or using foul language or something along those lines," said Jeff Roberts, Executive Director of the Colorado Freedom of Information Coalition.
The coalition fights for public access, like open social media accounts.
"That person who might have said something on Twitter about the Mayor's personal situation is still being blocked from any discussion of public policy that that Mayor would be putting out in the future," said Roberts. "If you're the public official and you're annoyed by it, I think there are some things you just have to take."
"We will take a hard look at our policy in the wake of this court ruling to understand what changes we may need to make, and our legal team is already taking a deeper look now," said Miller.
Someone else who might need to look at their policy is @CapitalCowboy, State Sen. Randy Baumgardner, R-Hot Sulphur Springs. This reporter has been blocked from seeing his tweets. In April, using my account @Marshall9News, I reported on the unsuccessful attempt to expel Baumgardner from the Senate. About a month later, he blocked my account.
In a text exchange on Thursday afternoon he wrote, "Could've been a mistake I love the news."