DENVER — Denver Parks and Rec is adding six more pickleball courts at Martin Luther King Jr. Park, after the city closed the courts at Congress Park and cancelled new court construction projects earlier this year, citing noise complaint.
Crews painted lines for the six courts over two existing tennis courts at MLK Park on Tuesday morning. The courts will be part of a pilot project to see if a pickleball complex works at the park near 38th Avenue and Quebec Street. Four permanent pickleball courts already exist there.
In April, Denver closed a popular pickleball court at Congress Park after noise complaints from neighbors prompted the parks department to investigate possible setbacks for future parks. Many of the players who frequented Congress Park migrated to the permanent courts at MLK Park.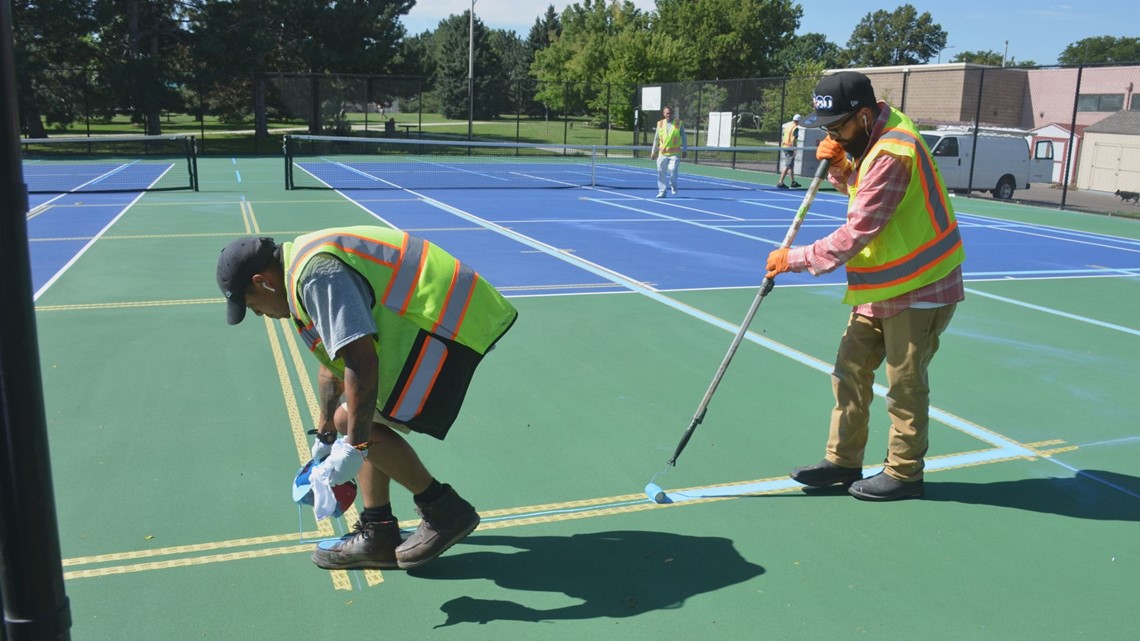 At the time the Congress Park courts closed, deputy director of parks Scott Gilmore said it could take several years to determine a new place to build multiple courts similar to the former complex at Congress Park. But Gilmore said a new advisory group formed by his department determined this project would help create a place for pickleballers to play.
"This is not something we wanted to wait on and we know how passionate people are about this sport," Gilmore said. "We felt we really needed to make a true effort to show the pickleball community that we're hearing them and that we want to respond and give them a place to play."
Marc Nelson, the chair of Denver Pickleball, which used to be known as the Congress Park Pickleball Club, said the new courts came faster than he expected.
"It's a step in the right direction," he said. "I don't want any of the neighbors to have bad feelings. I don't want any of the pickleball players to have bad feelings and I don't want Denver Parks and Rec to have bad feelings."
Nelson, who sits on the advisory committee also said the city is looked at a spot near Lowry Sports Field for a large concentration of courts.
"We did a tour of the city and kinda looked at some places that are viable."
The paint on the new courts at MLK should be dry by Thursday for any player who want to bring their own nets, Gilmore said. The city will have nets available by Monday. If the pilot project goes as planned, the city could make the pickleball courts permanent, replacing the tennis courts at MLK.
Gilmore said the city's strategy moving forward is to avoid conflict by keeping tennis and pickleball courts separate.