BUENA VISTA, Colo. — The Colorado Department of Corrections has launched an internal investigation after prison guards recruited from Puerto Rico alleged discrimination amid complaints of poor living conditions for workers at the Buena Vista Correctional Complex.
One worker told 9NEWS supervisors and coworkers have told him to stop speaking Spanish on the job, reportedly saying "this is America." Dozens of Puerto Rican workers who live on prison grounds sleep in cubicles and were subjected to searches by prison supervisors more frequently than the criminals they guard, they said.
"I felt like an inmate," said Sean Fernandez, a guard recruited from Puerto Rico. "It was really disrespectful. I felt discouraged."
CDOC Spokesperson Annie Skinner said the department has opened an investigation into the claims of discrimination and has stopped conducting unannounced inspections of worker quarters. "CDOC takes any allegation of discrimination very seriously," Skinner said. "The department has no tolerance for discriminatory behavior, and is committed to diversity, equity and inclusion."
The living conditions for prison workers and the internal investigation were first reported by Colorado Newsline.
Fernandez, who has worked in Buena Vista since April, said he accepted the job in Colorado in part because it allowed him to provide better financial assistance to his family. However, he said life here is not as advertised.
In addition to living in a double occupancy cubicle, he said worker bathrooms didn't allow for privacy because there weren't doors on the bathroom stalls. Fernandez said twice weekly "shakedowns" included prison supervisors searching through staff's personal belongings.
"They aren't criminals. We can't treat staff like criminals," said Hilary Glasgow, the executive director of Colorado WINS, the union that represents prison workers. "It's fully unacceptable."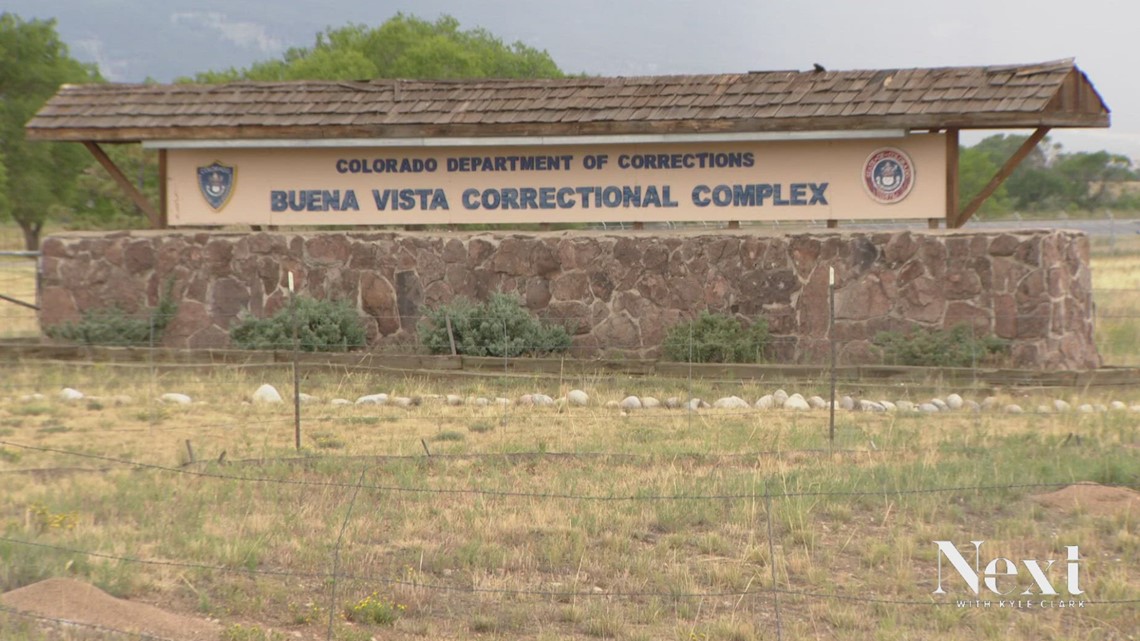 "The state has an employer responsibility to figure out how safely and sensibly house its workers," she said. "They deserve a standard of living. They're performing a service for the state."
In desperate need of staff, the CDOC began recruiting prison guards from Puerto Rico in 2021. A two-year employment agreement, provided by the union to 9NEWS, said the state pays for a one-way flight to Denver. Guards like Fernandez make $50,892 per year, plus overtime and a $1000 per month housing stipend for work at the Buena Vista prison.
He said he can't afford to find somewhere else to live. "There's times when I have to help my family out financially," Fernandez said. "If you were to get an apartment over here in Buena Vista it's like $1,900, almost $2,000."
So, he and many of the other workers from Puerto Rico, pay the CDOC $200 per month to live on prison grounds.
Fernandez said he feels like the Puerto Rican workers are treated differently by other staff at the prison, and not just by being told to speak English instead of their native Spanish.
"It felt like we're not a part of the blue family, you know? Part of the DOC. They kind of just separate us from the DOC at times," he said.
Fernandez said the searches of prison worker quarters felt disrespectful. "It kind of threw me off," he said. "I mean the office cubicles they didn't really bother me, but it was a matter of the lack of privacy that we have living in the prison."
Glasgow said the searches raised alarms for the union.
"If we're going to treat the facility as though it's the house of these officers than we actually have to treat it like their house," she said.
But she said stopping the unannounced searches is only a partial solution. "While I applaud DOC for thinking outside of the box, you have to make sure all the boxes are checked in order to bring these workers here," she said. "We have to figure out a longer-term housing solution for these workers."
In her statement, Skinner said CDOC never intended for the current housing situation to be a permanent solution.
"DOC is evaluating long-term affordable housing options for staff who work at BVCC," she said. "All staff are continuing to receive the $1000 a month housing incentive, and we are looking at all options to ensure our dedicated employees can find housing."
The CDOC executive director visited Buena Vista prison staff in recent weeks and promised changes, including the development of a housing committee to "establish community rules and cleaning responsibilities," Skinner said.
Since that visit, Fernandez said the situation has improved; the bathroom stalls now have doors, for example. But he said there's still more action needed; workers still don't have a key to the room where they live.
"I came from nothing so I'm kind of used to this," he said. "But the matter of fact is you cannot promise us pretty lies to have people leave their homes -- God knows how far it is -- to be mistreated."