A 'Word of Thanks' from Next: Combatting youth violence
We'll highlight a different cause every week.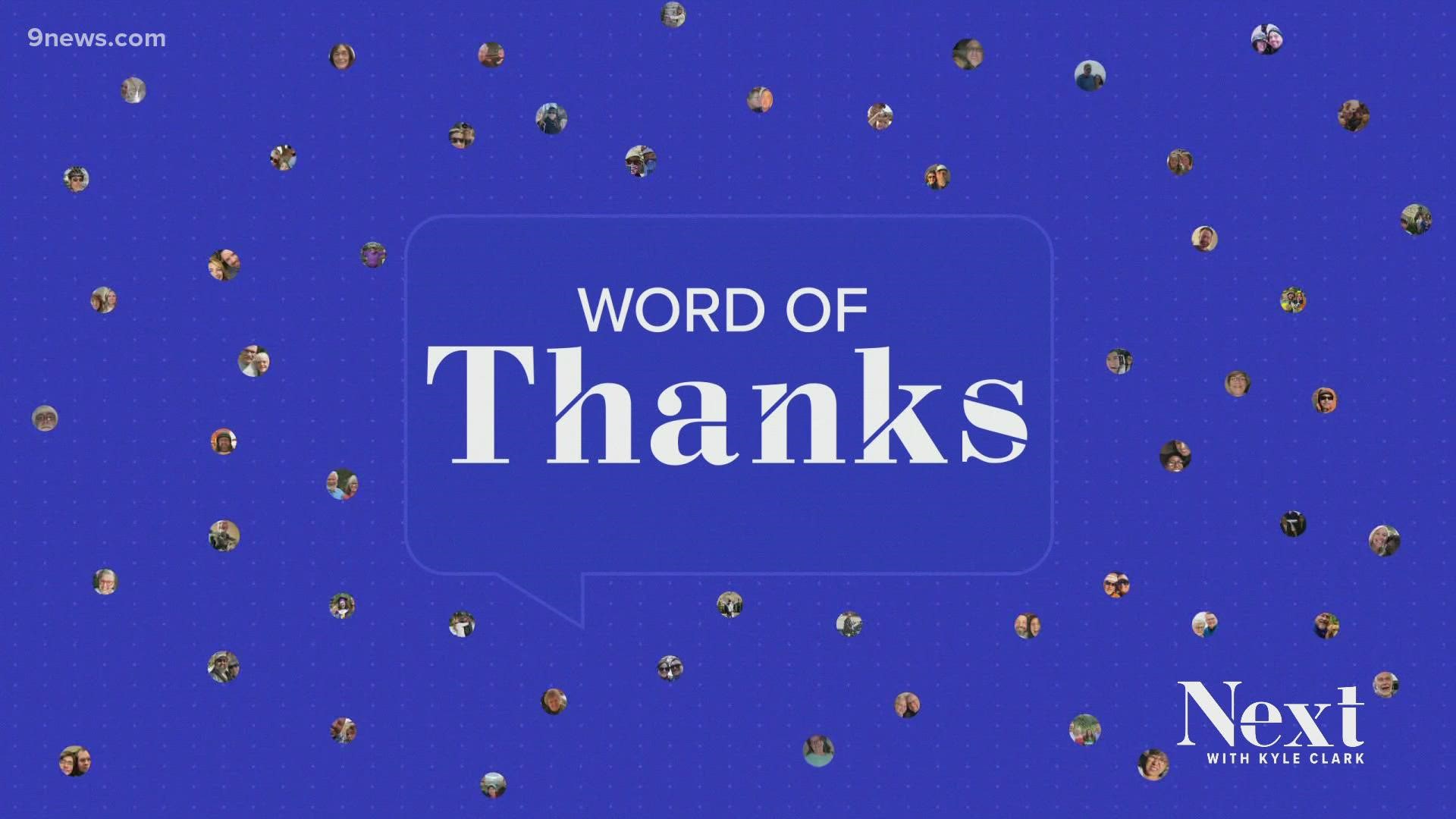 We offer up a "Word of Thanks" every week during Next with Kyle Clark – it's a chance to highlight small and medium non-profits doing crucial work in Colorado.
The routine is simple. Each week, Kyle presents a new organization he'd like to highlight and asks you to consider just a $5 donation. He won't share any cause that he won't donate to himself and will match the first fifty donations of $5 every time. We will share the causes within this article every week.
If you are not able to give but want to support the effort, please consider sharing this link with others who may feel encouraged to donate. Thank you all for your consideration and generosity!
For those keeping track, we have raised more than $10.4 million together since Word of Thanks started in June 2020! Below is a list of the non-profits we have highlighted in 2022 so far.
>> 2022 tax information: If you're looking for the tax ID for any of these causes, we compiled a list with each one.
THIS WEEK'S CAUSE
:
Street Fraternity
Down East Colfax from East High School, there's a nonprofit literally working day and night to intervene in young lives before teenagers get caught up in violence. They provide one-on-one attention and intervention designed to save lives.
We're returning to our recent Word of Thanks micro-giving campaign to support Street Fraternity, because that nonprofit is in a position to stem the tide of violence in our community.
Street Fraternity has a hangout spot along one of the most dangerous stretches of East Colfax, a place where young men can go every night for a meal, a workout, a place to do their schoolwork, and place to find encouragement and brotherhood that doesn't involve gangs or bad influences. The team there builds direct relationships with young people to steer them away from guns and drugs.
Street Fraternity's team doesn't always succeed. It's not magic. It's hard work trying to keep teenagers safe when the temptation of dangerous decisions is always right around the corner.
The head of Street Frat told us he'd been up late Tuesday night after another shooting in the neighborhood, the kind of incident that doesn't always make the news like a school shooting. He didn't sound defeated. He sounded determined.
Determined to reach as many kids as possible, to convince them that there's a safe place where they can spend time, build bonds and stay out of trouble.
Like every Wednesday since we started the Word of Thanks campaign in 2020, we ask you to consider just a $5 donation. Kyle matches the first fifty of those $5 donations every time.
This Next community's generosity has resulted in $10 million so far for nonprofits doing great work in Colorado.
As always, thank you for doing this with us!
If you're interested in giving, you can donate here.
PREVIOUS WEEKS
:
2023 WORD OF THANKS
3/15/23 | Clothes to Kids of Denver: There's a store of sorts in Denver where kids in need can come into to get a whole wardrobe of clothes for free. They walk out more confident about going to school and taking on their challenges in their lives.
Clothes to Kids of Denver is a nonprofit that feels more like a clothing boutique, where kids from low-income families or families in crisis can come to shop for clothes that will help them feel comfortable and confident. They leave with a whole wardrobe, so they're not as self-conscious around their peers at school.
It's easy to see how that confidence translates into better performance in school, not to mention happier kids. Clothes to Kids made a change during the pandemic. Most families coming to them have a referral from a social worker or school, but it's no longer required. They know that if a parent has the courage to ask for help, they need help.
3/8/23 | Street Fraternity: The violence impacting teenagers these days is not a surprise to the leaders at Street Fraternity. For years, they've seen younger and younger kids carrying guns and using them. That nonprofit's mission is to keep those young men alive and steer them away from violence.
Street Fraternity intentionally set up its headquarters in a spot on East Colfax that's seen violence for years. It offers safety, stability and support for young men in the neighborhoods surrounding East Colfax. A place where they can go every day for a meal, a place to study, work out and play games. The goal is to create friendships and bonds stronger than the pull of gangs or other choices that could lead them into harm's way.
The leaders of Street Fraternity have been at this work for a decade. They say they're seeing younger and younger kids carrying guns. It used to be 18-year-olds, 17-year-olds, sometimes 16. Now it's kids who are 14, 13, even 12 years old. They've lowered the age range for participation in their programs to intervene early before a life goes off track.
Street Fraternity is a deeply respected nonprofit in the area of violence prevention because they're literally on the street doing the day-in, day-out work to steer kids toward a safer future.
You raised over $14,000 to keep kids safe.
3/1/23 | Hands of the Carpenter: There are nonprofits in Colorado that run highly complex projects across a number of service areas, and there are others that do only one thing and they do it really well.
Hands of the Carpenter provides reliable transportation to working single mothers with children. Sometimes that means giving a family a car. Sometimes that means repairing a car. Sometimes that means helping people who are unfamiliar with vehicle maintenance learn how to take care of their vehicle. The nonprofit has been doing this work for 20 years, and they just opened a second location so they can serve families all over the metro area.
Hands knows that reliable transportation can make all the difference in finding and keeping a good job or getting job training or higher education. Reliable transportation can make all the difference in getting kids safely to and from childcare or school. They call it the "Good Neighbor Garage," a simple mission with a deep impact, to help working single mothers in the Denver Metro area succeed.
You raised over $20,000 to help moms get where they need to go.
2/22/23 | Housed, Working and Healthy: Homelessness can be a trap. It's hard to afford a place to stay without a job. It's hard to find a job when your energy is spent finding safe places to stay, and both those stresses would wear down anyone's mental health. We wanted to tell you about a nonprofit in the metro area working on all three challenges at once.
Housed, Working, and Healthy is focused on just that: Helping people experiencing homelessness get housed, working, and healthy.
The nonprofit runs a job training program primarily for people living in shelters. It picks them up in the morning and brings them to the kitchen facility where they learn the skills needed to land in-demand restaurant and cafeteria jobs. Mental health support is woven into breaks in the training program.
Along the way, students all receive support to find housing and connect with directly employers. So, at the end of the three-to-four-month program, they're ready for restart. The nonprofit is expanding its work and we can help. For all of us looking for a way to help people motivated to escape homelessness, Housed, Working, and Healthy has a step-by-step model that's changing lives.
You raised over $29,000 to help change lives.
2/15/23 | Our Front Porch: When a home fire happens, we're used to seeing the firefighters first, then the Red Cross comes offering a hotel voucher and clothes. But then what? What happens to those families who are displaced with nowhere to stay?
A small non-profit called Our Front Porch is there for the next steps in the journey of recovering from a house fire. They get referrals from the Red Cross for the next stage in the process. The nonprofit offers personalized case management, to help people fresh of a fire navigate insurance claims or try to get their rental deposit back.
They help homeowners prepare to rebuild with an architect's expertise on staff. Our Front Porch offers therapy sessions, because they found that the trauma of escaping a house fire and losing a home was something that was often ignored when material needs were so immediate. They even have a few rental units to give families a place to stay at low cost while they find a more permanent home.
Home fire survivors get lots of help for a few days. Our Front Porch helps fill in the gaps for the coming weeks and months. A fire at home is something that can happen to literally any one of us. Our Front Porch is there for Coloradans when first responders and the Red Cross need to move onto the next call.
You raised over $12,000 for ongoing support.
2/8/23 | Denver Asset Building Coalition: During tax season, we know some families who need their refund the most won't get it. The federal government will keep that money because these families, often working a bunch of jobs to get by, can't afford help with their taxes. The Denver Asset Building Coalition is here to help with that.
Their small staff of four people and army of tax prep volunteers put $8.5 million dollars back in the pockets of Coloradans. It's their money, but the beauty of the Asset Building Coalition's work is that money ripples out into our community. Families spent it on car repairs so they can keep getting to work. They spent it on medical or dental care they've been putting off.
The nonprofit works with clients across the metro area to resolve more complicated tax situations and help them save what they can. We're talking about the lowest income Coloradans. People earning up to $35,000 dollars. Families making up to $58,000. They often bring in a stack of W-2 forms, they're grabbing work hours whenever and however they can to get by, and getting what they're due back from the government is life-changing.
The Asset Building Coalition's leaders are honest - it can be tough to raise money for their work. It's tax prep. It's not sexy. But, if you're looking to turn a donation of a few dollars into a ton of dollars helping those most in need in Colorado, they deliver a huge payoff. It's why people come in from around the state each tax season for their help.
You raised over $17,000 to help people get their refunds back.
2/1/23 | Karis Community: If there was a simple solution to homelessness, we wouldn't be talking about it all the time. We know the causes and contributing factors vary and different paths out of homelessness will work for different people. Karis Community is a group that provides transitional housing for Coloradans with serious and persistent mental illness, our neighbors who don't need hospitalization for their mental health but aren't ready to live on their own.
They stay at a house in Denver, where Karis' staff surrounds them with support, acceptance, guidance and structure. It's a place where Coloradans find an opportunity to step out of one phase of life and into another.
The leaders at Karis Community told us about 40% of the people staying with them come directly from living on the streets, and 80% have experienced homelessness somewhere in their journey. Karis is designed to be one path out of the tough situations that are rooted in serious mental health challenges.
You raised over $15,000 to help people heal and move forward to living independently.
1/25/23 | Gateway Domestic Violence Services: An overwhelming number of women in abusive relationships say their abuser also hurt their pet. Few domestic violence shelters are set up to take in pets, too. It's one reason why Gateway's shelter often gets calls for help from outside the area it primarily serves in Aurora and Arapahoe County.
Gateway Domestic Violence Services works to keep adults, children, and pets safe from abuse. Gateway is a place where families find safety from abuse, children get mental health support, and partners escaping violence receive long term counseling and someone to walk alongside them through the justice process. It's a place where family pets are safe, too. The nonprofit offers all these services in English and Spanish and for free.
We learned the latest numbers of domestic violence deaths in Colorado. There were 91 deaths in 2021, which is the most in any year since the state started a new form of reporting in 2017. Case by case, Coloradan by Coloradan, Gateway is saving lives. Gateway will be there today, tonight, tomorrow, and whenever a family needs to escape violence.
You raised over $38,000 to help survivors.
1/18/23 | A Little Help: A Next viewer reached out to say she's scared of being ticketed for not clearing her sidewalk. She's a senior with disabilities who can't physically do it, and several volunteer snow-shoveling programs said they couldn't assist her. She, quite literally, needed A Little Help.
A Little Help is a non-profit that can assist seniors with snow shoveling in the wintertime, but does so much more, too. They work on the Front Range, in Northern Colorado and on the Western Slope to connect volunteers with seniors who could use a hand.
On days like today, that might mean shoveling snow. It could also mean transportation to appointments, help with grocery shopping, yardwork in the warmer months, and sometimes, just visits to keep someone company and fight loneliness. Here's where we come in.
If you can sign up to volunteer with them, that would be great. But anyone can pitch in from home right now. A Little Help does a background check on its thousands of volunteers. Together, we can help this nonprofit cover program expenses and the costs associated with finding new volunteers and conducting those checks.
We aren't all able to shovel a senior's sidewalk today, or help them safely get to the doctor tomorrow, but we can help expand the effort doing that all over Colorado.
You raised over $18,000 to get people a little help.
1/11/23 | CommunityWorks: As we think about fresh starts for the new year, we also think about fresh starts for our neighbors who are ready for a second chance in life. That often starts with landing a job. A chance to be self-sufficient. For some, that's where the dream of a fresh start ends, and it can be because of some barrier to employment in their past. That's why we're supporting CommunityWorks, a longtime non-profit working across Colorado. They get people who really want to work back into the workforce.
CommunityWorks provides job training, apprenticeships, and job placement help for Coloradans with barriers to employment. Sometimes, that's as simple as helping someone who is coming out of the justice system get safe and warm work clothes so they can get back to life and earning a living. Sometimes that means longer-term mentoring with a personal career coach to help someone find a job that will provide stability in their life.
CommunityWorks has connections with employers who are willing to give people a second chance in life, so when they walk in for that interview there's less nervousness about uncomfortable questions. There's an understanding that the person there to interview is trying to bounce back and have a fresh start.
A CommunityWorks participant named Casper said he came to them at his lowest. He said they kept him on the right path, and now he enjoys "being the person that others can rely on." That's what it's all about. That's life-changing stuff.
You raised over $13,000 to change lives.
1/4/23 | You be You Early Learning: This campaign was a longtime request of Next viewers who saw this nonprofit featured in a story and said, "we want to do more than just watch, we want to help."
You Be You Early Learning is a preschool with a unique model. They're a nonprofit teacher co-op and mobile preschool. Converted vehicles that drive to where the kids are, where families who are low-income might have trouble getting kids to and from a traditional preschool. You Be You Early Learning comes to them to include more kids and more families in the benefits of pre-school.
The nonprofit wants to buy another vehicle to convert into a mobile preschool to serve a new neighborhood of students. They work with the Aurora Housing Authority to find the best spots, and the housing authority told us they'd love to have another You Be You Early Learning mobile preschool and said plenty of neighborhoods could use it. The nonprofit is trying to raise $40,000 to purchase and convert another vehicle.
You raised over $29,000 for accessible preschool.