A 'Word of Thanks' from Next: From surviving to thriving
We'll highlight a different cause every week.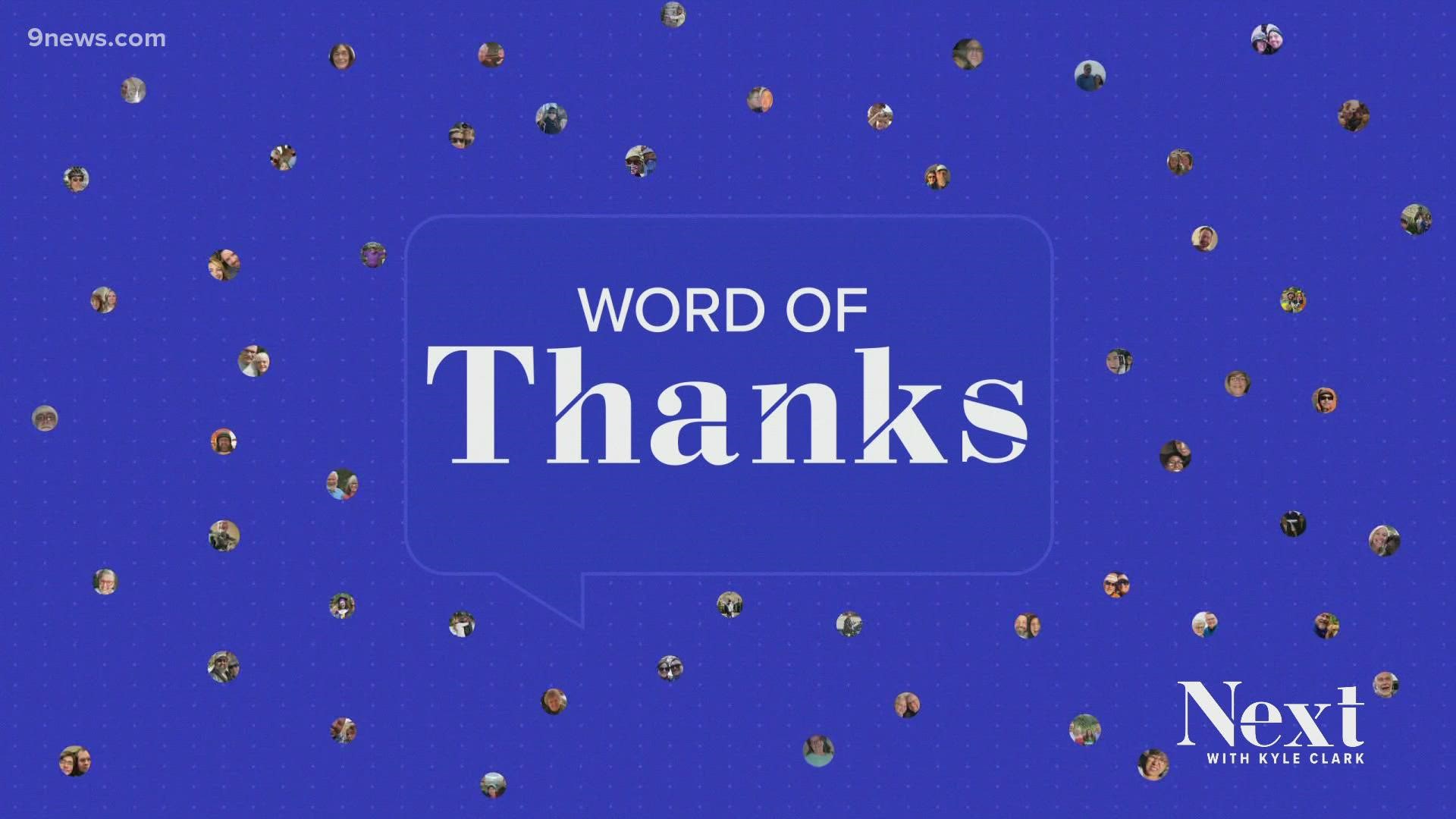 We offer up a "Word of Thanks" every week during Next with Kyle Clark – it's a chance to highlight small and medium non-profits doing crucial work in Colorado.
The routine is simple. Each week, Kyle presents a new organization he'd like to highlight and asks you to consider just a $5 donation. He won't share any cause that he won't donate to himself and will match the first fifty donations of $5 every time. We will share the causes within this article every week.
If you are not able to give but want to support the effort, please consider sharing this link with others who may feel encouraged to donate. Thank you all for your consideration and generosity!
For those keeping track, we have raised more than $10.3 million together since Word of Thanks started in June 2020! Below is a list of the non-profits we have highlighted in 2022 so far.
>> 2022 tax information: If you're looking for the tax ID for any of these causes, we compiled a list with each one.
THIS WEEK'S CAUSE
:
Gateway Domestic Violence Services
An overwhelming number of women in abusive relationships say their abuser also hurt their pet. Few domestic violence shelters are set up to take in pets, too. It's one reason why Gateway's shelter often gets calls for help from outside the area it primarily serves in Aurora and Arapahoe County.
It's also why this week's Word of Thanks micro-giving campaign supports Gateway Domestic Violence Services as they work to keep adults, children, and pets safe from abuse.
Gateway is a place where families find safety from abuse, children get mental health support, and partners escaping violence receive long term counseling and someone to walk alongside them through the justice process. It's a place where family pets are safe, too. The nonprofit offers all these services in English and Spanish and for free.
A few weeks ago, we learned the latest numbers of domestic violence deaths in Colorado. There were 91 deaths in 2021, which is the most in any year since the state started a new form of reporting in 2017.
Like every Wednesday since we started the Word of Thanks campaign in 2020, we ask you to consider just a $5 donation. Kyle matches the first fifty of those $5 donations every time.
This Next community's generosity has resulted in $10 million so far for nonprofits doing great work in Colorado.
Case by case, Coloradan by Coloradan, Gateway is saving lives. Gateway will be there today, tonight, tomorrow, and whenever a family needs to escape violence.
As always, thank you for doing this with us!
If you're interested in giving, you can donate here.
PREVIOUS WEEKS
:
2023 WORD OF THANKS


1/18/23 | A Little Help: A Next viewer reached out to say she's scared of being ticketed for not clearing her sidewalk. She's a senior with disabilities who can't physically do it, and several volunteer snow-shoveling programs said they couldn't assist her. She, quite literally, needed A Little Help.
A Little Help is a non-profit that can assist seniors with snow shoveling in the wintertime, but does so much more, too. They work on the Front Range, in Northern Colorado and on the Western Slope to connect volunteers with seniors who could use a hand.
On days like today, that might mean shoveling snow. It could also mean transportation to appointments, help with grocery shopping, yardwork in the warmer months, and sometimes, just visits to keep someone company and fight loneliness. Here's where we come in.
If you can sign up to volunteer with them, that would be great. But anyone can pitch in from home right now. A Little Help does a background check on its thousands of volunteers. Together, we can help this nonprofit cover program expenses and the costs associated with finding new volunteers and conducting those checks.
We aren't all able to shovel a senior's sidewalk today, or help them safely get to the doctor tomorrow, but we can help expand the effort doing that all over Colorado.
You raised over $18,000 to get people a little help.
1/11/23 | CommunityWorks: As we think about fresh starts for the new year, we also think about fresh starts for our neighbors who are ready for a second chance in life. That often starts with landing a job. A chance to be self-sufficient. For some, that's where the dream of a fresh start ends, and it can be because of some barrier to employment in their past. That's why we're supporting CommunityWorks, a longtime non-profit working across Colorado. They get people who really want to work back into the workforce.
CommunityWorks provides job training, apprenticeships, and job placement help for Coloradans with barriers to employment. Sometimes, that's as simple as helping someone who is coming out of the justice system get safe and warm work clothes so they can get back to life and earning a living. Sometimes that means longer-term mentoring with a personal career coach to help someone find a job that will provide stability in their life.
CommunityWorks has connections with employers who are willing to give people a second chance in life, so when they walk in for that interview there's less nervousness about uncomfortable questions. There's an understanding that the person there to interview is trying to bounce back and have a fresh start.
A CommunityWorks participant named Casper said he came to them at his lowest. He said they kept him on the right path, and now he enjoys "being the person that others can rely on." That's what it's all about. That's life-changing stuff.
You raised over $13,000 to change lives.
1/4/23 | You be You Early Learning: This campaign was a longtime request of Next viewers who saw this nonprofit featured in a story and said, "we want to do more than just watch, we want to help."
You Be You Early Learning is a preschool with a unique model. They're a nonprofit teacher co-op and mobile preschool. Converted vehicles that drive to where the kids are, where families who are low-income might have trouble getting kids to and from a traditional preschool. You Be You Early Learning comes to them to include more kids and more families in the benefits of pre-school.
The nonprofit wants to buy another vehicle to convert into a mobile preschool to serve a new neighborhood of students. They work with the Aurora Housing Authority to find the best spots, and the housing authority told us they'd love to have another You Be You Early Learning mobile preschool and said plenty of neighborhoods could use it. The nonprofit is trying to raise $40,000 to purchase and convert another vehicle.
You raised over $29,000 for accessible preschool.